Australian four-piece rock band The Faim follow up their impressive 2019 debut State Of Mind with their matured sophomore effort, Talk Talk out via BMG on July 8. Taking their moniker from the French word "faim", meaning hunger, the band's name doubles as a euphemism for their innate desire to play music and create something to be consumed. Composed of Josh Raven (vocals), Stephen Beerkens (bass/keyboard), Samuel Tye (guitar), and Linden Marissen (drums), the band strives to constantly reinvent both their sound and the state of unbounded rock music.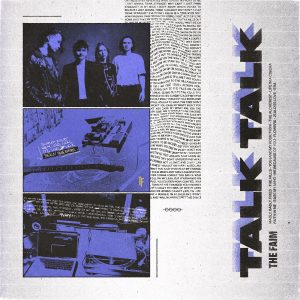 Playing on their signature hybrid rock sound, The Faim successfully draw from a wide range of influences on this 11-track LP. Recorded between Los Angeles and Perth, The Faim worked with several producers including Zakk Cervini (Bring Me The Horizon, Yungblud, Machine Gun Kelly), Erik Ron (Panic! At the Disco, Godsmack, Set It Off), and Matthew Pauling (Palaye Royale, 5 Seconds of Summer, State Champs) to showcase their vast range of styles and tones. The resulting release is a high-powered, eclectic mix of styles that has a wide-ranging appeal. Fusing rock, pop, alternative and pop-punk sounds, The Faim prove they are here to deliver modern rock with a cutting edge. 
The opening track, "madly, badly, fixed" opens the album with a mid-tempo alt-pop number that kicks off into a swell of bright synths and rousing drums. Lyrics drip with sincerity, and seep through the cracks of each track throughout the album. "The Hills" is one of the earliest tracks recorded for the album, and serves as a coming-of-age number inspired by the group's time growing up in the Perth Hills and returning to their roots. Josh Raven's vocals are reminiscent of the likes of Fall Out Boy's Patrick Stump or Panic! At the Disco's Brendon Urie, containing the same powered vibrato that drives each and every lyric. "Flowers" noticeably draws influence here, utilizing a pop punk rhythm rife with electric power chords and punchy drum beats.
"The Alchemist" proves as one of the album's top tracks, swapping electric instruments for acoustic guitar and softer tones. It contains a sweeping melody, a mellow rock rhythm, and pop-centric chorus style to keep you singing and swaying along. Immediately following it up is "Life in a Cinema" which is an ear-worm of a pop-rock track, possessing a modern edge but yet still in conjunction with raw instrumentation and production. "Faith in Me " follows a similar suit, and will surely be a major hit with fans of acts like 5 Seconds of Summer, as it plays with the gentleness of modern pop but is undertoned with alternative ideations. 
Playing with the boundaries of genre, "Me Because of You" instantly changes pace with an arresting bass line that serves The 1975-esque groove. Perhaps the most outwardly-danceable track on the album, it thrives in its ebullient tempo and catchy hook, practically twinkling out of the speakers. The album concludes with "ERA," perfectly slotted as an anthemic, nostalgia-infused closing track. (Think of closing credits, windows down, end of summer opus). The album flows together to create a body of genuine songs that aim to bring people together and create a sense of community. The album's explorative nature illustrates themes of self-discovery, reassurance, contemplation, and overall, celebration, proving itself as a thoughtful and matured sophomore release.
Talk Talk is available everywhere now.
The Faim online: Website| Facebook | Instagram| Twitter | TikTok | Youtube | Spotify | Apple Music