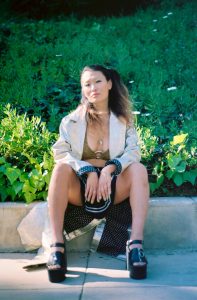 Nolo Grace releases a trance-inducing music single, "Winter Blue" on April 8, 2022. The single was written by Grace Hong; performed & produced by Nolo Grace; mixed by Martin Wave and mastered by Hector Vega.
Nolo Grace is a Korean-American Recording Artist, Producer and New York City Native based out Los Angeles California. It is immediately evident upon hearing Nolo Grace's voice and song production, that she has a beautifully haunting musical style. Nolo made her musical debut in 2021 on "Wake Up," a music single featuring Sean Kingston and has since continued to release engaging music content for her fans; "Miss Perfect" and "Don't Wanna Go Home" are also amongst her most popular releases.
"Winter Blue" is her newest creation made available on all major music streaming platforms. Nolo graces us with a robust installment to her music catalog by accompanying the release of the music single with a lyric video. It is evident that Nolo Grace eats and breathes music! Serving on the Board of Directors of Save the Music and OpenSecret, she is no stranger within the indie-music community, music-industry or where the medium of sound creation is concerned. Her constant emersion in these artistic spaces offers her creative brevity, range and comfortability which she utilizes in the performance of "Winter Blue". The song was created to serve as an intimate portrait of her inner landscape during the global COVID-19 pandemic.
Nolo weaves her nectarous vocals between the echos of guitar strings and trance-inducing drum patterns. The song itself is a mood that is as mellow as it is delicate and equally heavy in its message, forcing the listener to recall to memory, their own private reflections during quarantine. What's most fascinating about this song is the versatility in the lyrics and how it can be interpreted as a conversation between two people; one that is on the brink of giving up, and the other, aiming to uplift the discouraged party. Essentially, it is that, except, the conversation is internal, between heart and head, with oneself.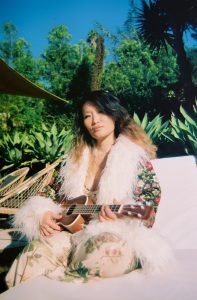 "'Winter Blue' is a time capsule," explains Nolo Grace. "It captures the mood of making music at 6:00 am every day during the pandemic [and] the quarantine solo sessions that got me through this period."  Nolo Grace also revealed that during the height of the pandemic she embraced her identity as an artist and producer by holding space for her inner healing. She afforded herself a non-judgmental space during the quiet waking hours of dawn to loop her vocals on Ableton Push. During these peace-filled sessions, she hadn't known if the music would ever be released or heard. Singing to herself on record, she is faced with the question: "Spinning upside down, where's my gravity now?"  
Fast-forward to April 8, 2022 and the world has shifted again; the new normal is upon us and in retrospect of her experience, Nolo is confident that the introspection and inception of this song was not in vain.  "Now that we're moving out of that period, I am making sense of these pieces to share my experience and musical expression(s)." As the famous Author James Baldwin stated, "The purpose of art is to lay bare the questions that have been hidden by the answers." Nolo Grace has successfully created purposeful art.
Keep up with Nolo Grace on Instagram @NoloGrace or on her website at NoloGrace.com!
Subscribe to Nolo Graces Youtube Channel: Nolo Grace – Youtube