Everyone searches to find their identity amongst a mess of external influences and the pressures of societal norms. For singer-songwriter Devon Thompson, her artistic upbringing had music written in the stars for her, albeit the trials and tribulations of overcoming adolescence and self doubt. We spoke with Devon about the release of her two new singles, working with Gibson Guitars, and her debut at SXSW.
The California native latched onto her guitar at a young age, reveling in the unabashed panache of classic rock, opposed to the prevailing pop and hip hop that her peers listened to. Following her gut and gravitating towards rock, Devon immersed herself in the genre and similar subversive activities like skateboarding. She was only around the age of nine when she started playing in band camps, began singing lessons in the 4th grade, and wrote her first song at age 12, which she now jokes about occasionally listening to in her voice memos app. Still writing with this approach, Devon admits, "Most of my memos are made up of melodies. What I'll do is record a riff or an idea and then I'll come back to it and I can piece them together in situations. It's like having a music library, or a sound library that I made."
While immersing herself in her art forms, Devon struggled with bullying and trying to fit in. Finding her passion at a young age resulted in her being the victim of torment, ironically at an arts school where she most belonged. "I was so bitter and so angry because I felt like everyone had wronged me and I didn't know what I did to deserve all this. It made me so bitter and mean to myself," she reflects. Channeling that anger into art resulted in Devon finding her voice, and making some pretty badass music along the way.
Now at 21, she's already managed to shed the layers of early, formative high school bands and find her sound as a devout rock musician. Graduating right out of high school into a pandemic induced lockdown, she further honed her nascent sound by collaborating with producer James Salter (The Raveonettes, Black Rebel Motorcycle Club). Thompson's sound is unapologetically rock, with nods blues and even grunge from the '60s, '70s and '80s, while incorporating her own contemporary flare. Sticking with the tried and true genre that has followed her since her early years, Devons says, "I felt there is something a little more passionate about it to me. That's why I stuck with it. It gave me a feeling that other genres could never make me feel." 
Proudly wielding an Epiphone Casino, Devon has earned Gibson's endorsement, an achievement that feels like a badge of honor for the artist. Early into working with producer James Salter, the pair were invited to the Gibson showroom where she played them a few songs and was signed on the spot. "As someone who has struggled with their confidence and their worth, I felt when I was younger that I didn't have the qualities or I didn't have enough to make that my substantial job as an artist," she says. "At this stage in my career, they [Gibson] are the first big, substantial company to believe in me. It means so much to me that they see what I want them to see. I've been truthful and I've been honest with my writing and I think they noticed that and liked that. Because Gibson is like that— they're real, they're real rockers. It is so amazing to be working with them. It literally couldn't be a more perfect fit." With excitement of what is still to come, Devon notes she will be wielding a Casino until the day she dies, like some of the greats before her (ahem, John Lennon). Their partnership kicked off with Gibson spotlighting her first single, "Soft Like Water," the first of many projects to come with Devon representing the iconic brand's spirit of true rock and roll.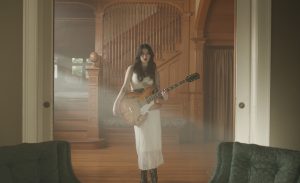 On her introductory single, "Soft Like Water," there is an empowerment reflected in Devon's delivery and lyricism that allows her to take back her own narrative in an inspiring, hard hitting number. It soars as a bluesy reflection on past timidity that builds to a snarling tidal wave of a chorus, promising those days of passivity are gone forever. "The song can be interpreted however you want to other people," she says, "but personally it is more about wasting your life waiting for anyone—  not romantically for the most part, it's really just about like being so overly exhausted and furious having to wait on people to make things happen. Taking initiative to do it yourself endnote having to rely on anybody to feel like you meed other people to make your life happen, 'cause you don't."
Embracing that go-getter attitude herself, perhaps a result of her presence in the underground cultures of the rock and skateboard scene she grew up in, there is a cutting edge juxtaposed with a soft genuinity. Playing directly into this ideal, the track was even recorded in a functioning body shop, full of antique cars and motorcycles. Trading the luxury of a recording studio for a mechanics, Devon says, "I have always liked classic cars and vintage everything… the acoustics in that place are amazing. The whole area was just really homey and inspiring. It's something that you don't get in a recording studio. It doesn't feel natural to me sometimes when I'm in a fancy studio working. It feels very stifling and suffocating I feel like. I think when we recorded that, it was so easy because it was natural working in that space and the big tin roof box just made it so powerful and echoey." 
Open about her feelings of low self esteem and overcoming the impulse of wanting to quit music altogether, Devon speaks about employing her current songwriting as an outlet to filter through her emotions. "Writing these songs was definitely a direct response to feeling that rejection I think from everything and everyone. I quit music after middle school after I was brutally ridiculed and bullied, at an art school nonetheless… I wore plain clothes and listened to plain music and thought I was going to be incognito. It was almost like something was tugging at my senses again after a year, and it was like the underground music scene and indie bands, and so I gave it up, I totally switched back into this. Now I've been focused on being authentic to myself, once I've surrounded myself with people who are nothing but supportive and help me protect my art."
Skillfully blending retro and modern styles sonically and visually, both songs contain nods to the greats that preceded her, while still presenting as fresh and authentic. Devon's most recent single "Napoleon" is an ode to unrequited love and blocking toxic people from your life, screaming self-empowerment and showcases Devon's fierce prowess. It took on a more conventional recording approach, yet was still tracked live with her band. "I don't like when things sound too perfect," Devon explains. "It sets an expectation for everything else of something that is not achievable. Perfection is not achievable. It's an abstract concept to me. All my stuff is done fairly live, it keeps me on my toes, it keeps me grounded."
Developing the concept of the single's music video, Devon notes it is supposed to be tongue-in-cheek, with a hint of humor amidst the darker subject matter. An old soul drawn to the morose, her videos and aesthetic are a direct culmination of her love for the weird and wacky. "I found goth music which really inspired my look, but I also found a love for rockabilly and blues, so there's definitely two sides to my style," she says on her signature look. "I have based a lot of my aesthetic and my look on Tim Burton and literature like Dorian Grey, Oscar Wilde, and also Bukowski. I just love how dark and how cynical they are and I think that it's like dark romanticism. That's appealing to me."
Discovering artists like Siouxsie and the Banshees and The Cramps steered Devon into a darker edge that she found solace and inspiration in. "It very quickly became something that I knew was gonna be irreversible," she notes. With music and other art forms as guiding lights in uncertain times, Devon discovered not only herself but the artist she could be. "When I was like eighteen I found my love for female rock artists, and that's where I was like 'oh I could do this.' Courtney Barnett is one of them. She is unapologetically herself. I love Phoebe Bridgers for how honest she is. I have a big soft spot for folk music as well," she says. Other artists she finds inspiration in include Amyl and the Sniffers, Wet Leg, Momma, beabadoobee, and Pretty Sick, though she quickly adds, "I'm talking about female fronted bands right now, but one of my biggest inspirations is Jack White, all of his bands. I just think that all of the people I mentioned, to me, just speak honesty and they make what they want to make. They're not trying to fit into any social musical bubble."
A amalgamation of evolving influences and urges, Devon's music is true to herself with blistering vintage anecdotes that contain a modern flare. Embracing ambiguity in the sense that she could span multiple decades, her songs are both timeless and as prevalent as ever. While there is an edge of seduction and mysteriousness to her art, Devon now embodies the confident, self-assure young woman her younger self dreamed she could be.
Recently coming off a stint on the east coast and riding the high of her recent solo debut at South by Southwest in Austin, Texas, Devon recalls the experience as nerve-racking but formative. "It was so good, where the reaction was more fervent and intense than what I get with the band. You know, I think you could hear everything… when you play with a band, it's hard to hear everything sometimes. People were listening. They were really listening to the lyrics and the writing of the songs… I really think I sold people on my message of things, which is really important to me. You shouldn't have to forcefully show people things, if you can just show them with music…. I learned so much about myself! I really learned a lot and I'm hoping I get to go back on tour soon with the release of my songs. It was amazing, it really makes me want to get out and play." 
With a fierce spirit and the drive to produce authentic rock music, Devon Thompson is making one thing clear: she is who she is and she's finally made peace with that. Encouraging her listeners with courage and self-empowerment through her music, the authenticity and devotion in her sound is palpable. Now that she's just starting to hit her stride, Thompson is more confident than ever and ready to hit the ground running with more music and live shows to be announced this year. 
Devon Thompson Online: Website | Facebook | Instagram | TikTok | Spotify | Apple Music