Black Label Society was in Ventura, CA this past Saturday October 2nd and brought the doom with them. They've played The Majestic Ventura Theater a number of times and this might have been the best yet. Their first tour since the global pandemic started in March of 2020 and they did not disappoint. The Doom Trooping over North America 2021 tour, which has 43 different dates to check out, features 2 other bands that hit just as hard and bring the metal to this tour. Prong and Obituary round out this tour and they prepare you for the heavy metal of the mighty Black Label Society. This tour is a metal heads dream come true.
Prong, New York City's very own alternative metal trio, hit the stage first and made all the early birds ear drums ring as if they were the headlining band. Their 9 song set was just enough to see and hear how this band has been rockin' out for the past 35 years! They opened their set with Test and jumping right into Disbelief before playing the fan favorite Beg To Differ, the title track off their first album. Unconditional was next, a hard hitting track from their sophomore album Prove You Wrong, and made the crowd start to get wild. Cut-Rate, a fan favorite was next, and the crowd lost it. Prong was playing songs that everyone knew and everyone was going crazy for. Even a circle pit was formed for a moment when the early bird metal heads knew what was going on. Rounding out the night of their set way Revenge…Served Cold, Whose Fist Is This Anyway, Snap Your Fingers Snap Your Neck, and However It May End off their latest album Zero Days.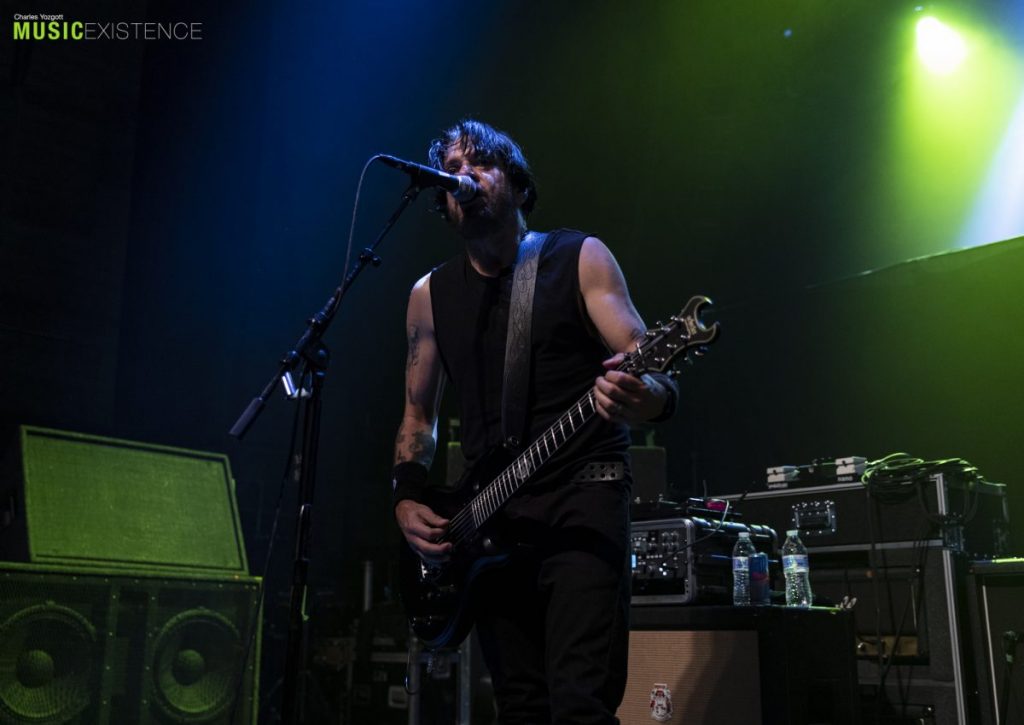 The Ventura crowd was definetly ready for more, after Prong came Obituary. Florida Death Metal at its finest. These guys know how to rock and it shows, coming out and playing their classic instrumental intro track to the album Frozen In Time, Redneck Swamp, which got everyone amped for the rest of their set. Releasing their first album in 1989, these dudes are no strangers in how metal is done and how to show a crowd halfway across the country how it's done. The writing process of Obituary is unlike any other and their strong lyrics to the mostly instrumental albums definitely stands out. When John Tardy sings, you know it. The instrumental background of this band only enhances with John starts to sing. Donald, Trevor, Terry and Ken lead this band with their instruments, and when John steps in it only gets better. Check Obituary out if you haven't because you are missing out if you haven't. Do it!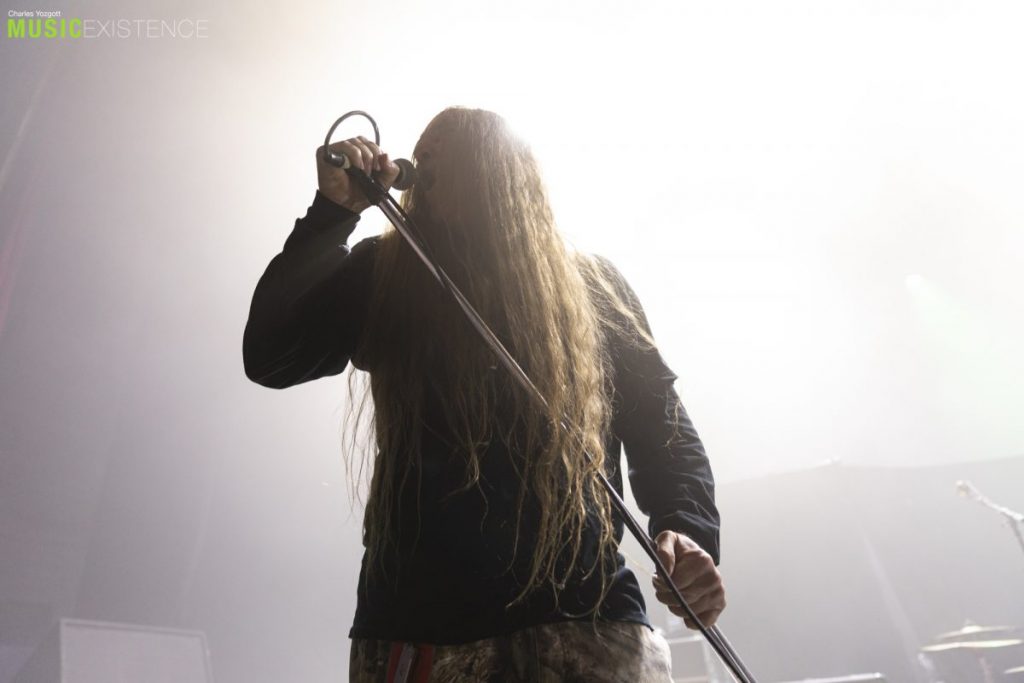 And now for Black Label Society. The mighty Black Label Society. I mean, come on. These dudes have been rockin' out and shredding our ears for more than 20 years and they keep on giving. Father Zakk Wylde, the leader of all…this man has done all and keeps on doing the royal treatment that brings his fans the ultimate experience…I mean this dude is a legend. Playing guitar for Ozzy Osbourne for nearly 20 years years and having a career spanning more than 32 years with various bands including the underground Black Sabbath cover band Zakk Sabbath, he represents Black Label Society as pure American hard rock.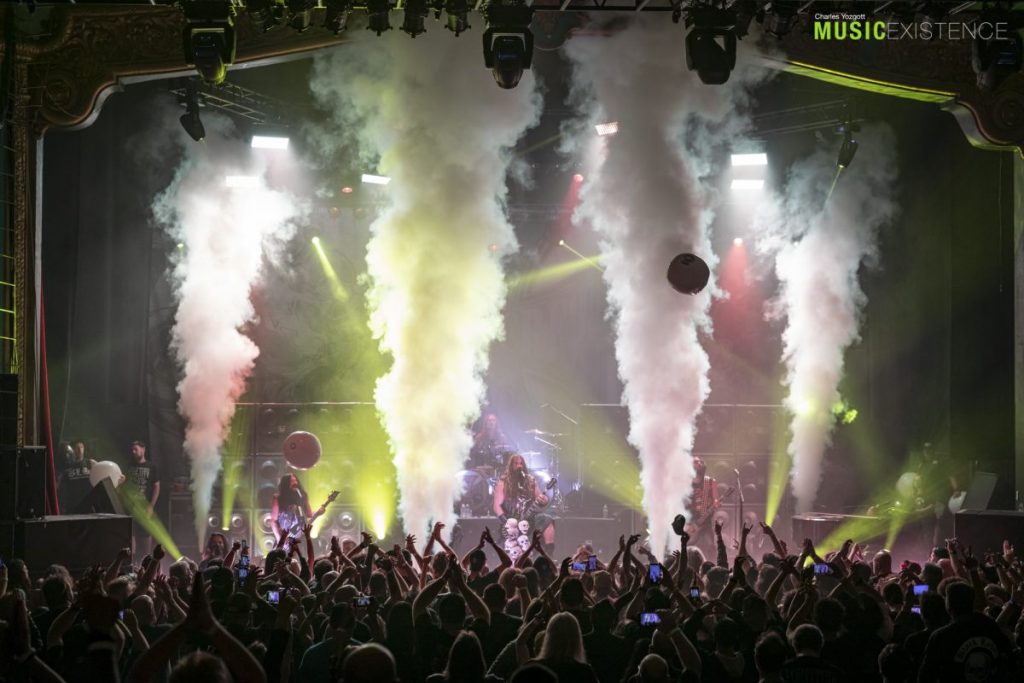 Black Label Society has played the Majestic Ventura Theater a few times in the past and this time was like no other. Just after Obituary ended their set, the red curtains closed on The Majestic Ventura Theater stage and the crowd turns silent for a minute. Overheard is a man saying "after coming her for 20+ years seeing shows I've never seen these red curtains closed." Suddenly a wave of excitement comes over the crowd and you know it's going to be a special night.
Black Label Society played 14 songs in their set and each song sounded better and better. The red curtains opened up and "Bleed for Me" was performed perfectly as the crowd sang along. "Demise of Sanity" and "Overlord" followed and there was no slowing down. The mosh pit was raging and just about everyone was singing every word to each song BLS blasted out.
Don't forget the engine that helps pull Black Label Society together along the heavy metal railroad, guitarist Dario Lorina, bassist John DeServio, and drummer Jeff Fabb. These 3 musicians have been with Zakk for a while now and their latest album, Doom Crew, out November 26, 2021, will deliver a much needed heavy metal groove punch to all that needs it.
Jeff Fabb is surrounded by speakers and enclosed by his drum set that is the backbone to BLS. John Jd DeServio is grooving on his bass playing it in a way only he does. Those red strings bouncing around and being slapped can be heard perfectly mixed in with his bandmates. Dario Lorina on guitar shredding out rhythm and solos just as equal to Zakk. A couple special performances were shared on this unforgettable night, one is when Zakk sat at his piano on stage left and the band paid tribute to Dimebag Darrell Abbott & Vinnie Abbott of Pantera fame by dropping huge banners of their portraits over the 15 foot wall of speakers and playing In This River flawlessly. A great tribute to a couple of legends gone too soon.
After that tribute BLS played a couple songs that had everyone's jaw dropping to the floor. During the solo for either Trampled Down Below or Destruction Overdrive Zakk stepped onto the top of his piano, put his guitar over his head and behind his neck and started shredding the solo that got Dario involved as well. Dario stepped up onto Zakk's platform and started shredding the solo as well with his guitar above his head and behind his neck. This guitar duel was one of a kind, these dudes made sure to battle and shred on their guitar for a couple minutes at least. It was a sight to behold.
What an amazing night full of metal and good vibes. Go see this tour, Doom Trooping Over North America is just getting started! Here are the remains dates left:
Oct. 07 – Seattle, Wash. @ Showbox SoDo
Oct. 08 – Portland, Ore. @ Roseland Theater
Oct. 12 – West Des Moines, Iowa @ Val Air Ballroom
Oct. 13 – Lincoln, Neb. @ Bourbon Theatre
Oct. 15 – Bowler, Wis. @ North Star Mohican Casino Resort
Oct. 16 – Milwaukee, Wis. @ The Rave / Eagles Club
Oct. 17 – Chicago, Ill. @ House of Blues Chicago
Oct. 18 – Minneapolis, Minn. @ The Fillmore Minneapolis
Oct. 19 – Kansas City, Mo. @ Uptown Theater
Oct. 21 – Biloxi, Miss. @ Hard Rock Hotel & Casino Biloxi
Oct. 22 – Athens, Ga. @ Georgia Theatre
Oct. 23 – Dothan, Ala. @ The Plant
Oct. 24 – Lake Buena Vista, Fla. @ House of Blues Orlando
Oct. 26 – Ft. Lauderdale, Fla. @ Revolution Live
Oct. 28 – Huntsville, Ala. @ Mars Music Hall
Oct. 29 – Asheville, N.C. @ The Orange Peel
Oct. 30 – Cincinnati, Ohio @ Bogart's
Oct. 31 – Nashville, Tenn. @ Marathon Music Works
Nov. 02 – Philadelphia, Pa. @ Franklin Music Hall
Nov. 04 – Worcester, Mass. @ Worcester Palladium
Nov. 05 – Albany, N.Y. @ Empire Live
Nov. 06 – Stroudsburg, Pa. @ Sherman Theater
Nov. 07 – New York, N.Y. @ Irving Plaza
Nov. 09 – Hartford, Ct. @ The Webster
Nov. 10 – Montclair, N.J. @ The Wellmont Theater
Nov. 11 – Rochester, N.Y. @ Main Street Armory
Nov. 13 – Sault Ste. Marie, Mich. @ Kewadin Casinos – Sault Ste. Marie
Nov. 14 – Detroit, Mich. @ The Fillmore Detroit
Nov. 15 – Cleveland, Ohio @ House of Blues Cleveland
Nov. 16 – Fort Wayne, Ind. @ Piere's
Nov. 18 – Oklahoma City, Okla. @ Diamond Ballroom
Nov. 19 – San Antonio, Texas @ The Aztec Theatre
Nov. 20 – Grand Prairie, Texas @ The Texas Trust CU Theatre
Nov. 21 – Houston, Texas @ Warehouse Live
Nov. 23 – Tucson, Ariz. @ The Rialto Theatre/Tucson, Arizona
Nov. 24 – Las Vegas, Nev. @ House of Blues Las Vegas
Nov. 26 – Salt Lake City, Utah @ The Complex
Nov. 27 – Denver, Colo. @ Summit Denver
Nov. 28 – Albuquerque, N.M. @ Sunshine Theater
Prong
Obituary
Black Label Society
Black Label Society setlist:
Bleed For Me
Demise of Sanity
Overlord
Heart of Darkness
A Love Unreal
The Blessed Hellride
Spoke in the Wheel
In This River
Trampled Down Below
Destruction Overdrive
Set You Free
Fire It Up
Suicide Messiah
Stillborn
Black Label Society's new album "Doom Crew" is out everywhere November 26, 2021. Get all the information for the new album you need here :