Tedi Brunetti has been pounding a steady pulse in the music industry for the past 40+ years.  But it's not til recent that the "Queen of Pittsburgh" has been getting some just desserts for her latest album release.  The critical and fan-favorite drummer/vocalist is enjoying some of the good life, topping UK iTunes charts and having her single and video "Evil Woman" hitting airwaves around the globe.  Ms. Brunetti gave us some of her precious time to answer a few questions, in this exclusive one on one…
Hi Tedi!  Thank you so much for taking the time to speak with us.  It's a pleasure to be speaking with such a world class musician.  Let's get into your background first…how did you get started in music?
I've been asked many times how I got into playing music. As a kid I had a transistor radio and I would listen to 1410 KQV and WAMO, local Pittsburgh stations that played the hits of the day. I remember my favorites were the Beach Boys and James Brown. The drums just spoke to me. At 11 years old I knew I would be a musician/drummer when I grew up. I just knew! I would go into the bathroom, sit my radio on the back of the toilet and beat away on the hamper and a couple hat boxes and sing along. 
Who are some of your main influences that shaped your music?
I've had quite a few influences everything from Judy Garland, Peggy Lee, The Big Bands, The Beatles, Motown, to Janis Joplin and Led Zepplin and back.
What about personally?  Who influences your life on a daily basis?
It's funny but I have to say my 93 year old father Ted Brunetti, my husband Jim Mason, my sons Noah and James and my grandchildren.  I guess I could have said my family. I don't want to do anything to embarrass them LOL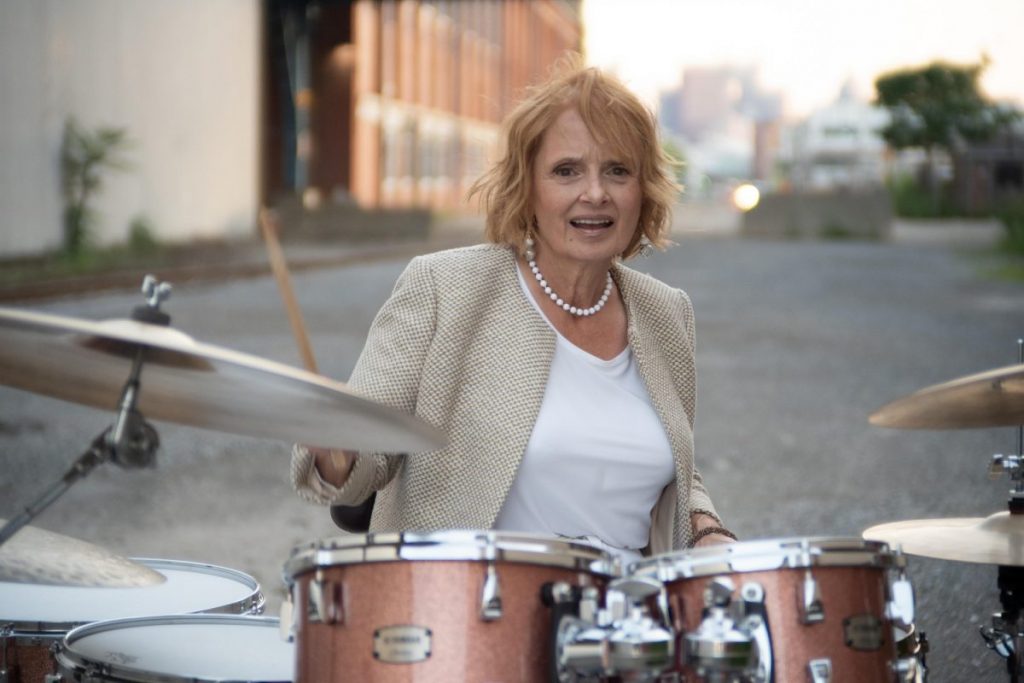 Have you ever mentored or taught any other musician?  If so, what advice did you offer? 
I tell my students and younger inexperienced musicians to use their ears! Make it sound right! Technically I also recommend practicing with a metronome. Timing is essential!
Who are you listening to these days?  What's the last album you listened to? 
I've been listening to funky instrumental jazz lately. Oz Noy and Snarky Puppy are two of my favorites.
Who is one artist that you like, that your friends and fans would be surprised to know?
Oz Noy
Let's talk about your single, "Evil Woman."  How did you write it?  How was the recording?  Who played on it?
I write from titles. I was playing with a male singer who's girlfriend started acting out on Facebook because he wasn't interested in her anymore. That's where the Evil Woman came from. I get my hair styled at a hip salon where hotty 20/30 something stylists work. I love listening in on their conversations about their boyfriends and husbands, who's cheating on who, who's in jail LOL When I write lyrics I generally begin with a title and let ideas wash over me for a while. I jot down ideas and when I sit to write I pull everything together.
I love the cross stick beat/groove on the intro and verses of Evil Woman.  Evil Woman was one of the first songs we recorded. Our first session we laid basic tracks (drums, bass,some guitar) for 3 songs. It's the first one we completed and mixed. Because I'm the lead vocalist and drummer, recording becomes a little more difficult because someone else sings the scratch vocal. On this album Dino my producer did the honors.  I am always prepared to play my drum tracks  without anyone else playing. Afterall, I wrote the songs so I know them inside out and backwards. We record as a rhythm section because the interaction between musicians creates a special energy, especially in that pressure cooker "this is it! We're recording in a studio" situation. 
I sang lead vocals and played drums. My husband Jim Mason is the lead guitarist. Mike Henegan played bass and sang background vocals. Dean Sargent played additional guitar and sang background vocals. Luigi Cafara played keyboards. Evil Woman was mixed and mastered by Dan Malsch. There's a lot of music filling your ears with that basic instrumentation!
You've toured and performed with several notable acts.  Who was your favorite act to work with, and why?
You're right! I have played with some terrific acts. Touring and recording with The B-Girls in New York City was a trip! We had quite a following. Mick Jones from The Clash produced an EP for us. I wrote one of the songs on that EP so I guess that stands out a favorite. The B-Girls also worked and were mentored by Debra Harry of Blondie. They sang background vocals on the Blondie track "Live it Up" on the Autoamerican album.
What has been the highlight of your career, so far?
Having the opportunity to come back and record the Queen of Pittsburgh album produced by Dean Allen Sargent and Michael Henegan and includes my husband Jim Mason, our son James Mason, and two of my sisters Mary Parke and Anita Phillips, as well as creating awesome videos with B-MHAC. Also, working with recording engineer extraordinaire the late Tommy Uzzo and having him tell me how much he liked my voice really blew me away!
What's next for you in 2021?
I'm planning more videos. I'm exploring and learning the possibilities and intricacies of video production which appeals to me. I hope to be touring in 2022 and starting another album.
Thanks again Tedi!  We look forward to catching up with you again, soon!