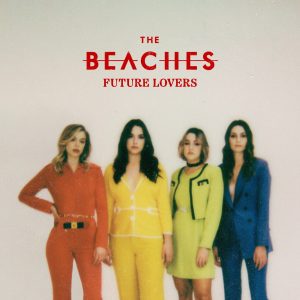 Toronto's fearless foursome The Beaches had a whirlwind 2019 which saw the band get global media attention from their EP The Professional and an opportunity to open for a small band from England, known as The Rolling Stones. With Dave Grohl and Sir Elton John also being fans, the band was ready to take on 2020 with even more plans to expand their reach across Canadian borders. But while those plans obviously got put on hold, The Beaches are now ready to return with The Professional's sister EP Future Lovers, out today.
The new EP was recorded at the same time as The Professional but shamelessly increases the amount of new wave and disco-inspired rock n' roll. Songs like "Slo Mo" and "Let's Go" both carry an aesthetic and charisma similar to The Go-Go's, but heavier guitar parts from guitarist Kylie Miller seem to channel darker influences from later in the 80s.
As her sister Jordan Miller (lead vocals and bass) explains, the band's varying musical tastes have definitely impacted their sound but it was producer Garrett "Jacknife" Lee (U2, The Killers, and Taylor Swift) that really pushed the band outside of their comfort zone.
"I think it's partially from us. I mean, I listen to a lot of 70s music and I love The Bee Gees. I've gotten into disco music and soul and more dance music as of late, but Jacknife had a lot of influence on us. He's always showing us really cool records from around the world and experimenting with different sounds. He's gotten us to think about rock music not really as a genre, but just as a starting off point."
An example of Jacknife's unconventional approach to rock n' roll came into infuriation when he had drummer, Eliza Enman-McDaniel, play a toaster alongside her usual drum kit. She says, "We were doing percussion and I think the drums were done but he was looking for a certain sound he hadn't found yet. He just starts – and this is a classic Jacknife thing – he just starts walking around and hitting things… and he was doing that and hitting things in the kitchen and he hit the toaster and was like, 'That's the sound!'"
While Jacknife's creativity in the studio lends itself well to the more radio-friendly and playlist-promising tracks on the EP, the true highlight of Future Lovers is the ambient sounding and keyboard-driven "You Don't Owe Me Anything." Clocking in at over five minutes long, the majority of the track focuses on keyboardist Leandra Earl and Jordan's angelic recount of failing to commit to a budding relationship. Being the classically trained pianist that she is, Leandra takes a cosmic and complex approach to the song that launches Future Lovers into the stratosphere.
But keys aren't her only role in the band. Oftentimes when performing, Leandra's required to play both keys and guitar (at the same time) along with other percussion instruments. She elevates The Beaches above other like-minded garage rock bands and brings a sophisticated and well-rounded sound to the group's live shows.
"Definitely having the keys in there really helps bring everything up a notch and adds a different element to our music. We're really grateful that Leandra can play literally every single instrument known to humankind," says co-guitarist Kylie.
As for live shows, The Beaches will have to wait to tour until Canada can get the pandemic and vaccine rollout plans under control. Unlike their neighbours in the U.S., concerts and large gatherings are still a long way off but rumors of a late fall return to touring seems like a realistic possibility. Until then, the band has decided to channel their creativity into the visual aspects of the new EP.
"Doing all the photos and the video was so fun for us because we haven't done glam or any of that stuff in so long. Even the inspo for the record was a really fun project for us! It's deeply inspired by 1970s catalogs which is really fun and kind of quirky" explains Kylie, with Jordan piping in, "Think the Osmond brothers!"
Rest assured, this band is much cooler than The Osmonds. Their straightforward and sultry approach to rock n' roll makes The Beaches stand out from other bands today, bringing a fresh perspective to what it means to be a woman in rock music. They aren't afraid to call out nonsensical stereotypes and continue to impress rock's biggest stars with their elevated and electric live shows. Seeing The Beaches live is a must for any music fan but until that can happen make sure to check out Future Lovers, out now.
The Beaches Online: Website | Facebook | Instagram | Twitter | Spotify | Apple Music