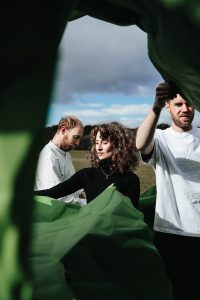 After travelling the globe in 2019 and performing over 60 live shows, the U.K.'s Elder Island had to shift their focus in 2020 and find a way to record an album while in lockdown. More fortunate than some, the band was able to utilize their home studio recording equipment and produce Swimming Static, the band's sophomore studio album arriving May 28th. Music Existence spoke to band members Katy Sargent (vocals and cello), Luke Thornton (bass and beats) and David Havard (guitars and synth) on the complications of recording at home and how they stayed creative while making this album.
ME: In previous interviews, Luke has mentioned his joy and love for travelling and living out of a suitcase. What's been the hardest part for you guys with no travel this year?
Katy – It's the little journeys I miss the most, everyone bundling into a car to go to the sea. Seeing my friends and family in Birmingham. The little adventures. It's not until you're stationary that you realise how much you nipped about before. I think I always used it as a reset, a little refresher to get away for a bit. I suppose with lockdown happening at the end of a big touring stint, we went from 5 or 6 cities a week to 1 in a short space of time. I've definitely got the wanderlust now spring's rolling around again and the prospect of touring is shining brightly on the horizon. 
ME: Did you feel any "sophomore slump" pressure while recording your second full length release?
Katy – Not at first, we were really looking forward to getting back in the studio. There was a struggle towards the end, but it was all interwoven with the pandemic and the feelings lockdown was conjuring up for everyone. We felt a little detached, like we didn't have the energy to push this big thing we'd started over the finish line. Sure we weren't alone in this feeling! In the end after some floundering we just powered on through and picked up momentum again. I think at the time we didn't register what it was, but now I look back I can see some of the troubles could be pinned on the dreaded 'slump'.
ME: What's changed for the band sonically since your debut album The Omnitone Collection?
Dave – Before we started making this record we spent a month revamping the studio and gave ourselves a budget each for new equipment. On The Omnitone Collection we worked with producer Ali Chant at his studio PlayPen and some of our favourite preamps and mic's we had used there, we added to our studio. This turned it into a more professional space and meant that from the get go the quality of the recording had more weight and presence. We also went modular. Most of our budgets went on Eurorack so there is more of a focus on synths again on this record.
ME: Do you think the pandemic / home recording experience affected the way the new album came out?
Luke – For certain. Early on we actively decided we didn't want to make the album about the current situation, but it was inevitable that the mood would affect the music in some ways.  The initial renditions of the songs were unaffected as we were so wrapped up in recording we hadn't really taken stock of the outside world. However when we came to fully produce the tracks we seemed to sway over into a darker sound. Emphasising the moodier elements and adding textures that gave the songs an eerier more alienated quality. Maybe this was to do with the pandemic – maybe we just like those sort of sounds!
ME: Did you come across any technical challenges when recording at home?
Dave – Oh yes. When recording the initial sessions for the album everything was going great, but when we listened back we realised halfway through the recordings had started to distort and had crackles all over the stems. Never have automatic updates turned on! It dictated the way we went about this album, normally we would slice up the multitracks into a rough arrangement. It put us out of our normal comfort zone and we spent more time at the piano forming the tracks but in the end I think it led to a stronger record. 
ME: Was music your primary creative outlet over the past year or did anyone in the band pick up new hobbies or pastimes?
Dave – Not a new hobby but I had more time for old ones. I took an online course with Roger Linn & Sasha Lietman on Designing Physical Interactions for Music which would normally be at Stanford University. This really kicked me into making DIY gear again and incorporating that into our live rigs.
ME: The new video for "Purely Educational" is out now and creates an interesting parallel between clubbing & dance culture in a time when people can't socialize or really go out of their homes. Was that the intended concept for the video?
Katy – Totally, it was a concept director Nic Kane had taken from the track and wanted to explore. We didn't want to make it too obvious or linear so we left the choreography and the small amounts of props to do the talking. I think it comes across as a celebration of nights gone by and an optimism for those in the future, rather than a total bleak lament for the current state of affairs. There's a mixture of light and dark which works perfectly for the track. 
ME: Apart from connecting with your fans and playing live, what is the band most looking forward to once touring resumes again?
Luke – I am really looking forward to being in a room with loads of people and feeling the energy that an audience gives off whilst our music is being performed really loud through a large sound system. I wanna feel those sub frequencies all through my body.
ME: Favourite tv show or film you discovered while in lockdown?
Dave – Parasite
Luke – Escape To The Chateau 
Katy – I did a stint of classics. Tops I can think of – Casablanca and Citizen Kane  
Pre-save Swimming Static  here.
Elder Island Online: Website | Facebook | Instagram | Twitter | Spotify | Apple Music