South Florida based singer, songwriter, co-producer,  V. Tiarrá releases her new, uptempo single "Digital Love" shining the light on our shared reality of this new digital world. Does our digital age aid us in our efforts to be closer with one another or drive us further apart?  V. Tiarrá isn't afraid to ask the question! Recorded at Insane Sounds Studios in Lauderhill, FL, the song, "Digital Love" opens up alerting the listener to the familiar high pitched frequency synonymous with the famous AOL login signal.  V. Tiarrá enters on the song shortly after, with a carefree and spirited voice singing, "love me, like me…digital world!"  V. Tiarrá echoes the all too familiar anthem of our hearts as we seek validation, admiration and attention through social media posts, comments, and everywhere we can make human connection!  V. Tiarrá's vocals move with sweeping power along on the track, and with such an upbeat playfulness in her voice that it makes it easy for her to drive the message home and get the listener dancing wherever they are connecting to her musically! She manages to execute in styling and in her recorded performance the message that she is conveying melodically, that connection is key and that we are all on the search for love and intimacy.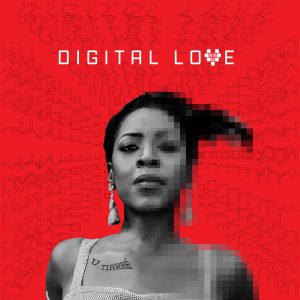 V. Tiarrá opened up about her new single "Digital Love", wanting the listener to take away this point, "In this digital age, with online dating and the current social distancing phenomenon, it is so easy to be disconnected from people even though we are using technology all the time.  The song highlights this disconnect, and even asks Siri if she is willing to fill our void of love." Pausing to reflect on the limitations of technology in relation to connectedness and empathy, she continues to support the gaiety heard in her song, "I love this song…I think it reflects my style, my energy, my messaging, my voice.  I hope to put out more songs like it that are danceable, and songs [with substance] that also get you to think [deeper] if you so desire to." 
A surprisingly interesting component of this song was the moment that V.  Tiarrá began rapping! Her bars were clear, delivered rhythmically and with such a consistent pattern in her flow, that if you weren't bobbing your head prior to, and if you didn't catch her intent as she sang sweetly before, you were going to get the message with these bars! Inspired by the late Betty Wright, the legendary Gladys Knight and the iconic powerhouse, Dua Lupa, and Beyonce,  V. Tiarrá's clarity of voice, versatility and tone cannot be denied on "Digital Love". In  V. Tiarrá's lighter vocal register, her voice  puts one in the mind of the stylings of late 80's icon, Lisa Lisa and the Cult Jam, and latin-pop artist, Jennifer Lopez (ref album title On The 6). "Digital Love" is a feel good late summer-jam that would pair so well in any (socially-safe distanced) backyard BBQ, social dating mixer, skating rink, and pool party! By all means, however, do not limit your listening to these settings, it's such a fun and freeing song and can be enjoyed by listeners of all ages!
V. Tiarrá released her new single on August 6, 2020 and is available on all major music platforms: Spotify, Apple Music, iTunes, TikTok/Resso, Google Play/YouTube, Amazon, Pandora, Deezer, Tidal, Napster, iHeartRadio, amongst others which include ClaroMusica, Saavn, Anghami,  Instagram/Facebook, Shazam!
Be sure to follow  V. Tiarrá's music profiles on Spotify, Apple Music, Tidal and as well as: Facebook: https://www.facebook.com/V.Tiarra/
Instagram: https://www.instagram.com/v.tiarra_/
Website:  https://www.vtiarra.com/
 Where she'll will be releasing new music in the coming weeks! You don't want to miss out on this!