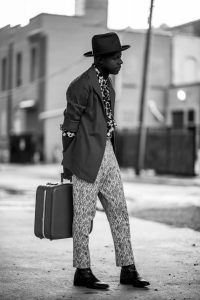 Last Friday folk singer J.S. Ondara (now going by Ondara) released Folk N' Roll Vol 1: Tales of Isolation. The new album was written, recorded and produced by Ondara in one week at home after an onset of creativity while in quarantine. Ondara used this record as a form of therapy for himself once the effects of the global pandemic and stay-at-home orders started wearing down on him.
"It was a kind of vomit of words and melodies, compulsive and without any control or forethought. I wasn't trying to make a record, I wasn't trying to do anything really, I was only trying to provide myself with some kind of therapy, a desperate attempt at preserving my sanity."
The album holds true to Ondara's classic acoustic sound, and keeps things perfectly simple featuring just him, a guitar and the occasional harmonica. Songs like "Isolation Boredom Syndrome (IBS)," "From Six Feet Away," and "Isolation Blues (Blame It On The Pathogen)" are all sonic representations of what the majority of us have been feeling thus far.
The Kenyan folk singer who moved to Minneapolis, Minnesota to follow in the footsteps of his idol Bob Dylan, released his debut album Tales of America early last year. The album received critical acclaim and earned Ondara his first Grammy nomination for Best Americana Album in 2020. Before the global touring industry halted, Ondara was opening for Mt. Joy and The Lumineers on their III  world tour.
Listen to Folk N' Roll Vol 1: Tales of Isolation