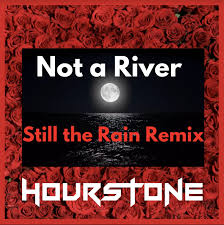 Harboring of thoughts and making sense of tragedy is different for each person. Coincidentally, that's what bring us together as humans, even though it sets us apart as individuals. Trying to make sense of those feelings, for some, can be like having an angel on one shoulder, and a devil on the opposite shoulder. Two conflicting and diverging thoughts. This is one of the themes in Hourstone's newest EDM single "Not A River (Still The Rain Remix)". Building upon his musical integrity, Singapore's Hourstone is a phenomenal beat story teller.
INSTAGRAM: https://www.instagram.com/hourstonemusic/?hl=en
Like in Duran Duran's "Paper Gods" that was co-written by Mr (stylistically, no period) Hudson ("Supernova", "White Lies", "Too Late Too Late"), "Not A River (Still The Rain Remix)" has this atmospheric element. Two voices, presumably both Hourstone, talk-sing. The first line of English lyrics "you like the river, know the rivers, love the sea" in falsetto-like sound. He unlocks a siren, a folklore-sounding narrator, mesmerizing the listener down a pathway to finding answers about our past, present and future. The next voice, coming from a baritone base, answers "but, I, I'm not a river, I'm still the rain, that's kicked out from heaven." Back to the falsetto voice expressing "you, like the river, know the rivers, love the sea" and the response from the formidable voice saying "But, I, I roam up river, know night and give her all meanings as I may, may, may, may." All the while this is happening, the relentless bass drum and trance (both linear and circular) tones are on a collision course heading for the listener. It's like being on top of a tower, watching the storm come hustling into town, overlooking a sea of disruption. Waves will soon be upon you, and you have to decide if you want to shelter or ride the wave on a raft. Hourstone's beats and rhythms are wide swaths of heart palpitating bombs. The drops are wicked. In his previous songs, Hourstone's mood and tone can often fall into Asian coloring. This particular track seems to be more Scandinavian or Viking based. It's colder and more poetic.
What a discovery. "Not A River (Still The Rain Remix)" is a mind melting track that solidifies Hourstone's place as an artist on the rise. He's young, but his climatic song gives listeners of any age a chance to reconcile feelings and emotions not otherwise explored. It's a digital diary. Perhaps one of the reasons he focuses on mourning is that his own father passed away when he was at a young age. Time doesn't heal all wounds, and as the hours and weeks go by, they can fester. These feelings never go away. It might take a river to wash away the hurt, but it can also be an ocean wave that carries those same thoughts back. "Not A River (Still The Rain Remix)" is a song the heart expresses. Hourstone has pierced his own heart strings to give listeners a guiding voice and light in life's storm.
Loren Sperry