Welcome to "Quarantine Questions." The newest segment from Music Existence will explore what your favorite bands have been up to while self-isolating at home during the global coronavirus pandemic. To celebrate the release of their newest single "Howlin' Back," this week's Quarantine Questions will be highlighting Crown Lands. The Canadian duo from just outside Toronto has impressed some of rock's biggest names after tours with Jack White and Rival Sons in 2019. The new single sees the band shift away from their Rush-inspired psychedelic sound and turn towards their most blues-based rock tune yet. Check out the new single and our Quarantine Questions with Crown Lands below.
1) Name a show(s) you've been binge watching.
Crown Lands: The Midnight Gospel is incredible. Highly recommended! The animation is beautiful and the subject matter hits very close to home. The show asks a lot of important questions and prompts some needed reflection.
2) Do you have a favorite quarantine snack?
Cody: Vegan chocolate chip cookies
Kevin: Blueberry bagels all day! With some peanut butter & bananas… so good.
3) Who has been on your quarantine playlist?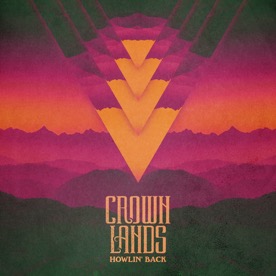 Crown Lands: Check out our Home Grooves playlist on Spotify. We added all the songs that we have been obsessed with lately.
4) Have you picked up any new hobbies since being at home?
Cody: Playing guitar
Kevin: Lots of ambient music experiments these days! I've had a blast brewing locally roasted coffee everyday with my Aeropress.
5) Where is the first place you're going once this is all over?
Crown Lands: To the jam space to write new music finally! The thing we've missed the most in this time is working on new music together. It's not the same separate even with all the video calling technology at our fingertips. Hopefully one day there will be a lag-free way to jam live online.
Crown Lands Online: Website | Facebook | Instagram | Twitter