Coined as a hybrid between Billie Eilish and Nirvana, the latest Canadian export signed to Geffen Records has been making big waves across the industry these past twelve months. Born Lauren Isenberg, she goes by renforshort and has made music her primary focus since she was only 14 years old. In 2019 she independently released two singles, "mind games" and "waves," which racked up over eight million streams collectively. Today she releases her debut EP teenage angst and Music Existence sat down with her to talk about the inspiration behind her first major release.
Born in Toronto, her parents raised her well and exposed her to some of the best music of all time. On most Sunday mornings you could catch the family spinning anyone from Billy Joel to The Velvet Underground, showcasing a wide variety of music to the Isenberg siblings. "I think they've played a really big role in shaping my musical influences … we'd kind of just sit in bed with them and listen to their records, it has a nostalgic feeling for me. We'd talk about the songwriting and what makes these artists so special and different."
One influence from her parent's generation that stuck out more than others is the famed 90s trio from Seattle, Nirvana. She has no issue dropping Nirvana references in her music, and has been bringing back the aesthetic and feel from 90s rock into today's pop-oriented industry.
"My parents love Nirvana and I always thought they were just the coolest…Their music is so honest, so true and just so good. I feel like I have a connection with that band…I feel so strongly about their music and I want people to feel that way about my music. I don't know. They're just so sick."
The renforshort sound isn't typical of what most pop artists are doing today. Her delicate vocals are consistently topped onto heavier tracks that play host to more authentic sounds like actual drums and real guitars. She isn't afraid to incorporate the digital sounds that her peers are using, but still holds onto the nostalgia of music from generations past.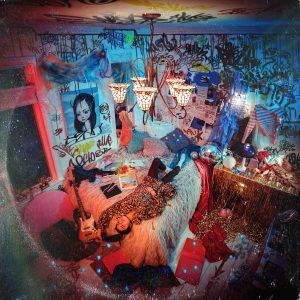 A perfect of example can be heard on her latest single "i drive me mad." The song was an attempt to sonically embody the feeling of having an anxiety attack and was written only moments after Ren herself experienced a tough situation while recording her EP. "I had a panic attack in the studio, which was super awkward for me at the time, but I was with people who made me feel super comfortable… I didn't feel like I could even write a song then, but I was like it's so fresh in my head why don't we just write about anxiety."
The track is equally soothing as it is stressed and nails the tense emotions that come with addressing mental health issues. Apart from the important messaging the song represents, it's also catchy as hell. The carefully penned verses combined with a guitar driven chorus pairs well with the rest of the song's pop driven spirit.
"I love pop-rock. I love the juxtaposition. I have a softer voice on top of really guitar forward pop music…When I figured out that was something I could do I was really excited about it."
Released today, her debut EP teenage angst has something for everyone. The body of work is not only an introduction to the renforshort sound, but also displays her versatility as a songwriter. Fans in Europe and the U.K have already had a taste of what her live performance looks like, but North American fans will have to wait a bit longer to catch a renforshort show.
Due to recent cancellations across the touring industry many concerts have been put on hold, but don't let that stop you from streaming this EP. Her work exemplifies the varying emotions of the modern teenager and draws attention to defining life moments like love and mental health issues. Stream teenage angst  here for a soundtrack that perfectly describes the Gen-Z philosophy.