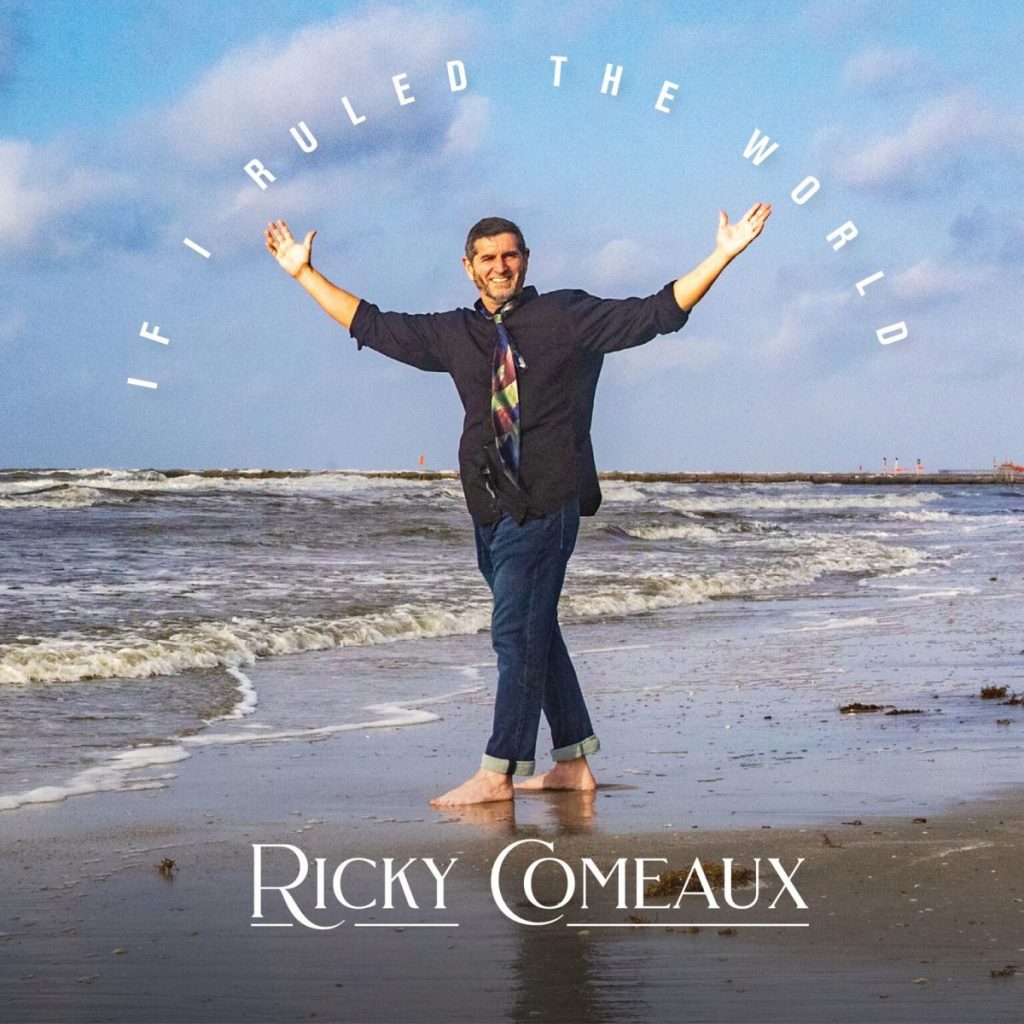 In Ricky Comeaux's new album If I Ruled the World, an LP that is essentially a collection of covers stylized around a one of a kind vocal master, we aren't introduced to anything we didn't already know about its numerous and nostalgic songs, but nevertheless, to say that every one of its tracks is captivating wouldn't quite be doing the record justice. We begin with "Theme from Kiss of the Spider Woman," an eerily haunting number that sources most of its charm from a crushing percussive virtuosity beneath the lead vocal.
"Tell Me on a Sunday" draws us closer to the melodic flame with a mightily simple harmony as infectious as a winter flu before turning us over to the lightly swaying rhythm of "Hallelujah." "It's Over" keeps the excitement coming in quiet droves of cathartic communication, while "I've Gotta Be Me" unsuspectingly throws a little bit of 80's rock n' roll thunder in our direction. "Not While I'm Around," "Carolina In the Morning" and the title track become an inseparable trio here, and though what soon follows in "If" is perhaps even more poignant in spirit, we haven't heard what Comeaux can do as a singer until we've taken in "I Don Quixote" and an unforgettable take on "Since I Fell for You."
URL: https://rickycomeauxmusic.com/
FACEBOOK: https://www.facebook.com/RickyComeauxMusic/
INSTAGRAM: https://instagram.com/rickycomeauxmusic?igshid=1ccge0e0n16zg
YOU TUBE: https://www.youtube.com/channel/UC0XIFLk1kgEl98pNOi1Zesg
While Ricky Comeaux didn't write "I Don Quixote," "I've Gotta Be Me," "Tell Me on a Sunday" or "Carolina in the Morning," you would never know it if you were going off of his emotionality in the performances here. His obvious genuineness is a factor in making every single one of the fever pitches in these songs stick as well as they do, and even though there are certain instances (such as in the title track and "Theme from Kiss of the Spider Woman," specifically) where he's doing a little more than he has to as a vocalist, his play never descends into an unfortunate realm of non-palatable excesses. Comeaux doesn't have any time for the fluff and filler that so many of his closest rivals in the mainstream would just as soon rely on in creating a cover album like If I Ruled the World; instead, he's making it abundantly clear to any and all who pick this LP up that he's committed to pure content over artless crooning every day of the week.
I hadn't heard of Ricky Comeaux before getting into If I Ruled the World, but I must say that I'm very impressed with what he's done in the eleven songs in this tracklist. He brings so much swagger into the studio with him, and yet there isn't a single occasion in this album on which he sounds unbearably cocky or egomaniacal by any critical measurement. Younger vocalists looking to pursue a similar path as his could stand to learn a lot from his style of attack here, and I myself am definitely looking forward to seeing how he develops it in the future.
Loren Sperry