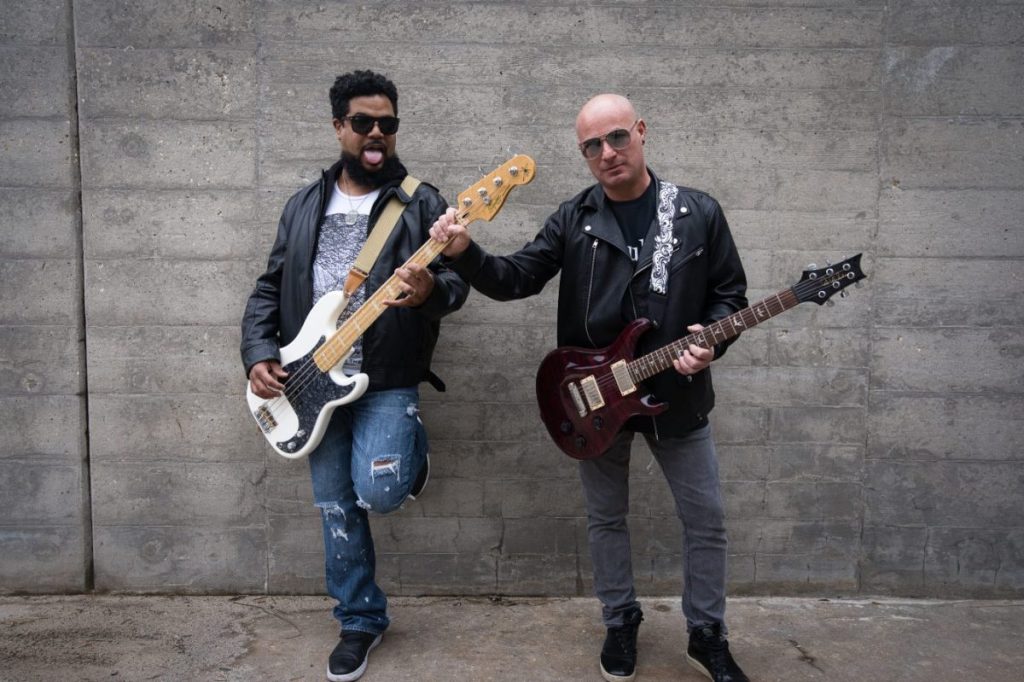 Thank you for chatting with us today! You have an EP out, Occam's Foil. Tell us what it was like to release it. Did you feel nervous or excited for fans to hear it? 
Thanks for having me!  Yes, it's always a little nerve-racking to release new music, but this ain't my first rodeo, so the anticipation and excitement far outweighs the angst.  At this point, I know we put our best effort together, and I think the songs and performances are so strong that at that point, you're basically thinking, "If they don't like it, Little King probably isn't for them!"
I always agonize over tiny details. That's my OCD nature!  But Eddy and Manny both helped me relax a little bit on this project. I think it translates to the album…very confident and cohesive.  It is BY FAR the most fun I've ever had making an album.
If you had to pick tell us your favorite song on the EP and why? 
So many people ask me that, and in turn I ask them which of their children they like best!  Seriously, it's hard to choose.  But I think I am proudest of "The Skin That I'm In" for a number of reasons.  First of all, it's an answer in triumph to the song "Happy Home that was released on the OD1 EP in 2014.  I was going through a tough time with divorce and relocation when I recorded that song, and it is pretty painful to listen to.  I love it, but it burns.  "Skin" was the followup 5 years later…I'm all better now!  And I am, indeed, "at one with the skin that I'm in."
Also, I love how the different musical moods come together in that track.  A little Latin flavor, some good old fashioned classic rock, a fantastic string arrangement written by my friend David Hamilton, and a one-take guitar solo that is probably my favorite of my career.  "Happy Home" is tough…"Skin" is VICTORY!
If you had to choose between performing live or being in the studio which do you prefer and feel the most yourself? 
I have done a lot of both, but I haven't played live recently as much as I would have liked.  Life intrudes, you know?  But I love that give and take, and I think I'm a natural performer, so playing for an audience definitely brings out the best in me as a player.
But if I had to choose, the studio is most important. I am about creating a tangible legacy, and to be able to create a lasting milepost of that point in my life, both musically and lyrically, is the height of my professional existence.  When you add in a healthy dose of preparation, travel, playing with great friends, and some shenanigans, the studio is essential to my being as an artist and as a human being.
Who has been the most influential musician in your life? How does that reflect in your music? 
I have spent a lot of time on this press tour talking about Neil Peart, the drummer and lyricist for Rush who recently passed away from brain cancer.  He is a no-brainer for me…a genius writer and possibly the greatest rock drummer of all time.  Not a question, in my mind.
But I want to give special mention to Donald Fagan of Steely Dan, David Byrne (Talking Heads and solo), and Roger Waters of Pink Floyd.  Their lyrical ability, combined with their unique and formidable musicianship, have pushed me for decades.  Haven't seen Rog live yet, but I've seen the others.  They just elevate to a different place, and they make me think deeply.  I want to be able to inspire others the way they've all inspired me.
When you look back on your career do you have one memory or accomplishment that stands out the most to you? 
I guess in retrospect I am pleased that I have been able to continue putting out music that I'm proud of, regardless of what life has thrown at me.  It hasn't been easy, but I am persistent and driven.  This is my legacy…that's my accomplishment. Tangible Legacy!
Anything else you would like to share with our readers?
Give us a listen.  We may not be for everyone…but if you invest a little time and energy into following along, I think it will be rewarding for the discerning listener who is looking for a new favorite band that they can turn their friends on to.
Now where can we get the EP and connect with you on Instagram?
All of our links are available at www.littlekingtunes.com!  IG, FB, YouTube, etc.  You can stream and download the album from links on our site as well, and it's updated almost daily.