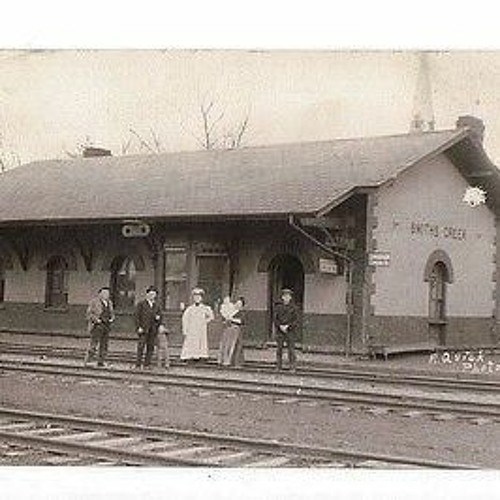 Bay Area, California Rockers Strange Culprits have released Smith's Creek, a two-track EP, as a follow-up to 2018's self-titled debut. While two tracks might not seem like much to get to know a band, and as a listener understand their vision, just a few listens to these tracks and one feels connected. Smith's Creek is a worthy listen.
"Smith's Creek" is the first track. This song has a remarkable sound – an acoustic guitar gently floats along lead singer (and songwriter) Jason Buckingham's deep, singing-from-his-gut vocals. At first listen "Smith's Creek" has touches of alternative rock from the late 90s, early 2000s. The dreary tone and the invasive guitar is a bit grunge sounding. Lyrically, "nothing from memories" echoes throughout. It's a bold statement and Buckingham's words are amplified from the solid music bed – bassist Samantha Smith (Buckingham's wife) and drummer Tony Loftin join forces. While they don't have backing vocals, Smith and Loftin carry the song into a wider scope. That depth adds even more flavor, more drama to Buckingham's gifted vocals. As a three-piece (especially this song) the sound is tight. The listener is left with unanswered lyrical questions – but it's up to their own devices to conceptualize a different world. This makes for an exciting and interesting listening experience. The obscureness proves to be the song's strength.
SOUNDCLOUD: https://soundcloud.com/strangeculprits/sets/strange-culprits-pre-release-1
The second track is "Namesake" and again Buckingham immerses the listener into a seemingly autobiographical story of him conversing or calling out to family members/ loved ones that have died. He sings "did you make it to the other side, and if you didn't then I don't want to remember…I don't want to remember….messaged received….I don't want to remember." His vocals linger on remember and it's an added punch with the subtle percussion lying underneath. It's easy to hear the ghosts in Buckingham's voice. The corners of his heart and soul emerge with every 'remember'. "Namesake" is a stirring track and while he doesn't outright sing, one has to ponder if the person Buckingham is pointing most of his questions to is a person his family named him after. Not knowing this is not a problem – the rock trio's emphasis on a clean, produced track is paramount. The guitar is once again on the lower strings; the result is a riff that feels grungy, Nirvana-esqe ("Come As You Are"). Of the two tracks, "Smith's Creek" stood out more, but "Namesake" is still a wickedly good song.
Overall, fans of Nirvana, The Cure, Soundgarden and The Replacements will dig these two tracks. Leave it to an indie, California-band like Strange Culprits to galvanize the rock crowd. The consistently rockin' songs are heavy on vocals and strong music movement. While they can't be called 'goth rock', "Smith's Creek" and "Namesake" delve into sometimes dreary-sounding depths. Strange Culprits have created a subtle beauty in the back corners of the mind, and the sadness of the soul. As songwriters go, Strange Culprits write about universal themes and by doing so it gives the listener an added rapport to their music.
Loren Sperry