Brian Posehn is a musician/writer/actor/stand-up comic that you may recognize from several TV shows and movies such as Lady Dynamite, You're The Worst, The Big Bang Theory, New Girl, Devil's Rejects and The Five Year Engagement.
This time, he combined both comedy and metal into Grandpa Metal and showed us that metal music doesn't always have to be serious. The album features notable guests including Joe Trohman and Patrick Stump (Fall Out Boy), Corey Taylor (Slipknot), Michael Starr (Steel Panther), Gary Holt (Slayer, Exodus), Alex Skolnick and Chuck Billy (Testament), Al Yankovic and more.
Each track is hilarious on its own with elements of parody and witty narrative parts. It can give you some good laughs for sure. The beginning is all about the representation of Satan in the metal community in both "Intro to Satan" and "Satan's Kind Of A Dick". It makes fun of those who think Satan's cool and expect to hear Slayer's music in Hell.
"Big Fat Rock", "1/4 Viking 3/4 Pussy", and "Goblin Love" all give me a similar vibe because of the sexual jokes. What I really liked is that within all the humorous parts he managed to include certain elements of European folklore.
"Monster Mosh" really impressed me with references to famous horror movies from the '80s such as Halloween, Friday the 13th and A Nightmare on Elm Street. It shows some kind of connection between metal and horror and it's definitely a song many fans will enjoy.
"Grandpa Metal" is a particularly relatable song since it's about the usual discussion between metalheads. There are always those who think they know best about which bands are real metal and which ones aren't and they mostly hate on new bands. It was a wise choice to put this as the album title as well.
My favorite part must be dissing pop stars in both "New Music Sucks" and "New Music Sucks Reprise". Lady Gaga, Drake, One Direction, The Chainsmokers, Kanye West are just some of the targeted celebrities who represent pop culture nowadays and are completely opposite to metal. The guest vocalist Patrick Stump and guitarist Joe Trohman (who also co-wrote some of the songs) even dissed their own band Fall Out Boy.
Grandpa Metal also features parodies on a-ha's "Take On Me" and Ylvis' "What Does The Fox Say?". The second one was quite popular among pop fans and it was very interesting hearing someone like Corey Taylor singing such a song.
The album closes with "Super Secret Track" and if you really wanna know what's so secret about this one, you should give it a listen.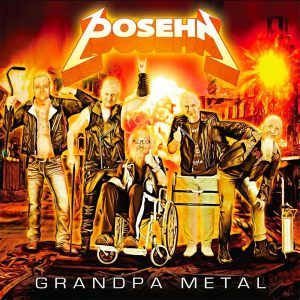 Track Listing/Guest Artists:
1.  Intro to Satan
(Written by Brian Posehn; organ by Jacob Bunton)
2.  Satan is Kind of a Dick
(Lyrics:  Brian Posehn, Music: Scott Ian; solo: Gary Holt)
3.  Scary Nightmare
(Written by Brian Posehn)
4.  1/4 Viking 3/4 Pussy
(Lyrics: Posehn, music: Ian, Donais;  Solo: Alex Skolnick; guest vocals:  Johan Hegg)
5.  Big Fat Rock
(Lyrics:  Posehn/Trohman; Music:  Joe Trohman; Solo:  Phil Demmel; Guitars:  Joe Trohman)
6.  My Phone Call with Weird Al
(Written by Brian Posehn; featuring Weird Al)
7.  Take On Me
(Written by Marten Harket, Magne Furuholmen, Paul Waaktaar-Savoy; Arrangement:  Brendon Small; Solo:  Rob Cavestany; Guest vocals:  Jill Janus, Chuck Billy, Steve "Zetro" Souza; Guest Backups:  Rob Cavestany, Aiden Cavestany)
8.  Grandpa Metal
(Lyrics:  Posehn/Trohman; Music:  Ian;  Solo: Kim Thayil)
9.  New Music Sucks  
(Lyrics: Posehn; Music, Small; Guest vocals: Patrick Stump)
10.  New Music Sucks Reprise
(Lyrics: Posehn; Music: Trohman)
11.  Goblin Love
(Lyrics: Posehn, Music: Ian; Solo: Brendon Small, Guest Goblin: Jill Janus)
12.  Monster Mosh
(Lyrics: Posehn, Music: Trohman; Solo: Bumblefoot; Guest Vocals: Pearl Aday; Guitars: Joe Trohman)
13.  The Fox, What The Fox Say
(Written by Bard Ylvisaker, Vegard, Vegard Vlvisaker, Christian Lochsteer, Erik Hermansen, Mikkel S. Eriksen, Nicholas Boundy; Guest Vocals: Corey Taylor, Michael Starr)
14.  Super Secret Track
(Written by Brian Posehn)