Ray Burton, father of the late Metallica bassist Cliff Burton, passed away on Wednesday, January 15 at the age of 94.
The music world has been rocked by the news of Ray Burton's passing. Ray father of late Metallica bassist Cliff Burton, died just 15 days shy of his 95th birthday. Musicians and fans have taken to social media pouring out their hearts and condolences since the news broke of Ray's death after Cliff's sister Connie wrote in a social media post earlier today: "To let you all know that my Dad died last Wednesday. Rest in peace Dad."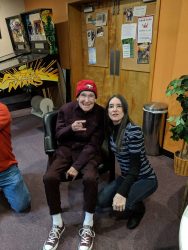 Metallica also issued a statement on their website confirming the news saying: "It is with incredible sorrow that we said farewell to Cliff's dad Ray Burton last week. 
"For 38 years, we were lucky enough to have the energy, wisdom and light of Ray in our lives. His eternal youth with his drive, positivity and relentless smile were both incredibly powerful and stirringly honest. 
"From coast to coast and overseas too, Ray's beaming face would regularly greet us, offering warmth and anchor to our travels, and when it came to the entire Metallica family, band, crew and fans, he viewed us all as his own. 
"That he has passed away leaves an indefinable feeling of sadness and loss, but equally, we know Ray wouldn't want us 'moping around on our darn keisters' for too long. 
"So, in honour of him, and the kind of man he was, we also want to truly celebrate the 94 years of life Ray gave everyone, knowing in certainty that a glint of his light, wisdom and energy will always be with us all wherever we go. We love you Ray. Rest in peace." Metallica confirmed the news, issues statement on their website,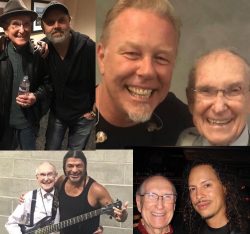 Ray Burton remained a fixture in the Metallica family after his son's tragic death in a bus accident in 1986. He attended many of the band's concerts over the years, including their September S&M2 performance with the San Francisco Symphony, which included Scott Pingel's upright bass version of Cliff's solo "Anesthesia (Pulling Teeth)."
"He told me he was weeping during my solo," Pingel told Ultimate Classic Rock. "Of this whole experience, that was the most powerful, hearing it from the father and what it meant to him."
The worldwide Metallica family felt the same way about the elder Burton, who in recent years lent his support to events honoring his son, like Cliff Burton Day, declared in California's Alameda County. He appeared at the 2017 NAMM convention in Anaheim, California to salute Cliff alongside the supergroup Metal Allegiance.
In a 2017 interview, Ray Burton revealed that he was using his son's royalty checks to fund high school music scholarships. He told Alphabetallica: "One of the things from the royalties that I get, I give a scholarship to the high school he went to, Castro Valley High School, for music. The kids who won it they invariably write and thank me for. And I think Cliff probably would have done that with his money, because he was not against education by any means. He liked it very much."
Ray said that wealth didn't change Cliff. "He was quite a humble person," he said. "He just didn't like the strutting types that so much of the rock 'n' roll musicians get to be when they get popular. He just liked to do his wild playing of heavy metal music. He never changed."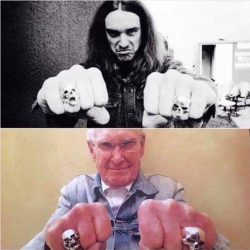 Back in 2016, the members of METALLICA reflected on their late bassist and talked about Ray Burton in a promotional video for "Metallica: Back To The Front", the definitive story of METALLICA's classic 1986 album "Master Of Puppets" and the tour that followed its release,.
"I still miss Cliff, no doubt, and I'd love to see him again at some point," METALLICA frontman James Hetfield said. "So seeing photos that I haven't seen before, especially where we're together, that is awesome. To get another piece of him back into my heart is great."
"Ray Burton is a great human being, and, obviously, the fact that he's Cliff Burton's dad is another reason we love having him around," METALLICA drummer Lars Ulrich said. "But that's not the primary reason.
"Ray has weathered all of these experiences with a smile on his face, and whenever he walks into a room at a METALLICA backstage or here at "the METALLICA headquarters" or any other place that we're fortunate enough to see him, he always has this incredible positive energy."
Added Hetfield: "When I grow up, I wanna be Ray Burton. (Laughs) He is so inspiring. His energy, his love of life, it's very attractive to me, 'cause I'm the other side of the battery most of the time. But he brings a smile to my face. I just look at him and I start smiling.
Click on the image to watch Ray Burton's speech during Metallica's acceptance to Rock and Roll Hall of Fame Ceremony below: