---
YUNGBLUD might just be the anti-hero that the music industry needs. Never afraid to speak his mind or fight for what he believes in, the 22-year-old musician has gained quite the following within the past year and shows no signs of slowing down any time soon. Music Existence spoke to the rocker from Yorkshire and touched on the importance of his fans, the evolution of his music, and the pressing social and political issues he's fighting for daily.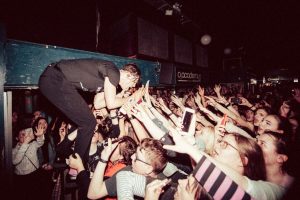 Growing up Dominic Harrison in Doncaster, England, he was exposed early on to some pivotal music that would help formulate his sound. With his father owning a guitar shop, he picked up the instrument at age two and began writing songs by age ten. Having been raised on music by The Beatles, Oasis and The Clash, a young Dominic started expanding his taste in music, and began obsessing over American hip hop and modern rock bands like Arctic Monkeys. The blend of rock and hip hop throughout his upbringing can be heard in his sound today, and only adds to the list of artists in 2019 who are making the word 'genre' irrelevant .
After his debut album 21stCentury Liability, the young musician spent the following year touring and collaborating with some of the highest-profile artists on the charts today. His first collaboration was "11 Minutes", the intense and fiery song with Halsey and Travis Barker from Blink-182. The track is an emotional roller coaster pegging through the five stages of grief, following a man who has just lost his partner in life. Yungblud had already been toying with the idea when he met up with Halsey for a drink one night. She was instantly interested in the storyline, and soon enough the pair booked a studio and got to work immediately.
While recording, they realized the song was lacking in energy and decided to call one of the most fearless, high-energy, celebrated drummers of all time; Travis Barker. A Blink-182 fan himself, Yungblud was eager to learn as much as he could from the legendary drummer who encouraged him not to conform to the masses, but to build the masses himself. He also advised, "Don't be a fucking popstar! There's too many fucking pop stars, just be real". 
His second collaboration saw rapper/rocker/actor Machine Gun Kelly asking to have Yungblud appear on his summertime smash "I Think I'm OKAY." Again, calling in Travis Barker to appear on drums, the group released one of the most energic collaborations of the summer. Yungblud's raspiness paired with Machine Gun Kelly's softer tones, matched perfectly together for the melodramatic rock song. A party anthem appropriate for both clubs and dive bars, "I Think I'm OKAY" has also proven to be a live hit too. The musical comradery between the two can be seen on stage through their high-intensity performances, in which they give the impression they've been performing with each other for years. "We just clicked instantly! We're two mental idiots with ADHD."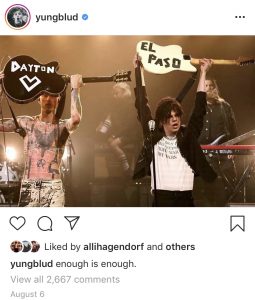 Recently, the two performed the track together on James Cordon's Late Late Show. Before the cameras cut, the duo flipped over their guitars to reveal "El Paso" and "Dayton" written in tape on the back of each one. The tragic mass shootings had happened a few days earlier, and with Machine Gun Kelly being an Ohio native, they thought it was necessary to bring attention to the issue of gun violence in America. "I 'aint going to tell other musicians what they should do because that's up to them… but what I genuinely believe, is that art should reflect what is going on in society or it 'aint art, it's bubble gum".
His latest track "Hope For The Underrated Youth," begins with a broken-down guitar riff and unnerving vocals, as the song builds up to a monstrous chorus. From there he switches back and forth in typical Yungblud fashion between his raspy vocals and his hip hop/rock fusion raps. The release of "Hope For The Underrated Youth" also came with a fan-centric music video. In the video, Yungblud and his fans can be seen frolicking along the River Thames in central London, while also projecting lyrics from the song alongside the British Houses of Parliament.
"I had an idea; I wanted to project something on the Houses of Parliament because Boris Johnson was just elected as Prime Minister, which was totally farcical to me… I had wanted to rally my fans and show people what we can do by the power of unifying each other, and how much noise we can make."
His fans are first and foremost, the driving force behind his success. His commonly used analogy of a 50/50 partnership between himself and the community he's created, ensures his following that he wouldn't have achieved this type of mainstream attention without them. "I am 50% of Yungblud; the other 50% is the people. The community, it's never going to be me and them, it's us."
"What's so mental, is that they don't just sing one song, they sing every lyric to every song back at my show …. they're so fucking loud. The songs aren't about me anymore, they are about them, about us, the meaning's changed." Yungblud prides himself on having created a place where everybody can be anybody. Whether you're a loner, misfit, outsider, or all of the above, the Yungblud mantra is to guarantee everyone feels welcome, no matter what. 
This past weekend, Yungblud played the main stage at the legendary Reading and Leeds Festival in the U.K.  With Leeds being a homecoming for the young musician from Doncaster, being able to play the main stage at the event meant everything to him. "I've dreamt of it all my life, dreamt of it absolutely, all my fucking life…. I was in that crowd. I'm probably going to see myself at Leeds, like oh my gosh, you know what I mean? When you have some mad moment, like fifteen-year-old Dominic waving back at me, like what the fuck is going on here?"
On the topic of Reading and Leeds, we asked him to curate a dream festival lineup of his favorite artists, dead or alive. His headliners included David Bowie, Nirvana, and Blondie, with his side stage, acts having everyone from Billie Eilish to Jessie Reyez, Turnover, N.W.A, Beastie Boys and of course Arctic Monkeys.
Yungblud is proving to be the Deadpool of the music industry. He's the anti-hero for kids who can't relate to Batman or Superman. He strives for a world where people aren't placed into boxes or categories anymore. He wants a world where freedom of expression and personal exploration is encouraged rather than questioned. To him, if we stop classifying each other in one way or another, we won't have a place where judgment can take hold. Yungblud may be the next voice of our generation, but he's fighting to ensure everyone can find their voice too.
YUNGBLUD online:
Official Website | Facebook | Instagram | Twitter | Spotify | Apple Music