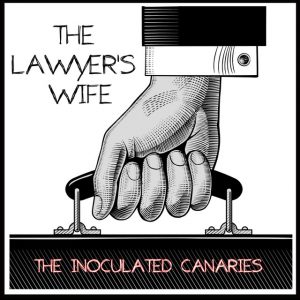 This year, The Inoculated Canaries is releasing a steady slew of singles, each emphasizing a more expansive implementation of their sound. The New York quartet makes the best of heavy active rock riffs and soulful vocal tendencies, all the while continuing to refine the distinctly modern foundational groove that ultimately benefits the pace of their compositions.
Their second single out is "The Lawyer's Wife," a deeply personal anecdote pertaining to the mother of vocalist Mike Rubin's friend. In a tip to the Prelude Press, Rubin explains the lyrical approach, which was created in quick succession, especially given the year of headway that preceded it.
"After an all-nighter with a friend of mine, I wrote the lyrics in about 15 minutes. He told me the story of how his mother went from being a drug addict to becoming Amish, and eventually giving up on life because her husband cheated on her with a minor. I was deeply moved, and the lyrics just sort of came naturally. The song is not fiction, and every single lyric relates directly to an aspect of her life." Rubin adds, "I'd like to think that I created the music, but my friend's mom was the one who really wrote the story."
Right off the bat, I appreciate the refreshing sincerity in Rubin's inspiration. There's a very defined sense of control throughout the song, Rubin's vocal tonality matching both its combination of clean guitars with a subtle crunch, and the undermining thematic disenchantment. Each chorus brings about an additional layer of intensity, while the sentiments of the song are consistently captured. Taking in the progression of both Canaries EPs, as well as the singles released thus far, there's definite artistic and functional growth present between members. I'm already looking forward to how these stylistic and thematic approaches fare in a future full-length release.
The Inoculated Canaries Socials:
Facebook|Official Website|Instagram|YouTube