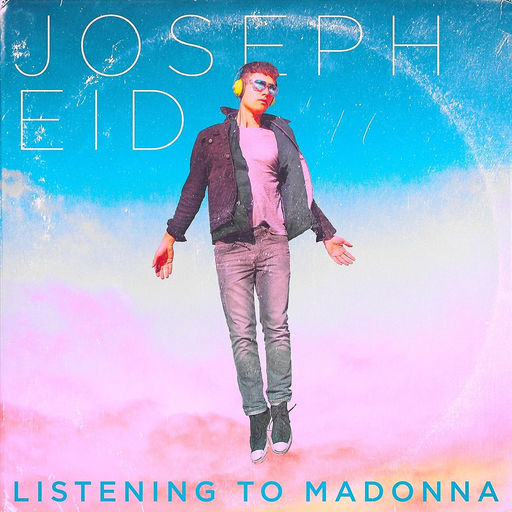 URL: https://www.josepheidmusic.com/
If you've been following American indie pop lately, it's more likely than not that you've caught wind of the most recent release from pop singer/songwriter Joseph Eid, "Listening to Madonna." The music video for "Listening to Madonna" has been raising a lot of eyebrows in discriminating music circles – for good reason. Eid uses his breathtaking vocal to espouse the virtues of remembrance in "Listening to Madonna," and uses all of its nearly five minutes of running time to unleash some of the most compelling grooves of the season so far. He's got a lot of eyes on him right now, but this is one artist who isn't shrinking from his big moment in the spotlight.
"Listening to Madonna" isn't as much a hybrid of folk and pop music as it is a pop song with some folky melodies sewn into its solidly-structured hook. The grooves come close to being straight bubblegum in style, but there's an undeniably rootsy quality to the composition of the strings that keeps the track from devolving into trite Top 40 plainness. Eid's vocal is always at the forefront of the mix, but it's given a hearty backbone from an acoustic guitar that leaves a trail of smoky harmonies in its path.
There's so much texture to both the drums and the guitar parts in "Listening to Madonna," and I actually think that they're a bit more expressive than they needed to be. Personally I found the lyrics here to be the most captivating of all the components, and there are several moments where the instrumentation is so intense that it swells above the presence of the vocal track, making it a little difficult to stay trained on Eid's delicate crooning. It's not enough to sour the stylized adrenaline in his beat, but I might have taken a slightly different approach than producers did in this particular situation.
Most of the music videos that I've been watching in 2019 have been terribly overproduced, both in sound and in imagery, but that's not even close to being a problem for "Listening to Madonna." The visuals are VHS-quality, but that's exactly what makes them so unstoppably charming. Eid isn't putting on an arrogant display of his wealth or some plastic-faceted portrayal of a rock n' roll lifestyle with this video; he's being himself, which is something that I can only hope for his contemporaries in the underground to try doing with their own music sometime.
Joseph Eid is keeping it simple in 2019, and while I predicted that his new single was going to be another homerun, I couldn't have guessed how impressed I would ultimately be by its tightly-wound construction, and more pressingly, its chic tonality. As a lifelong fan of folk-rock, pop and melodic songwriting in general, I can attest to this being a startlingly strong offering from a grossly underrated entertainer who has been paying his dues as an indie musician for almost ten years now. This feels like his time to shine, and it would appear that he's willing to take whatever risks necessary to finally push his sublimely smart work over the top.
GOOGLE PLAY: https://play.google.com/music/preview/Tamefnu3qcnwkbz44bzh7lmtha4?play=1&u=0
Gwen Waggoner