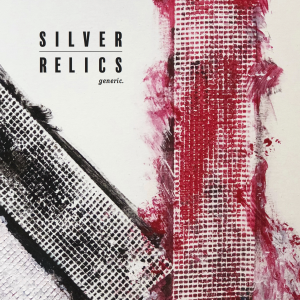 Silver Relics is a New York City duo comprising singer/multi-instrumentalist Alex Sepassi and drummer Justin Alvis. The two musicians each harness nuanced and diverse backgrounds, Sepassi through the complementary sounds of 60s pop and 80s indie rock, and Alvis through his formative touring stints alongside various drum and bugle corps. In 2016, Sepassi and Alvis linked up with New York producer Howie Beno during his South by Southwest showcase. They would eventually relocate there the next year, at the same time crafting a collection of original songs.
Last Friday, the band released their debut full-length, generic. Right off the bat, what's on offer here is a complete contrast from the album's title, not to mention utilized exceptionally. The album opens on "Fame," a synth-oriented track bolstered by a groovy pocket, deep bass foundation, and clean guitar accompaniment. Sepassi's vocal tonality is sharp and direct, giving the involvement distinctly contemporary pacing and punch. Considering these factors, I appreciate how the general mix is contained further on as if it doesn't have to necessarily jump out at the listener to garner their attention. Both the titular and following track, "End of Zero," continue to employ a similar dynamic where the instrumentation is vibrant and layered, yet keeps a steadiness throughout. From a thematic sense, there's focus on staying true to your roots when all has been lost, and the subsequent striving to persevere through such circumstances. The album then heads into rockier territory, carried by "Gridlock" and "Time Bomb," the album's carrier single. I found the stylistic and thematic implementation of the two tracks interesting. The initial track is of a hard-edged, straightforward variety and centers on careful thinking to move forward, while the other emphasizes clean melodies and a contrasting notion of impulsiveness. Ultimately, both mindsets come into play on side one's capping song "Wanderlust," which sees balance between clean harmonies and heavier textural nuances.
The latter half of the album begins on "Submarine," a catchy, melodic track that gives off the feeling of being submerged underwater. I enjoyed how the verses featured a grungy guitar tone, while the chorus offsets it with clean chord sequences enveloped in cave-like reverb. The pacing of this section works much the same way as the previous, with the tracks "Cardiac" and "Colours" continuing to channel sensation-based imagery. On "Yellow Master Motive," the focus shifts to how that longing for adventure can push one to act based on their environment, and the struggle to stay grounded in the midst of it. There's noteworthy involvement between the gentle initial phase, the crunchy mid-section, and the subtle key change toward the end of the song, all of which earn the song potential as a follow-up single. By the penultimate song, "Small Talk," I felt an honest sense of growth in the subject's perspective, wherein their initial disenchantment from being routinely kicked down matures into a state of humility, in that they no longer dwell on their shortcomings. The newfound perspective is further expressed in the album's closer, "Postscript," which acknowledges that in one's pursuit of their dreams, they tend to lose themselves in the fight through barriers, and hope to eventually transcend them through whatever means possible, no matter how extreme.
Overall, I was impressed with how well Sepassi's and Alvis's abilities translated in a full-length setting. Their balance of heavy, clean, and electronic elements works effectively, especially when set as the backdrop to a clever narrative about the human experience. I'm already looking forward to Silver Relics further expanding their creativity next time around.
Silver Relics Socials:
Official Website|Facebook|Instagram|Twitter