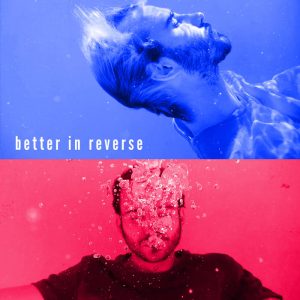 Oakland, California's Super Cassette mix throwback splashes of early 90s indie rock with those of the early 2000s garage rock revival. Back in summer 2016, singer-guitarist Max Gerlock jumpstarted the project following the unexpected live success of his solo act, Maximillian, adding twin brother/co-frontman Nick, bassist Devon Hollister and drummer Aziz Yehia into the fold. Since making that transition, the fully-fledged Bay Area quartet has earned sizable acclaim with over a half-dozen releases under their belt.
The band's latest release is the "Better in Reverse" single, which comes two years their Cathode Ray Tube EP. Right from the single's intro, it's clear that Super Cassette maintains focus within the parameters of their stylistic palette. I appreciated how the generally upbeat percussion brings clarity to the punch and warmth of the guitars. The Gerlock brothers' distinct, harmonic tonality serves as an especial element in the general involvement and is a comfortable fit with the band's lo-fi production approach.
From a thematic standpoint, the song centers on the extent to which we inflict chaos even on those we hold dear, coupled with the longing to return to a more peaceful time. The single's cover art serves as the initial link in that respect, depicting the two brothers in a vertical split-screen showcasing opposing colors. The song's music video serves as both a comedic and clever extension of the theme, showing just how trivial the catalyst for such extreme behavior can be. With the band's debut full-length on the horizon. I look forward to how this theme, as well as its accompanying perspectives, will be further explored.
Super Cassette Socials:
Official Website|Facebook|Instagram|SoundCloud|Bandcamp