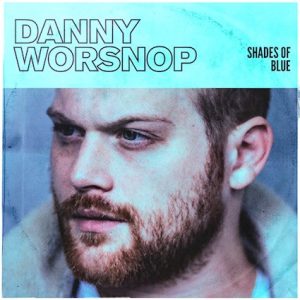 Whilst most people know Danny Worsnop to front the metalcore band, Asking Alexandria, and some know his work with We Are Harlot, it shouldn't come as a surprise that his solo work is also equally appreciated. What does is the genre that he decided to take on with his first solo album, The Long Road Home. That was an unexpected delight from 2016, so three years later, how does his new album, Shades Of Blue compare to that, especially as he is taking on a new genre?
It should not have to be surprising, but Danny knows his background and influences when it comes to blues and soul music, and is able to show that appreciation throughout all of the songs on this record! Each influence, whether it be Motown or Led Zeppelin, is prominent but also given that Danny edge of approval that plants his staple on his music so you know it's him. There's a lot of grooves and funk within the music, and in a song like "All The Time", contains layers within the music that shows the extra mile that he took to make each song sound rich and vibrant, and in every track on the album, it does, effectively accompanying the emotion of the song and matching the lyrics at every step. Speaking of the lyrics, it feels like Danny served up his heart on a platter and the listener is able to taste every emotion he's ever felt. Whether it's the elation of "Little Did I Know", or the emotional "I've Been Down", it's very humbling how open these lyrics are, and it adds to how beautiful each individual track, and the album as a whole, actually is. Each instrument feels just right within each song, and are at the right level to really appreciate each element whilst not overshadowing each other.
Overall, it's a delight to listen to, and a great follow up to his previous album. Danny has talent, not just in metal, and he is willing, as an artist, to be open with his audience and show he's not afraid to exhibit himself as he truly is in his music. It's definitely different, but an amazing listen, and great from beginning to end.
Shades Of Blue is out 10th May