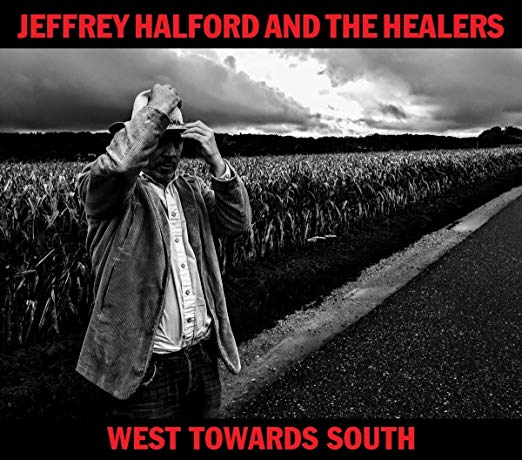 The Americana revival is in full swing in 2019, and Jeffrey Halford & the Healers are front and center in the movement with their new album West Towards South. Without borrowing too much from the past, the band brings a little bit of music history into focus in "A Town Called Slow," "Dead Man's Hand," "Geronimo" and "Willa Jean," a dash of eccentric experimentation in "Gallows," "Deeper than Hell" and "Three-Quarter Moon," and their iconic smooth-swaying rhythm in the title track, "The Ballad of Ambrose and Cyrus" and "Sea of Cortez." If you've somehow never heard of Jeffrey Halford & the Healers, this would be the record that I would tell you to start off with; West Towards South is as larger than life as an Americana LP can be, but it's in its muted moments of sobering confessions that we learn the most about the men responsible for its music. They've got a passion for this subset of blues, western folk and country that I've yet to see matched by any of their contemporaries, and it's stealing all of the spotlight across the underground this season.
Production quality is always important to artists of all backgrounds and styles, but for Jeffrey Halford & the Healers, it's as vital to the listening experience as writing the songs that it will inevitably bolster is. Every sparkling nuance in the tonality of their instruments is given the VIP-treatment in this master mix, with the guitars tending to shine the brightest in songs like the acoustic "Sea of Cortez," electrified blues bruiser "Deeper than Hell," and the hot-tempered "A Town Called Slow." They never rob the lyrics of their share of center stage, and to be truthful, I don't know that anything could. Halford spins a yarn so engaging in West Towards South that tracks like "Gallows," "Three-Quarter Moon" and "Willa Jean" feel more like glimpses into a motion picture soundtrack than they do songs on a typical Healers record. It's a masterfully arranged concept piece, and even though I rarely go for these types of albums, its exceptional construction and adherence to the traditional ethos of Americana make it too tasty a treat for me to pass up.
Poetic, contemporary and much more fluid than their last record, West Towards South is taking Jeffrey Halford & the Healers' music in a much deeper direction from all angles, and though it might divide their hardcore fan base with its somewhat complicatedly conservative compositions, I think that it will actually prove to be one of the band's more influential releases when all is said and done. So many artists are trying to do exactly what Jeffrey Halford is doing in West Towards South; they want to merge styles of old with the high definition, boundless artistic textures of a new era, but there hasn't been any solo performer or group that has been able to achieve results even similar to those in this LP. In the last month, I've had the pleasure of reviewing some very intriguing LPs that speak to the essence of our generation's fascination with hybridity, and for the time being, this record is definitely in the best of the bunch.
AMAZON: https://www.amazon.com/Towards-South-Jeffrey-Halford-Healers/dp/B07NKVMM41
Loren Sperry