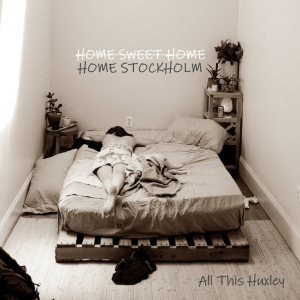 All This Huxley is an indie rock outfit hailing from Philadelphia, Pennsylvania. Forming in 2013, the seasoned quartet of longtime friends would promptly play out, and expand their presence in numerous well-known venues around the greater east coast. Three years later, the band's efforts accumulated into their critically-acclaimed eponymous debut album, featuring clever allusions to English dystopian novelist Aldous Huxley, from which their band name is derived. Come July, the band's follow-up EP, Home Stockholm, will mark a solid expansion of their creativity.
The EP begins on "Stockholm," a track that co-founder and guitarist Trevor Serine nearly scrapped due to difficulty grasping a suitable feel for it. Based on that anecdote, I gleaned a kind of relatable sentiment through the instrumentation, being a musician myself. It's one that centers around continually coming up with an arrangement that is passable on the surface, but seems insufficient in the long run, and is thus left in limbo. Then, upon returning to the draft, the once-thought haphazard arrangement grows on the musician and empowers him to flesh out the song to completion. What comes of this experience feels like a chance at redemption. The chord sequence and percussion, now smooth and fully realized, serves as a functional foundation for the EP's generally somber, yet openhearted vocal and thematic leanings to come. Considering the song's ultimate form, I'd say the theme is rather complementary – about someone being constantly torn in life that they are uncertain of their own identity, and then, after some reflection, they vow to trust themselves and reconnect with what makes them whole. For a song that had almost been done away with entirely, it does do a surprisingly competent job, especially as the opener. That distinctive smoothness also transitions well on the track to follow, "Comrade II." I appreciate how the main melody takes its time to build, while the vocals enter with a similar patience. There's decent attention to subtleties in the guitar harmonics, as well as how the bass line and leads increase in prominence. From a thematic standpoint, there's a sense of having to keep a heavy guard for fear that eventually, all of one's flaws and faults will be exposed, in a kind of truth that, although hard to swallow, proves sincere.
At the midpoint of the EP, "Dunkirk" channels the band's roots by having the theme set in a darker, more dystopian tone. It describes a woman venturing into a completely empty, windowless basement, and suggests that there are others present who have all but lost their voices after screaming in complete terror. This realization occurs when, all the while, there are bombs being dropped outside that emit a rumble in seemingly relative proximity to them. After that perspective is established, the song's structure gradually shifts from that of a lonely waltz to a progressive, battle-armed arrangement, utilizing greater distortion this time around. The penultimate track, "One of These Things," reverts to a more straightforward, hook-laden emphasis much like the opening song. Its endearing suspended chord sequence has a very 90s underground feel about it, and really suits the delivery of the vocals. I also enjoy how the lead melody phases provide breathing room while maintaining that sense of catchiness. Considering these factors, the song definitely has potential as a strong follow-up single. Coming into the final song, "Ring Buoy," I was pleasantly surprised at how natural the transition felt, from its initial acoustic tenderness into punkish, hazy distortion. The structure of its instrumentation also emits another kind of throwback feel, particularly in the fuzzed-out, but sharp recurring lead melody. Once again, I was equally surprised by the end of the song, its final refrain sang in a similarly disenchanted, yet unexpectedly brash and intense scream.
Overall, Home Stockholm fulfills its purpose as a worthy follow-up to an impressive debut. While the EP's arrangements tend to fall back a bit on the heaviness in favor of a more experimental approach, its thematic leanings contain fresh perspective, and continue to carry resounding merit on par with the band's full-length. Even with this EP not yet released, I'm already interested to see what All This Huxley has in store down the line.
All This Huxley Socials:
Official Website|Facebook|Twitter|Instagram|Bandcamp