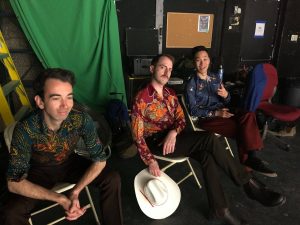 In the music video and first single from Young Doctors in Love's …In Love, "Julianna," the Toronto indie rockers weave together a patchwork of atonal white noise, thunderous percussive grooving and melodic lyricism in a smooth and efficient pop juggernaut captured in DIY visuals. Singers Stephanie Matos and Melissa Peters are rocking out to the rhythm being discharged by bassist Sam Mackenzie and drummer Nick Shao, while guitarist, producer and principal songwriter Clay Puddester and keyboardist Peter Gorman colorize the beats. There's no need for fancy bells and whistles, because this song has enough frills compositionally – both positive and negative – to satisfy pop fans with a taste for overindulgence.
"Julianna" isn't the only point of intrigue on …In Love; in fact, far from it. While not all of the songs on this record feel like singles, with the swarthy "Jodie" and the beefy bass-directed "Could It Be That We're Falling in Love?" standing out as strangely angular numbers amongst the others, nothing sounds as though it were rushed or thrown together in a last-ditch effort to fill out the tracklist. "Jamie" and "Jamie!" are to some extent a little predictable, but their stylistic kinship doesn't water down the LP or make the music feel robotic. …In Love is at times a little saccharine in its progressive pop stylization, but for every instance of camp and bombast that it shares with your typical concept album, it finds a balance with startlingly intimate lyrics that skew the music with a bit of earthiness.
FACEBOOK: https://www.facebook.com/youngdoctorsinlove/
There's a lot of muscularity in the music behind the words in "Come on and Love Me (Like You Used to Do)," "Would You Say That You Love Me?," "You Give Me All Your Love (And It'll Be Alright)" and "Juliette," but it isn't overstated in the master mix. The soft nucleus in all of the sonic discord running wild in this record is the sublimely surreal vocal tracks, the first of which – in "Juiia" – will haunt your dreams after only a single listen.
Young Doctors in Love value tonality more than most of the bands in their scene do, and that's evidenced in the wealth of unvarnished grain that "If U Give Your Love to Me," "Julianna" and "Jamie!" sport in every stitch of melodic swing that they bring to the table. That isn't a synth harmony that captivates you at the onset of "Juliette," nor is there secretly an augmented string arrangement simmering beneath the surface of "Just Give Me a Little Bit of Your Love." …In Love is, for better or worse, an exercise in artistic realism, and in this age of plasticity-plagued pop, it makes for a mostly refreshing slab of rock wonderment.
With twelve tasty tracks that will leave you feeling exactly as its title would imply you would after even the most cursory of examinations, …In Love is definitely among 2019's more interesting listens. A lot of alternative bands are trying to do what Young Doctors in Love have accomplished in this record, but few are coming within striking distance of this group's focused attack and masterful command of melodies. Get yourself a copy of …In Love as when you have the chance; if you appreciate a solid pop harmony as much as I do, I have a feeling that you won't regret it.
Loren Sperry