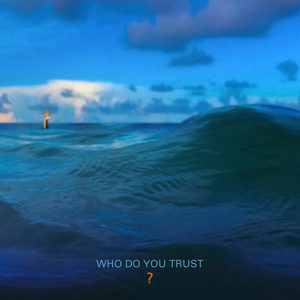 Papa Roach released their tenth studio album Who Do You Trust?
They are known for changing their sound from nu-metal to pop rock and customizing to suit modern music, which is visible on this album as well.
The album ironically starts with "The Ending," a song with emotional verses, yet not so deep chorus. What gives this song a bonus point is a screaming part in the bridge. "Renegade Music" is a heavier one that's been compared to Rage Against The Machine. "Not the Only One" is a song you can listen to in hard times. It's a song with a strong message, mixed with both acoustic and heavier sound. The title-giving song "Who do you trust?" is catchy, but what really annoys me is repeating that question too many times. The rest of the lyrics are fine, but it feels like it lost its meaning because of Who do you trust? part. "Elevate" gives me Imagine Dragons vibes – the typical pop sound that we've already heard before; nothing special. "Come Around" is a promising song – not the best one, but it surely gives me nostalgia. "Feel like Home" is a nostalgic song as well, but with a weaker chorus. "Problems" is one of those songs you could easily listen to in your car. But again, repeating the same sentence over again is bothering me. "Top of the World" sounds more like Papa Roach because of the rap parts, but the rest also reminds me of Imagine Dragons. "I Suffer Well" is what the older fans have been looking for. That's the only hardcore song; too bad it only lasts for 90 seconds. I really like the message in "Maniac". It can help anyone who suffers from anxiety. The last track on the record is "Better Than Life". I actually enjoy the first verse and I think the song is a good closure.
The album is actually better than I expected. What I like about Papa Roach is that they're not afraid to experiment with different types of genres. It isn't always good, but I appreciate their hard work and I'm giving them 7.5/10 for this album.
GOIN' BACK TO CALI TOUR:
Jan 18, 2018 – Sacramento, CA – Ace of Spades (SOLD OUT!)
Jan 19, 2018 – San Francisco, CA – The Regency Ballroom (LOW TICKET ALERT!)
Jan 22 – Los Angeles, CA – The Roxy (SOLD OUT!)
Jan 23 – Los Angeles, CA – The Roxy (SOLD OUT!)
Jan 24 – Los Angeles, CA – The Roxy (SOLD OUT!)
ATTENTION! ATTENTION! TOUR
with Shinedown and Asking Alexandria
Feb 20, 2019 – Estero, FL – Hertz Arena
Feb 22, 2019 – Fayetteville, NC – Crown Complex
Feb 23, 2019 – Knoxville, TN – Civic Coliseum
Feb 24, 2019 – Huntington, WV – Big Sandy Superstore Arena
Feb 26, 2019 – Dayton, OH – Nutter Center
Feb 28, 2019 – Baltimore, MD – UMBC Fieldhouse
Mar 1, 2019 – Hershey, PA – GIANT Center
Mar 2, 2019 – Uncasville, CT – Mohegan Sun Arena
Mar 5, 2019 – Youngstown, OH – Covelli Centre