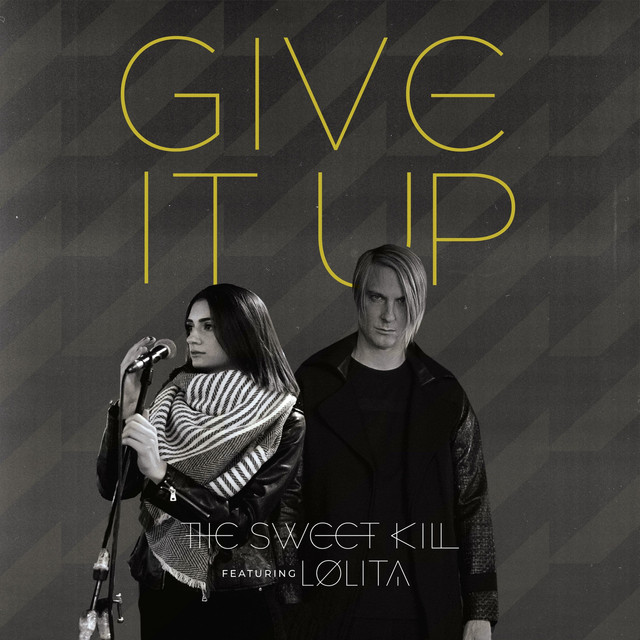 The Sweet Kill – "Give It Up" is a mesmerizing new single featuring Russian singer, Lolita, with band leader and lead vocalist Pete Mills, and driven by the beat of Darren King (MUTEMATH). Together they rocked a total masterpiece with many layers of music to peel from an apple full of everything a hit single should be made of. But there's more to it because it comes with a variety of ways to slice what it's about, from depression to just about anything that takes your life over in a bad way, as getting too much of anything can result in. And the result itself is a powerful and harmonious treat for any self-respecting music lover.
SPOTIFY: https://open.spotify.com/album/1UUFOf2WdSotp1DXpnJtT6
Lolita is fabulous on this single, sounding like most any high caliber female vocalist, making a very familiar ambience to the overall sound which is modern but retains classic factors that range several genres. She's a premiere vocalist for sure, it's not even worth disputing once you hear this beautiful voice. But she doesn't just sing well, she gets the emotion of the lyrics across as if English were her native tongue. She's really quite the amazing talent to have at anyone's hand. You'll swear you've heard before and ask where she's been all your life at the same time, and that is a tall order to have on the musical menu.
URL: http://www.thesweetkill.com/
At times she goes from melodic to almost robotic as she spars with Mills and the vocals get evenly split between them, and that's where things combine with the percussion of King with his presence keeping everything grounded and also crashing at just the right times. The whole song is full of peaks and valleys from everyone involved, so much that it's a wonder how they melded all into one song, clocking in at 4:02. But that's only one of the astonishing things about it and The Sweet Kill in general. If they don't stick around it would be a misjustice by any measure in today's musical landscape. I hope everyone hears it. If you like pop with electronic inflections done in a big way, then "Give It Up" is right up your alley, and even if you're not you'll be everything from impressed with the musicianship and songwriting craft at the very least. It's hard to say a lot more about a song by a band I've never heard, but that's the honest of it in a very fickle industry and just as fickle consumer era. You just can't fault anything about this song or the musicians, but that doesn't mean it's for everyone. I just can't see anyone dismissing it because it's not their cup of tea.
KKBOX: https://www.kkbox.com/hk/en/album/wopi9INqrR2jL0F2.BbC009H-index.html
They really address the fact that if you want something to end, to stop bringing its bad energy around, the best thing to do is give it up, as the title more than suggests, it actually-demands. Feel the pain as the two singers go back and forth trying to save each other's souls and the beat does the rest of the bashing. It's a very fresh and vibrant track with a solid production by putting Dave "Rave" Oglivi and co-producer Voli, at the helm for an all-out showstopping single.
Loren Sperry