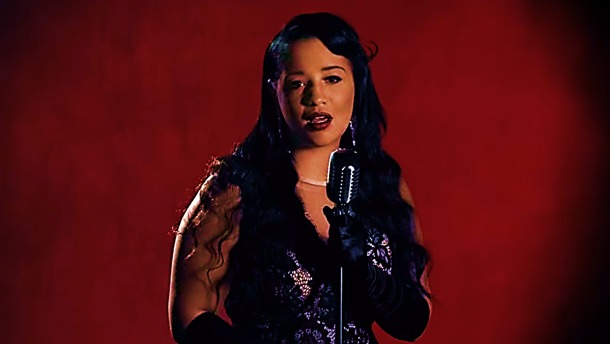 A glistening piano comes reaching out of the silence alongside a simple finger snapping and suddenly a familiar swing makes contact with a bright melody radiating from none other than Kanisha K. She lays into the holiday standard "I'll Be Home for Christmas" with a fragile ease that is both reserved and yet stunningly physical in the muscular master mix of the song. Steeped in swagger and ripping through the tepid pace of previous renditions with her signature steaminess, Kanisha K's performance in this single is as stately and sweet as a White House Christmas tree, but her delivery of the song's fabled melody is unique and rooted in a style of rhythm and blues that is even older and more revered than the composition itself.
The percussion picks up as we get into the guts of the track, rollicking along to a jazz beat that hypnotizes us in its staggering drone. In the distance there's an acoustic guitar marching to a Django Reinhardt-style groove just begging for us to notice its opulence in the midst of the flurry of harmonies that are cascading from above. This arrangement of "I'll Be Home for Christmas" is deceptively mathy and calculated; we become so magnetized by Kanisha K's vocal that it's easy to overlook some of the incredible play that her supporting band is giving up. None of the players compete for our attention though – the spotlight belongs to the singer exclusively, and her well-rounded execution is distracting to put it mildly.

SPOTIFY: https://open.spotify.com/track/3IZ9I0Lhm1T4QCB1PYiBEJ
You really can't go wrong with the beefy mix that this single sports, but in the case of an evocative holiday number like "I'll Be Home for Christmas" it's essential to creating that crackling fire-like warmth that has made staples of the genre instantly recognizable. The horn parts duel with a clean, reverberating electric guitar in the break, all while Kanisha K struts around the rhythm with that angelic voice of hers. While devoid of all the pomp and grandeur that sometimes makes Christmas songs hard to digest in contrast to more straightforward pop tracks, this cover still retains the exotic vibe that made the Bing Crosby original a mandatory addition to any seasonal playlist. Kanisha K didn't want to wholly recreate "I'll Be Home for Christmas," but she clearly wasn't trying to do what so many singers have done with the song before.
As we near the conclusion, every vividly produced and tightly wound component fuses together in an assaultive, vicious wall of sound that is tempered only by the dominating timbre of Kanisha K's vocal. After listening to this single at least two dozen times in the last couple days, I still haven't completely determined which is bigger – the lush transmission of the lyrics or her emotionally cratering voice, which personally I think is more colorfully mixed in this track than in anything else I've heard her record before. Based on the gravity of what I hear in this song I've come to the conclusion that, if Kanisha K were so inclined, she could easily make an entire album of holiday covers that would light up a family gathering or a crowded Christmas party just the same. This release is tangible evidence that her talents know no true limits.
YOU TUBE: https://www.youtube.com/watch?v=AoJ2eTPOl7Y
Loren Sperry