The TOPFEST festival has a big news for fans! In June 2019 the legendary rocker Slash will perform at the festival! The guitarist and songwriter will play together with singer Myles Kennedy and the accompanying band The Conspirators.
Slash will come live to introduce the new album "Living The Dream", which was released recently. Slash was named by Time magazine in 2009 as number 2 in the top ten most important guitarists of all time. Do not miss the legendary member of Guns N 'Roses live. One of Slovak best festivals will be held again on its home scene – in the areal of Zelena voda in Nove Mesto nad Vahom.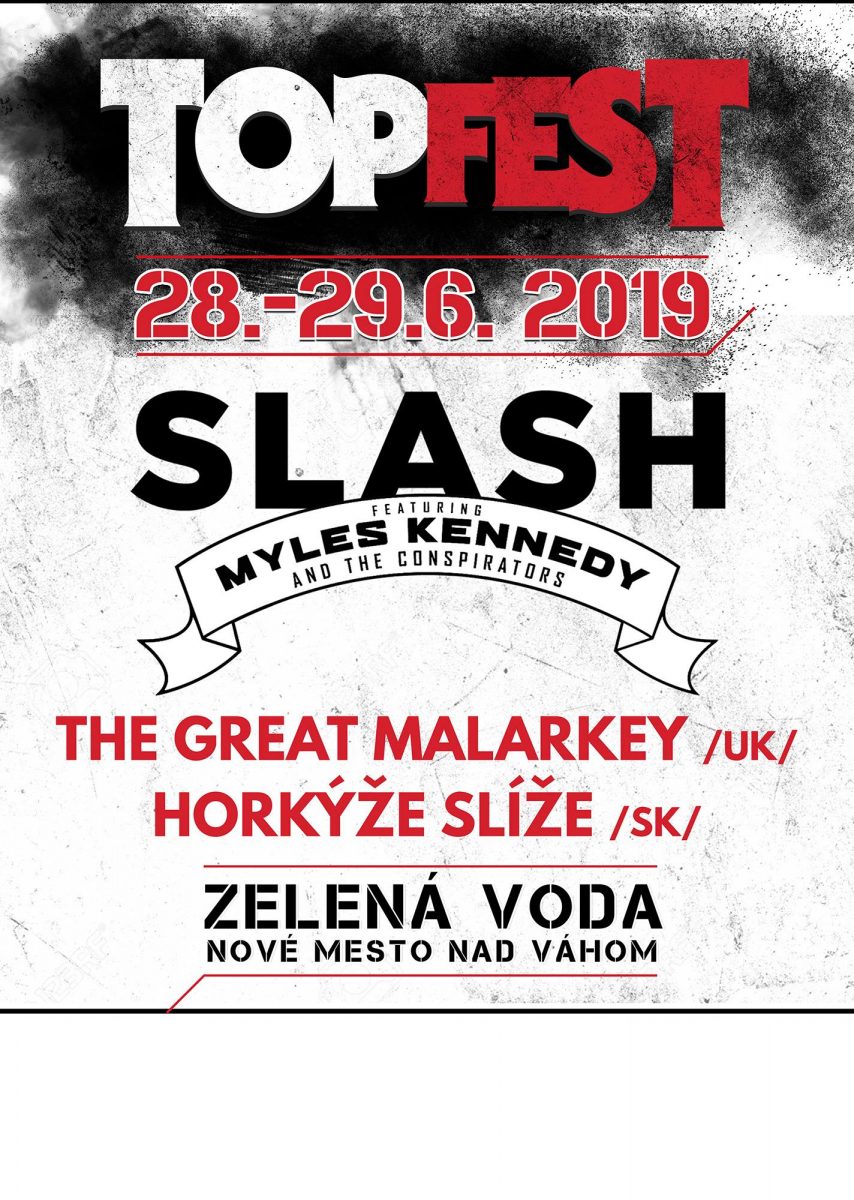 TOPFEST has published the name of the first headliner! The guitarist and composer Slash will perform at Zeena voda on June 28, 2019. He became famous as a guitarist of Guns N 'Roses, which he co-founded in 1985. While he left in 1996 to pursue a solo career, he recorded five albums He has worked in various music projects. For example, in the Velvet Revolver, he has met with former Guns N 'Roses, or with Scott Weiland from Stone Temple Pilots. The first solo album was released in 2010 and hosted vocals by Ozzy Osbourne, Dave Grohl from Foo Fighters or Fergie from the Black Eyed Peas. Two years later, the album "Apocalyptic Love" followed, with Alter Bridge's singer Myles Kennedy. The recording of "World On Fire", released in 2014 under the title Slash feat. Myles Kennedy & The Conspirators. The new "Living The Dream" was released this year and with 12 original songs, Slash is inspired by a variety of musical styles and always gives you a juicy guitar performance.
"I started to prepare some of the material from the new album during the tour of the previous recording. Ideas for songs originated in the hotel or even in the soundcheck just before the concert. The name of the album is actually to be a sarcastic statement about the contemporary world we live in. I think it's more varied this time. On every new album, we try to come up with something current that reflects this moment in time. Recording with this band and playing on stage is a sense of life for me, "revealed Slash.
To help record the new album, the band again invited producer Michael "Elvis" Baskett, who is known for working with bands like Alter Bridge and Incubus. Previous albums of Slash and The Conspirators – World On Fire and Apocalyptic Love – reached the Top 10 in the charts in twelve countries and brought the guitarist great recognition. Slash feat. Myles Kennedy & The Conspirators will see Slovak fans at the TOPFEST festival on 28 and 29 June.
"This year we tour the US and then move to Europe, South America and Australia. We will try to hit as many places as possible. As I like the writing and recording process, I consider it most meaningful to play our music in front of the audience. The most important thing for me is live playing with the band for our fans. That's what I like the most. "
Besides Slash, there will play at the 16th TOPFEST bands Horkýže Slíže, Doctor P.P. or The Circus Brothers. Come and experience the perfect festival atmosphere at TOPFEST 28th – 29th June 2019 at the Zelena Voda in Nové Mesto nad Váhom. Tickets are available at Ticketportal.sk at https://www.ticketportal.sk/Event/TOPFEST_2019 You can buy a festival ticket for 35 euros by the end of the year! All information is available at www.topfest.com and at https://www.facebook.com/search/top/?q=topfest