Co-headlining tours can be tricky. There's always one band who outshines the other, it usually means shorter set times and if you include an opening act, the night can be ridiculously long. But after seeing the Young Guns Tour  featuring Dirty Honey and Wolf Van Halen's Mammoth WVH, it seems both bands have crafted a formula to avoid the aforementioned inconveniences for fans.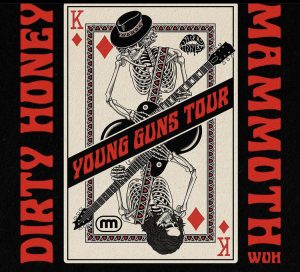 Making their first and only Canadian stop on the tour, Dirty Honey opened the show with their energetic foot stomper "Gypsy," from the band's 2021 self-titled debut LP. The band had an interesting rise in Canada, after first coming to Toronto on Slash's Living The Dream  tour in 2019. They then returned a mere 8 weeks later when they supported Alter Bridge at the exact same venue. By then, more rock fans had become aware of the new band from Los Angeles who were quickly on the rise to become the first unsigned band to hit No. 1 on Billboard's Mainstream Rock chart. They booked their first Canadian headlining show in April 2020 but the band's momentum halted when the pandemic shut down all international touring.
But even after two long years, the buzz around Dirty Honey still saw fans swarm towards the Danforth Music Hall nice and early to ensure they arrived for the band's 8pm start time. Playing to a full crowd, it's safe to say Canadian rock fans were stoked to finally see the blues-based band from L.A., once again.
They gave the crowd everything, playing a variety a hits from their staggering debut EP along with the previously mentioned debut LP, both titled Dirty Honey. Lead singer Marc LaBelle woo'd the crowd with his charismatic charm and magnetic energy and even dropped a couple hockey references to please all the Canucks in the crowd. They ended with night with two of their biggest hits, "When I'm Gone" and "Rolling 7s," and overall gave the crowd a grade A rock show, complete with solos from each member of the band.
Spearheading what journalists have called the "New Wave of Classic Rock," Dirty Honey encompasses Aerosmith's swagger from the 70s and The Black Crowes attitude from the 90s. Their live show is a must see and already the band have cemented themselves a solid fan base that makes each Dirty Honey show feel like a classic night from 1977.
After a quick stage change, Mammoth WVH came on to finish the night off strong. Wolf brought his impressive debut album to life with a cohesive backing band who amplified each song with mighty guitars and perfect vocal harmonies. Despite writing and recording every song on the album while playing every instrument, Wolf Van Halen never wanted to be a solo act. Being in a band was his main priority and selecting the right musicians to bring his songs to life would be crucial for the identity of Mammoth WVH as a live band.
Drastically different from Dirty Honey's sounds of the seventies, Mammoth WVH takes a modern approach to rock music but not in the over-produced haze we tend to see from new bands today. Throughout the show Wolf continuously emphasized the importance of live music and put his money where his mouth was when he took hold of all lead guitar, keys and vocal duties throughout the night, spontaneously doing all three at any given moment.
While you can definitely tell he was raised by Eddie Van Halen, Wolf has managed to create a unique narrative to his live show that separates himself apart from the legacy of his father. But don't ask him to cover a Van Halen song. One fan had that silly idea to which Wolf responded, "What!? If you come to a Mammoth show and except to hear Van Halen, that's like going to a Foo Fighters show and getting pissed they're not playing Nirvana." The Foo Fighter reference was fun and light hearted but not so much two nights later in Boston, where the band played a beautiful rendition of the Foo's 1997 hit "My Hero," in honour of the late, great, Taylor Hawkins.
Overall this tour is a must see for any rock fan. No matter what style of rock n' roll you gravitate towards, seeing two bands team up to conquer venues bigger than anything they've headlined before, is a great sight to see. Both prove rock n' roll is alive and well and the tour creates an opportunity for more bands like them in the future. Remember when the mighty Lollapalooza used to tour from city to city? Let's get back to something that.
REMAINING 'YOUNG GUNS' TOUR DATES
MARCH
30 Starland Ballroom, Sayreville, NJ
31 The Fillmore, Philadelphia, PA
APRIL
1 Rams Head Live, Baltimore, MD
3 Tabernacle, Atlanta, GA
5 The Ritz, Raleigh, NC
6 The Fillmore, Charlotte, NC
8 Marathon Music Works, Nashville,TN
9 The Plant, Dothan, AL
10 Hard Rock Orlando, Orlando, FL
Dirty Honey Online: Website | Facebook | Instagram | Twitter | Spotify | Apple Music 
Mammoth WVH Online: Website | Facebook | Instagram | Twitter | Spotify | Apple Music