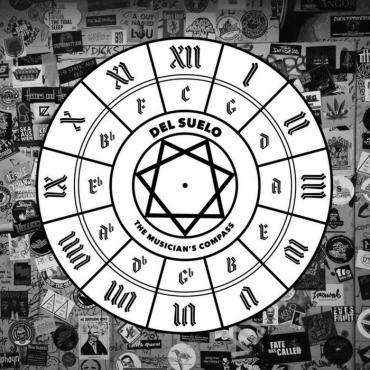 Del Suelo drops LP
URL: http://delsuelo.net/
The audience roars as Del Suelo lays into "Second Encore," the opening track from his new album The Musician's Compass: A 12 Step Programme. Swaggeringly he works his way through a reggae-inspired jam that sets up the colloquial tone of the record, which is divided into three equally intriguing acts. The exotic grooves of "Second Encore" clear a path for the psychedelic funk of "Pack Rats," which starts to clarify where this compass is leading us – by my own summation, towards a bright white light of sonic satisfaction. "Berlin Calling" jarringly throws a splash of darkness over the canvass, however, and we're completely taken off the beaten path as Del Suelo grapples with the pressures of addiction and an insatiable audience who don't see the same light he's shown us at the start of the album.
"A Lust Supreme" lives up to its title and injects a bit of sexually charged duality into Del Suelo's lyrical pondering; it's not the banner number that its successor, "The Panic! at The Disco / Fulsome Prison Blues," is, but who am I kidding – very few are. For a second in "Panic!" I felt like I was listening to a Deadhead freakout, but by the time the ambient swing of "Nightstream" glazes over my speakers I'm brought back into Del Suelo's arms and safe from the violence of the guitar dueling. "(What's the Story) Morning Glory?" is where I first started to realize I was listening to the most articulately composed album of 2018. I challenge any of you to listen to this song and not be as deeply emotionally effected as I was by its literal lyrics.
THE ALBUM: https://open.spotify.com/album/10y9nciKuBaNJnnmKihbuN
"Caress of Steel Wheels" gets going with a bark before unleashing a dissonant dreamscape of psychedelia and old school R&B. I wasn't anticipating to find these grooves in The Musician's Compass, but then again I could've expected as much from an artist as vibrantly brilliant as Del Suelo. After a surprisingly spot on rap part, "Enter the Tempel envelops us in its gothic commentary that shifts the entire mood of the room into a black and white grittiness. The grime is only magnified by the fascinating medley of math rock and post-jazz presented to us in "666hz, the Frequencies of the Beast," and it becomes obvious that only Del Suelo's comforting voice can save us from these walls that are quickly closing in on us.
"Darn That Dream – Stairway to Eleven" brings about a sense of acceptance of our fate, which despite the powerless connotations becomes all the easier after feeling the viciousness of the preceding tracks. The Musician's Compass: A 12 Step Programme meets its end with "Walk the Plank," a wistfully bluesy ballad that sees us come around full circle and into that white light that was teased at us in "Pack Rats." Listening to this album requires a lot of focus, but enjoying its graceful rhythm doesn't require a doctoral education. If you're in the market for new music that pushes the boundaries and doesn't follow the beat of anyone else's drum, check out Del Suelo's new record. It's a magically eclectic jaunt, but it's one you don't want to miss the opportunity to take in this lifetime.
THE NOVEL: http://delsuelo.net/product/musicians-compass-the-novel/
Loren Sperry