There's a lot to be said for making the best out of a bad situation. So, let's say your hometown is the drug capital of the UK, has a 40% unemployment rate, and only really comes alive during the summer as families flock to it for a two week holiday to desperately try to forget about their own issues. That's what Boston Manor's experience growing up in Blackpool, UK. In recent years, things have taken a dark turn politically and economically for a lot of people, and, as is usually the case, areas like Blackpool have been hit much harder.
In short, you can be assured that the Blackpool you see in holiday ads is not the Blackpool of daily life. Listening to this pop-punk-turned-punk-rock outfit's latest album Welcome to the Neighbourhood will definitely give you a more realistic impression of the coastal town. This record captures the destitute feeling the minds behind Boston Manor see now in their daily lives. This is not an album for someone needing a pick-me-up: this is an album to open your eyes to other perspectives.
"Welcome to the Neighbourhood" does exactly what it says in the tin: it introduces you to the album and its concepts. It's downbeat and depressing, outlining the hardships and difficulties faced in daily life which have shaped Boston Manor's music.
It's followed by the punkier "Flowers in Your Dustbin," and continues the album concept religiously. This song is is a stunning example of metalcore influence in the punk scene, with plenty of mid-song breakdowns and unclean vocals to break up this track.
"Halo" is the opposite of the song of the same name popularised by Beyonce. It's stylistically much darker, obviously, being a dreamy rock song rather than anything like pop. It's also more concerned with a fall from grace rather than seeing the best in people. If you weren't convinced by the pessimistic view on life presented by Welcome to the Neighbourhood, you will be by now.
"England's Dreaming" is an epic soundtrack to desperate thoughts of escapism from a lifestyle which isn't doing you any favours and a place which gives you nothing. Meanwhile, "Funeral Party" is a robust, heavy punk song which focuses on unemployment and economic issues, and the feelings of worthlessness that can come from instability created by government policy. You didn't think rock music could get so highbrow, did you?
"Bad Machine" starts out a little more demure than those which came before, but quickly climbs in sound and energy to be just as desperately angry. "If I Can't Have It Then No One Can" is as petty of a song as it sounds from its title, but this fast-paced track is also entirely self deprecating. It's all about recognising your own faults and selfishness.
"Continuing that trend is "Hate You," which, you guessed it, is about a dysfunctional relationship of sorts. But, much like what happens when you're stuck in a town you can't get away from, when it's all you have you just make do and slip further into a parasitic codependency.
Things don't calm down in the slightest until the final song, "The Day I Ruined Your Life." This predominantly acoustic song sounds almost like a defeat after an album of fighting. But even this doesn't allow for much quiet reflection, building up once again into static rock which is harsh on the ears and harsher on your emotions. It's not meant to leave you feeling good, instead you're left remorseful and burnt out by this whole album.
That's not to say it's exhausting to listen to Welcome to the Neighbourhood. Instead, it feels like you've ran a marathon. You might want to collapse in a heap, but you've still come out the other side breathing. Boston Manor have put a little bit of their soul into this record, so you're bound to feel the burden. But, I think it's one I'd help them carry any day.
Get Welcome to the Neighbourhood now.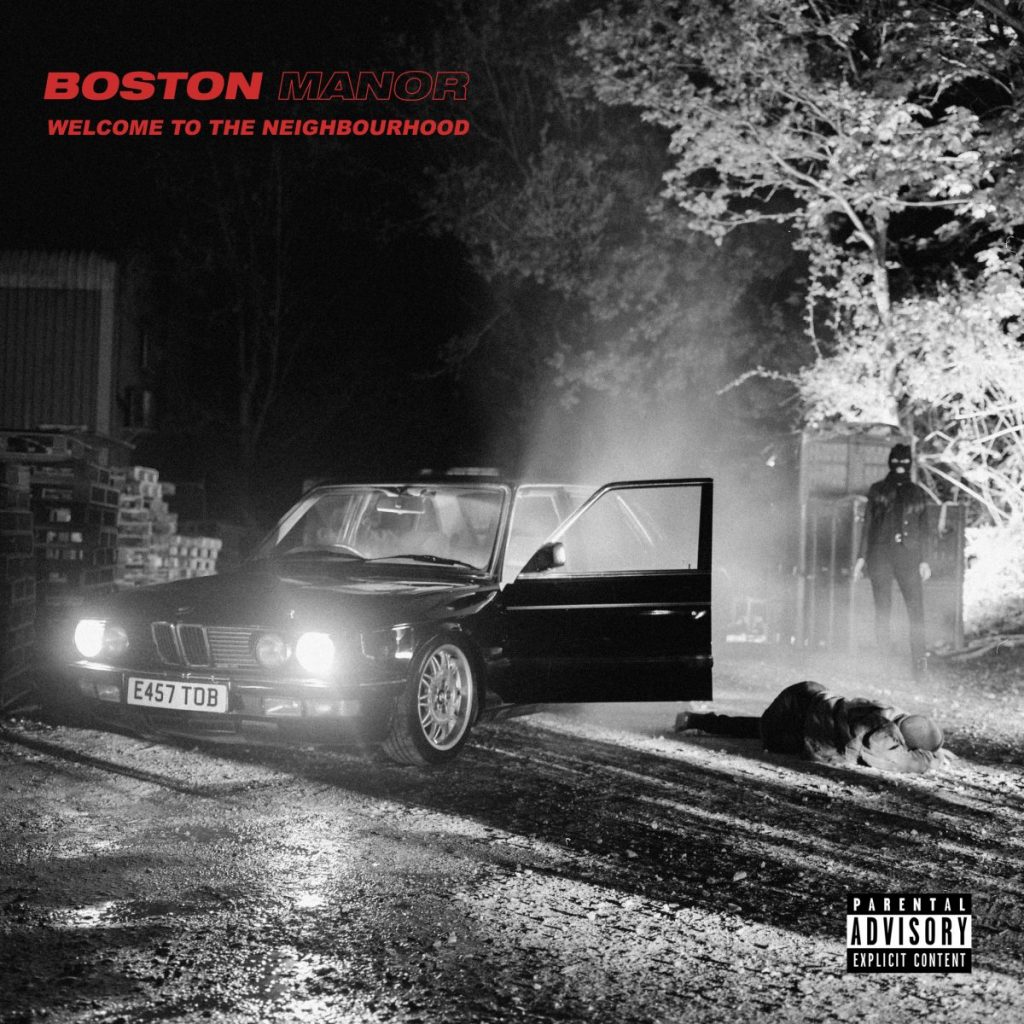 FInd Boston Manor on Social Media:
Facebook | Twitter | YouTube | Official Site
Compositions - 9.5
Breaking Ground - 7.5
Engagement - 9
Lyrical Voice - 8.5
Production - 9