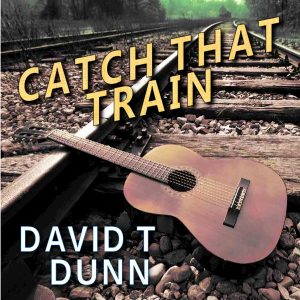 Ever since the widespread availability of railroads, hopping on a train has become a powerful emotional analogy, connected with a sense of leaving the comfort (or the discomfort) of what you know behind, only to head into the unknown out there.
David T. Dunn is a singer and songwriter who set out to stay true to this timeless lyrical concept, portraying it throughout the songs of his most recent studio EP, "Catch That Train." As the title might imply, these tracks are filled with nostalgia and longing, highlighting David's stark approach to storytelling, as well as his ability to retrace the classic sounds of folk, blues and Americana, while allowing his personality to shine through. These tracks are laced with earnest lyrics, beautiful guitar tones and lush sonic landscapes with a very powerful, yet introspective twist.
As a songwriter, David's work is reminiscent of greats such as Hank Williams or Merle Haggard, while also tipping the hat off to artists such as Neil Young or Slaid Cleaves, only to mention a few. "Catch That Train" sounds warmly familiar, yet refreshing and new, making for an excellent addition to any folk lover's collection.
Find out more and listen:
https://star1ent.com/david-t-dunn/audio