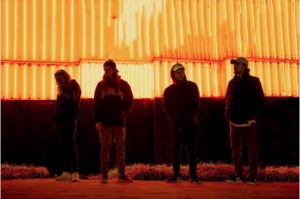 Debut albums are never easy. It's the first time that many people will hear your sound, and can help show your sound and style to even people outside of their country. And for Bloodline, their debut album Insolent, released March 23rd, was their chance to express their music, and show their take on the metalcore genre. So how did this band do on their first album?
One point to add is that their instrumentation is always interesting, with fantastic riffs, especially in the opening track, "Insolent", welcoming the audience into their sound. The riffs, and the great drumming rhythms in "No Way Out" and "Stress Case", to name a few, as well as combining other elements, like the piano in "Insolent" and added electronic effects in songs like "N.S.T.B", "Self Diagnosed", and "Let Me Go", to name a few, create a vibrant sound that's fresh and exciting. The music also creates a strong and heavy atmosphere throughout the majority of the album, for example, in "Born To Lose", which is so rich and full, and very grandiose, especially in those breakdowns..
The vocals on this album sound incredible, both unclean and clean. The screaming vocals creates the power needed for each of the songs, mainly when it comes to completing that atmospheric tone required for that track. When mixed together with the clean vocals, that's when the epic nature of the album truly shines through, for example, in "Stress Case" and "Dissipate". There's even songs, like "Schizo" where it sounds like there are 2 unclean vocalists playing off one another, which really works well. Only critique for this would be that there could me more use for the clean vocals; whilst the unclean vocals are used well in the album, there could be more use for clean vocals, as they're few and far between within the album. When they do appear, specifically when they play off the unclean vocals, they do sound incredible, and it would be nice to hear more of them.
Overall, it's a great album, with some standout tracks, and brilliant vocals both clean and unclean. It's a great addition to the metalcore subgenre, and one that people should look more into, it's worth checking out.
Insolent is out NOW!