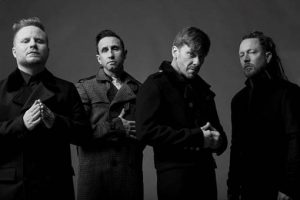 Shinedown have been one of those bands that manages to transcend through the rock genre since they started in 2001, and continuously gaining more fans and praise as they continue to release albums. Now with their 6th studio album, ATTENTION ATTENTION, are the band able to continue that success?
It's worth noting that this whole album is a concept album about a human trapped in their negative thoughts and by going through this, he is able to explore who he is, and becomes a new person through it. This is shown through the lyrics and how this is a personal situation for the members, through songs like "KILL YOUR CONSCIENCE", "MONSTERS", and "THE HUMAN RADIO", especially with the latter which features the lyric, "Keep your eye on the prize and your feet on the ground.". The music was well done as well, keeping the tone of the concept consistent with its tough guitars, driving beats, and bass lines that help complete this album, especially surrounding the dark theme of the album. For example, in "CREATURES", the music works with sounding juxtaposed; soft yet somber, disturbing but comforting, making it the song sound fantastic in its own right. The vocals as well play a massive role in completing the concept, and adding to the emotion of the album. From matching the tortured nature of the vocals in "MONSTERS", to even a rap verse in "ATTENTION ATTENTION" that surprisingly works in the song, the band seem to have the tools to pull this together. If there are any problems with the album, which is difficult to find, is the 2nd track, "DEVIL"; whilst there is a great rhythm to it, and fantastic vocals, the lyrics struggle to fit with the concept. Whilst they are a great way to introduce the concept, and open the album with, the lyrics feel disconnected from the rest of the album – it's good for painting the picture of the album and introducing the themes, it doesn't have enough to stand on its own, with lyrics like "Yeah, I'm bangin' slingin' napalm So nobody move, cuz I was sent to warn you The DEVIL's in the next room". It's a good song, but there can be more to the lyrics to improve and make it amazing. 
Overall, it's a very interesting concept to explore in an album, and one that many listeners can relate to. Whilst "DEVIL" does have its problems, the rest does bring up the quality of this band. And it's one that will please their fans, and surprise newcomers. Doing a concept album is never easy, but Shinedown do a good job with it to make this a stand out album for the band.
ATTENTION ATTENTION is out 4th May! Shinedown are currently on tour – check out the dates below, and book your tickets now!
April 28               Sunrise, FL @ Monster Energy Fort Rock Fest Live at Markham Park
May 4                   Concord, NC @ Carolina Rebellion Live @ Rock City Campgrounds
May 6                   Nashville, TN @ Bridgestone Arena ^^
May 8                   Lexington, KY @ Rupp Arena ^^
May 10                 Tulsa, OK @ Bok Center ^^
May 11                 Council Bluffs, IA @ Westfair Amphitheatre ^^
May 12                 Maryland Heights, MO @ Pointfest
May 14                 Salem, VA @ Salem Civic Center ^^
May 16                 Birmingham, AL @ Legacy Arena at BJCC ^^
May 17                 Evansville, IN @ Live at the Ford Center ^^
May 18                 Moline, IL @ Tax Slayer Center ^^
May 20                 Grand Forks, ND @ Alerus Center ^^
June 2                   Nürberg, Germany @ Rock am Ring
June 3                   Nuremberg, Germany @ Rock im Park
June 8                   Interlaken, Switzerland @ Greenfield Festival
June 10                Donington Park, England @ Download Festival                           
June 14                Nickelsdorf, Austria @ Nova Rock
June 16                Firenze, Italy @ Firenze Rocks
June 22                Dessel, Belgium @ Graspop
June 24                Clisson, France @ Hellfest
June 30                Madrid, Spain @ Download Festival
July 14                 Oshkosh, WI @ Rock USA
July 22                 Detroit, MI @ DTE Energy Music Theatre ###
July 27                 Chicago, IL @ Hollywood Casino Amphitheatre ###
July 28                 Indianapolis, IN @ Ruoff Home Mortgage Music Center ###
August 2              Salt Lake City, UT @ USANA Amphitheatre ###
August 4              Irvine, CA @ FivePoint Amphitheatre ###
August 6              Albuquerque, NM @ Isleta Amphitheater ###
August 11           Houston, TX @ The Cynthia Woods Mitchell Pavilion presented by Huntsman ###
August 12           Dallas, TX @ Starplex Pavillion ###
August 19           Bristow, VA @ Jiffy Lube Live ###
August 24           Hartford, CT @ XFINITY Theatre ###
August 25           Boston, MA @ Xfinity Center ###
August 26           Camden, NJ @ BB&T Pavilion ###
August 28           Burgettstown, PA @ KeyBank Pavilion ###
August 31 Scranton, PA @ The Pavilion at Montage Mountain ###
September 1      Holmdel, NJ @ PNC Bank Arts Center ###
September 2      Wantagh, NY @ Northwell Health at Jones Beach Theater ###
## – with Starset and Empire City
** – with Seether, Three Days Grace, and Fozzy
^^ – co-headlining with Five Finger Death Punch; guests Starset, Bad Wolves
### – co-headlining with Godsmack (Live Nation TICKET TO ROCK date)