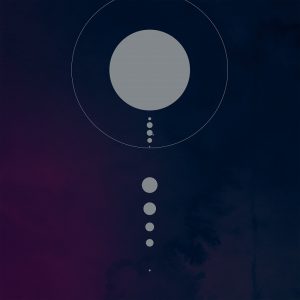 Having cemented themselves as one of the staples of djent, the U.K.'s Tesseract have returned with their fourth LP, Sonder, a captivating work of metal that demonstrates the band's continued pursuit to blur genre boundaries. Given that Tesseract's already renowned discography has effectively raised expectations for their future projects, longtime listeners have expressed high hopes for Sonder. While this LP has a large amount of anticipation, Tesseract's most recent output nonetheless heightens their respectability.
Tesseract's previous releases, One, Altered State, and Polaris are all essentials for the djent genre. With technical finesse and complex structures, the band's catalog provides a good starting point for those looking to become more familiar with this style of metal. These records are technical enough to remain impressive though they never feel overly mechanical to the point where they lack a sense of emotion (something that other artists of the genre are guilty of). The album's opening track "Luminary" plays into fans' likely expectations. The production, like with every Tesseract project, is fantastic. Daniel Tompkins' lead vocals work well when layered over the technically proficient instrumentation. This combination creates a sweeping soundscape that feels reminiscent to fellow genre heavyweights Periphery, though the track still feels wholly unique to Tesseract. The album transitions to "King," which ups the level of the band's technical output. Amos Williams' thick, thundering bass work provides a nice backbone for the track and the growled vocal contributions provide a menacing snarl that prominently sticks out when juxtaposed against Tompkins' clean singing. While these moments of aggression give the track a nice bite, "King" balances its structure by offering slower moments of progression as well.
"King," along with the following track, "Orbital," demonstrate Tesseract offering a spacier, almost ambient approach. These moments provide a nice break from the band's occasionally aggressive moments and contribute to an ultimately well-rounded work of metal. This style is particularly evident on "Juno." Williams' bass once again rattles throughout the track, giving it a vibrant tone, and Tompkins gives one of his best vocal performances on the album here as his crystal clear voice permeates through the instrumentals. This track, along with other standouts like "Beneath My Skin" and "Mirror Image" relish in their ability to create an absorbing listening environment. These tracks don't provide a solely abrasive approach to djent. Tesseract take their time build dense song structures that allow the listener to pick up on the specific strengths of each band member.
Sonder's main drawback appears near its end with "Smile." While the performances aren't bad, or even below the band's standard quality, the track suffers from an overabundance of musical elements. Between the clean and screamed vocals, heavy instrumentals, and occasional electronic components, "Smile" features a somewhat jumbled array of details that don't quite mesh as well as the tracks found throughout the rest of the project. The track isn't poorly performed, though the excessive amount of musical characteristics make to challenging to pinpoint the specific technical qualities provided by each member. This leads to the track feeling overproduced and predominantly disorienting when compared to previous tracks.
Sonder is yet another solid addition to Tesseract's discography. While the album likely won't win over any djent naysayers given that it incorporates many of the genre's typical elements, Sonder will please fans already familiar with Tesseract's style and even proves to be a formidable listen to those looking become more familiar with this style of metal. Tesseract have once again given us an impressive project that showcases some of the best music that djent has to offer. With a slew of quality records under their belt, Tesseract have further established themselves as one of the brightest contributors to their genre.
Sonder will be released on April 20th. You can order the album on the band's personal website and follow the band on Facebook and Twitter.
Compositions - 8
Breaking Ground - 7.5
Engagement - 8
Lyrical Voice - 8.5
Production - 8