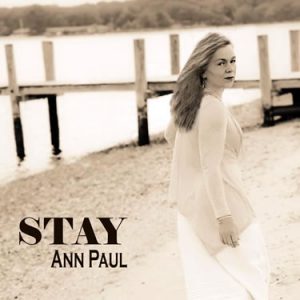 Ann Paul is a classically trained singer-songwriter based in New York. Hailing from northern Long Island, Paul's skill set developed smoothly, having taught herself singing and basic guitar as a child before transitioning to formal training through her teen years. Her chops as a songwriter eventually blossomed while in college, and she would continue to refine them while in pursuit of a music career. By 2015, Paul's first album, Get Me By, was under her belt, featuring a revolving, award winning cast of talent.
Back in December, Stay has proved a wholly decent follow-up. Its production is handled by Andrew Carillo, who also returns as Paul's guitarist. Paul's mid-level blend of pop, folk, and rock makes a welcome return, ideal for listeners who seek a sound easy on the ears but with sufficient, all-around bite. While the result leans toward the crisper side of things, with punctuated high end on the percussion and vocals, the organic warmth of the guitars is maintained, making for a wholly pleasant listen.
The opening "One Minute" succeeds in delivering those assets. Once Paul begins to sing, her voice brings a tinge of vibrancy to the song that complements the instrumentation. As the song unfolds, Paul's thematic focus comes into play. She adeptly addresses a circumstance within a relationship where two souls, despite having a genuine connection with each other, still experience uncertainty. It is ultimately up to them to exhibit patience in figuring out why they are meant for one another – that although the passion isn't as concrete as it was initially, it can still be felt within the subtleties of nature. "The Road Less Taken," the track to follow, showcases a slightly heavier rock drive. With it comes an expansion of Paul's narrative, this time centering on the chances of meeting. In the song's context, sometimes that person's placement within one's life is convenient, even if more of a coincidence, and it doesn't always result from an active pursuit. On the other hand, the next two songs "For Certain" and "The Seed of Doubt," deal with the parting of ways, as well as the consistent faith, toward someone who isn't so easily trusted. In the pacing of both songs, Paul assures them of her patience, as well as her determination that they overcome feeling insecure. That sentiment is captured from an internal perspective in "Just So You Know," where Paul keeps a tenacity about her strength. Based on the song's chord sequence, it appears her once patient outlook had grown tense, with a continuing view of the other's erratic presence in her life.
At the midpoint, "Dusty Train" sports a more positive guitar drive. Additionally, the perspective now addresses a type of emotional grounding, and subsequent confidence when up against anger from the other end. "Oh Darling" is a natural response to the song, feeling much like an exclamation mark. There's much benefit here in its mellow, ballad-esque style, as it maintains the mood of the section while refreshing the album's pace. From the latter point of the album onward, her grounded stance continues to shape the remainder of songs. "Don't Think" has a type of swagger that, even with its light verse melody, enforces a state of mind free of heavy emotional attachment. By far the heaviest song is "This State of Love," with a slightly overdriven lead melody comprising the intro, and a forthright chord sequence during the verses. This song also seems like a solid standout addressing the latter point. It addresses the various forms love assumes – the surge of joy to the extent of oblivious optimism, and the lingering spell of limerence that may reveal itself down the line. The titular "Stay" begins the notion of love in its most enduring form – that which encompasses patience, sincerity, and respect, while the following track, "The Great Artist" uses a broad-reaching painting analogy to highlight its importance. Bringing the album to an end is "Sit by the River," a kind of humbling closer that shows appreciation for scenery, one of life's many gifts. I found the song to serve its purpose extremely well, as it leaves me with an open-ended outlook, and ultimate appreciation of the journey presented.
Overall, Stay is a well-thought out playlist highlighting a young one's path toward emotional maturity. Through her touching on a variety of emotions Ann Paul brings a much-needed sense of clarity to our understanding of romance – the bliss, strain, and confusion, but also the growth that we, in turn, acquire from our experiences. The album's biggest strength comes not from a trite "true love conquers all" message, but instead, one that assures, "You're still alive, and you're doing fine."
More on Ann Paul:
Official Website|CDBaby|iTunes|Amazon