On January 19th, 1988 Megadeth released their third studio album "So Far, So Good…So What" by Capital Records. Produced by Paul Lani and recorded at Music Grinder Studios in Los Angeles, California. Yet very underrated the album would debut in the top 30 on the Billboard charts with absolutely no radio play.
Along with some of the albums more stand out tracks like "Mary Jane" the dark tale of a young witch buried alive by her father, "Liar" which is directed at former band member Chris Poland and "Hook in Mouth" a song on censorship and the PMRC (Parents Music Resource Center). A topic we were all so familiar with in the 80's. The album also featured a more emotional "In My Darkest Hour". A song written in one day by Mustaine after finding out about the death of his friend and former bandmate Cliff Burton through a third party phone call.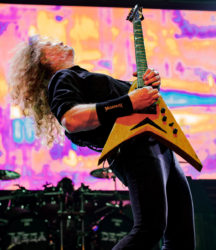 To some the album was considered a great follow up to the bands "Peace Sells…but Who's Buying" and was praised by most critics. "So Far, So Good…So What!" would eventually go on to achieve Platinum status giving the band notoriety among the Thrash Metal scene it was deserving.
Into the Longs of Hell
Set the World Afire
Anarchy in the U.K. (Sex Pistols cover)
Mary Jane
502
In My Darkest Hour
Liar
Hook in Mouth
For more on Megadeth be sure to follow