This week, established producer and comic book writer Mikel Miles (also known as Samurai Shin alongside Ivan Earl Aguilar and Harley Dela Cruz) drops The Saga Continues EP, a 6-track feature released independently via SoundCloud and cleverly inspired by Wu-Tang Clan's recent release of the same name. With features like Emcee and Anonymuz, Vegabond Maurice, Sage, The 64th Wonder and more, this is bound to be a powerhouse album within underground rap.
The Saga Begins also means fans can expect short animation films and a new comic book animation (created by Frank Flor & Ty Smith) based on the record. Fight scenes linger throughout the EP with clearly resonated language, but despite its counterparts, it can clearly reach its own potential as a stand-alone piece.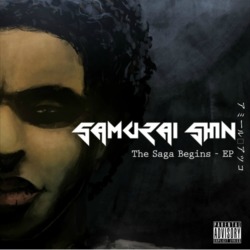 Track 1, "Tripstyle – Chosen" (produced by P.Soul) makes a fast switch between the mellow undertone of the track into what the remainder of the record holds inside; storytelling lyrics paint a picture clearly influenced by anime culture (namely Afro Samurai, Samurai Champloo and Sword of The Stranger) without aggression, and flows back into softer female vocals overlayed to close.
Gaining nothing but positive feedback, "D.A.T.E (Dedication Against The Enemy) – Anonymus ft. Xia-Dawn" applies soft melodies and a strong drum beat at the core to carry Anonymuz' swinging lyrics; dressed up hip-hop that could grab your attention whether you relate to the genre or not. "Looking At Dark Skies" does the same thing; an almost daydreamy setup that serves its purpose perfectly without lyrics, and may even remind you what you were missing underneath.
Check out the full EP below: