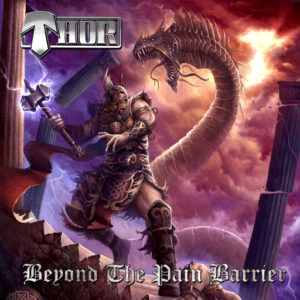 For over four decades, Canadian strongman Jon Mikl has performed as Thor, an act that combines pro-tier muscular strength with upstanding heavy metal musicianship. These days, Thor as a stage name is synonymous with Mikl himself, rather than a solid band entity, as he has fronted both classic and erstwhile incarnations over the years.
One of the more enduring assets of Thor, however, is his humility through a wavering, but all the more persistent career. He has grappled with three of its essences—fame, (as Mr. Cananda and Mr. USA) chart success, (via UK toppers "Let the Blood Run Red" and "Thunder on the Tundra" from his 1985 opus, Only the Strong) and notoriety, for continually transcending the most puzzling musical and cultural boxes. Now, Thor is back to strike again.
Thor's latest album, aptly titled Beyond the Pain Barrier, is a testament to these milestones, and that's saying a lot. The beginning track, "Tyrant," starts out competent enough—an overdriven plasma coated in melodic layering and bolstered by deep percussion. New blood guitarists John Liebel and Ted Jedlicki reinforce the aforementioned sentiment with a modern metal sound, peppered with smooth yet fiery lead melodies. Thor's vocal tonality is also vastly improved, briefly alluding to his Only the Strong heyday, while invoking the experience he has accumulated with age. Once the lyrics kick in, I'm equally surprised as I am impressed by their poignancy. The former novelty of a muscle-clad warrior is dropped, in favor of a telling outlook on the extreme rhetoric of modern society. Next up, the album's carrier single, "The Calling," is a direct response to the initial track, conveying a sense of diligence over a seemingly impenetrable deterrence. Much like the album's opener, there is an interesting progression in the presence of Thor's vocals, each phase stronger and more resonant than the last. The title track earns greater intrigue, exhibiting a type of punk looseness that is wholly complementary to not only the title, but Thor's legacy. Its guitars are especially raw and commanding, while the backing vocals provide suitably epic accentuation to the chorus. A definite highlight is toward the song's halfway point, where Liebel and Jedlicki fill the air with seamless solo tradeoffs, that while sharp and forceful, sit comfortably within the instrumentation. Even more of a strongpoint is the album's fourth track, a power ballad titled "When A Hero Dies." In its intro alone, the foundation sets the bar for both lyrical and melodic substance to comprise the track. Thor's context may seem broad, centering on, in the song's context, withstanding the 'hounds of hell' and 'vicious lies.' But I am also reminded of Thor's recent documentary, I Am Thor. In one scene, he touches upon battles with his own physical and mental health, and specifically mentions doctors therefore advising against his continuing to perform, due to the possibility of premature death. From a more widespread perspective, the song also pertains to the degree in which a person is affected by someone's death, despite their heart having built up a longstanding defense. The song also marks an instance of decent vocal variety, which is sustained through the following track "On Golden Sea." My immediate thoughts on this song regard its seeming like a throwback to Thor's glitter rock era (1977's Keep the Dogs Away) but with updated sonics. There's some nice chunkiness in the bass line complementing that of the guitar, and the lead work also retains its fluency, moving gracefully within its bouncing tempo.
The album's latter half of starts on "Phantom's Light," a clearly direct throwback with identical initial lines from the song "Long Ride from Hell" (off 1986's Recruits: Wild in the Streets, under Jon Mikl-Thor). Its instrumentation is also quite similar to "Death March" (from 1983's Unchained), all the while still proving impactful. Whether the song was constructed so intentionally or by sheer coincidence, there is sufficient originality present alongside a matching vibe to pace the album. Based on how the seventh track, "Twilight of the Gods" follows, it comes out as if being engulfed in flames. Thor's vocal delivery seems slightly detached in the verses, but regains traction once hitting the chorus. "Galactic Sun" and its successor "The Land" could very well resemble a tumbling passage through the ocean, waves crashing left and right until its voyagers reach the surface. "Deity in the Sky" expands on the notion of maintaining this sense of faith through struggle. This time around, focus shifts toward one omniscient being, rather than multiple gods, which contrasts slightly from his early-to-mid 80s leanings. Right before the continuing pace is considered, however, "Thunder" harkens back to his single-writing streak, assuming a more hook-driven structure. The final track, "Quest For Valor," puts the ultimate battle in motion. Clocking in at over seven minutes, it is an epic clash of distortion, temerity and justice, before ultimately pulling through, with goodness having claimed a brutal, yet satisfying victory.
Overall, Beyond the Pain Barrier marks Thor's true return to form. The rawness of the production values works ideally on the album, especially given his surprising vocal range. Younger energy in guitarists John Liebel and Ted Jedlicki is much-needed, equal passion and finesse blazing highly within their sound. Sure, there are several allusions to previous eras of Thor's career throughout, both subtle and outright. But I don't hear a lone scarred fighter merely chasing past glory; I'm listening to a revamped collaborative force giving it their all.
Thor Socials:
Official Website|Thor Universe Twitter|Bandcamp
"The Calling" Music Video: