New Orleans genre blending act, MUTEMATH are back with their latest record, "Play Dead." The album comes as the band's connection to superstars Twenty One Pilots has revitalized their popularity. Not that MUTEMATH ever dropped out of relevancy, but by 2016 their fan base was loyal, but stagnant. Then came the Emotional Roadshow tour, Twenty One Pilots were heavily influenced by MUTEMATH when they first began writing music. But by 2016 a case could be made for Twenty One Pilots being the biggest band in the world. They hand picked MUTEMATH who they had looked up to as direct support for the first leg of the tour. This brought MUTEMATH to sold out arenas with 10,000k capacity all over North America. The band gained a huge boost in popularity and a lot of new fans with a stellar effort on the tour.
With new life breathed into them, MUTEMATH went back to work on "Play Dead" an album the group had been working on off and on for the better part of 5 years. "Play Dead" sees the band experimenting and exploring new territory they have not before. Elements of pop, indie, electronica, and even disco blend into the album.
A melancholic melody surrounded by drum beats and synths opens the album on the first track, titled "Hit Parade." The track will have a familiar feel for MUTEMATH loyalists who will find it similar to what they're used to from the band, only with beefier drum beats than their 2015 effort, "Vitals." The familiarity starts to fade quickly however as MUTHEMATH begin taking risks as soon as the album's fourth track, "Break the Fever," a groovy, disco flavored, dance tune that could easily go up against anything Bruno Mars and the upper echelon of pop artists are putting out today. Paul Meany's vocals take center stage on the next song, "Nuisance" accompanied by only minimal instrumentals, for fans who came to the band via Twenty One Pilots, think "Goner" without the explosive ending. "Placed On Hold" is really the only largely forgettable track on the album, not that it is a poor effort, but it lacks the energy on the songs surrounding it on the album.
Shortly after, things get heavy on the track "War" that features a chunky main guitar riff and solo that could easily be slipped into a punk or hard rock song and not feel out of place. Before wrapping up the album, MUTEMATH hit you with the emotional track "Marching to the End" which like "Placed on Hold" is a low energy joint, but as an album closer the low energy and somber vibes it gives off fit well. Going back to the record's third track, "Stroll On" there's a lyric that really hits what MUTEMATH are doing on the album, it goes; "Strange old ground got a little too familiar now" as "Play Dead" is perhaps their most diverse record to date, taking risks the band has not before.
It's hard to quantify exactly how much influence the Twenty One Pilots tour has had on reviving the band the album after all was already being worked on long before the bands toured together, but it's no coincide that after playing on some of the biggest stages in North America MUTEMATH branches out and takes risks on "Play Dead" and in this case the risks pay off handsomely on what many will consider to be MUTEMATH'S strongest effort to date.
Play Dead Album Art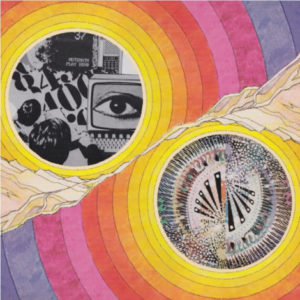 Play Dead Tracklisting
1. Hit Parade
2. Pixie Oaks
3. Stroll On
4. Break The Fever
5. Nuisance
6. Placed On Hold
7. Everything's New
8. War
9. Achilles Heel
10. Marching To The End