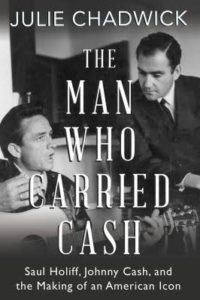 Back in May, Canadian author Julie Chadwick published The Man Who Carried Cash: Saul Holiff, Johnny Cash, and the Making of An American Icon. Having obtained personal material from Saul's son, Jonathan, Chadwick constructs a poignant account of the cycle-strewn—but wholly enduring—relationship between country superstar Johnny Cash, and Saul Holiff, his Canadian manager. The book has since received predominantly warm reception through sites such as Amazon and Goodreads, with focus centering on its solid attention to detail, inclusion of never-before-seen photos, as well as the general wealth of information presented.
Chadwick was open to providing insight into the book's creation, including the initial inspiration, the outcome of its being pieced together, and ultimately, what she hopes readers glean from their understanding of the book's content.
While working as a reporter for a daily newspaper, Chadwick received an email from Jonathan requesting a feature about his documentary, called My Father and the Man in Black. During her research, she'd discovered her unexpected proximity to Saul. "I didn't know anything about Saul whatsoever, though he spent the last years of his life in my hometown of Nanaimo, B.C.," recalls Chadwick. She and Jonathan proceeded to visit Holiff's residence, which contained the various materials left behind after his 2005 suicide. At this point, Chadwick became driven by the idea of writing a more in-depth story.
"I specifically remember leafing through a broadsheet newspaper-sized scrapbook Saul kept, which he called his "LIFE" album, and seeing a colour photo of Johnny Cash pasted onto one of its pages. Jonathan told me it was a photo of Johnny being baptized in the Jordan River while on location for the film The Gospel Road." Her idea especially solidified in asking Jonathan who'd taken the photo, to which he simply replied, "My dad." She further stated her amazement amidst this discovery, "I mean, no one had seen this photo. And that was one of hundreds. It was quite remarkable."
For her initial feature about Saul and Johnny, Chadwick had seen only a scrapbook and a small collection of letters and photos, which, although impressive, comprised a mere portion of the whole archive. However, in utilizing what she had, Chadwick further recognized Saul's significance, both as a manager to Cash, and as a human being. The process had taken shape over a month-to-month and year-by-year basis as additional materials were obtained, including newspaper clippings and diary entries, both written and audio. When it came time to construct The Man Who Carried Cash, the transition was seamless, its events taking place in essentially chronological order.
"The arc of Johnny and Saul's relationship formed the other natural structure of the story — their conflicts, the chaos wrought by Johnny's addiction, his redemption (of sorts) and then ascent into the stratospheric heights of success before the ultimate destruction of their partnership — it was all there," Chadwick gathers.
What makes this book ultimately stand out among other biography-types is, from Chadwick's standpoint, its workability in an 'as-it-happened' narrative. As a result, Saul's direct-from-audiotape dialogue from phone conversations between he and Johnny in the early 70s proves especially useful. "That made for not only interesting scenes but also reveals a precise account of how they actually spoke to one another," she states, adding, "I wanted to write a lively story, but as a journalist, the factual accuracy of the story was also paramount." Another solid contributor to the book's pacing is Chadwick's undivided focus on the exclusive relationship between Saul and Johnny, rather than only Saul himself. This strengthens the up-close and personal point of view, rather than come off a presumptuous analysis on a largely unknown manager.
"The reasons for that were threefold: one, because that story offered an entirely new perspective with new information; two, because it allowed me to keep a tight, fast-paced narrative that I think served the readers well; and three, because that allowed the story to be largely set throughout the decade of the 1960s, which is arguably the most exciting, and. in some ways least-known era of Johnny Cash's career."
Even amidst the book's depth, the process did not come without its challenges. Certain gaps were present in the book's sequencing of events, primarily because numerous key people involved in the narrative had already passed away and were therefore unable to be interviewed. "There were were many times I wished I could have spoken with Saul and got to know him before he took his own life," Chadwick admits. However, her limitation further inspired her to make the best of her resources. "For example," she continues, "the story of the San Quentin prison show has been written about many times, and though I talked with Johnny's drummer W.S. "Fluke" Holland to get his take on the performance, there weren't many others that could give a new perspective. So, I wrote it from the viewpoint of Saul's wife Barbara, as a woman entering a maximum-security men's prison and what that would be like. Sometimes limitations can make you come up with new ways of doing things."
When it comes to what readers will take away from reading The Man Who Carried Cash, no two interpretations are alike, but the underlying poignancy of diligence, perseverance and enduring relationships resonates throughout.
"It will be different things to different people. The book covers a lot of angles: there is the story of Jewish immigrants and their huge contributions to the social and economic fabric of Canada and the US; there is the story of behind-the-scenes people like managers and promoters who are an integral part of a superstar's success but are often invisible themselves; there is the intergenerational story of family relationships, how Saul and Johnny's fathers pressured them and how they in turn fretted over their own absences and shortcomings as parents; and there is the entire backdrop of the 1960s and how that bled into the creative choices and political stances of artists in that era."
Drawing upon the experiences between Saul and Johnny, as well as those we face on our own, Chadwick closed with her own interpretation.
"One thing I found interesting about the story is how you have these two rich, successful, attractive, powerful and talented men, who really achieved everything they set out as goals — they overcame immense obstacles like addiction to ultimately prevail in the ways that society admires, and yet they were still tortured individuals. They both still struggled with the basic issues that many of us struggle with: insecurity, feelings of worthlessness, guilt and remorse over their relationships. I mean, if the way things are structured doesn't even work for them, who does it work for? Perhaps we need to stop being so hard on ourselves."
Purchase The Man Who Carried Cash here