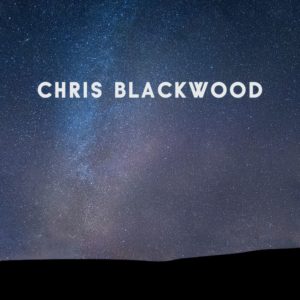 Singer/songwriter Chris Blackwood recently released his self-titled debut album, a project that combines elements of folk and indie rock. Blackwood has performed countless gigs around Manchester and is now seeking global attention. Blackwood's record is rather ambitious for a debut project considering that it's a concept album focusing on the different stages of life. In this interview, Blackwood discusses the details regarding his album, his plans for the future, and how he initially started as a musician.
ME: Your debut album recently came out earlier this month. What can you tell us about this project?
Chris: I've always been fascinated by the idea of an album. I grew up listening to Abbey Road, Wish You Were Here, Highway 61 Revisited, Meat is Murder, [and] On The Beach. I love the idea of [a] self-contained album. These albums have their own histories, their own legends, their own architecture. So I set out making my own album like this. To have its own story, and parts that work together to make a better cohesive whole.
ME: The album possesses a wide range of influences like folk, indie rock, and alternative. Is there a genre that you specifically gravitate towards? Do you categorize your music into one genre or is it a combination of different styles?
Chris: I used to play a lot of folk songs on acoustic guitar for my first two EPs. They were fully acoustic. But I got kinda bored of that. I wanted to keep moving, so I got an indie rock band together. You can achieve more with this sound. There's more force. I'd like to explore even further with different genres. But that's a tale for a different time.
ME: What is your favorite song off of the record?
Chris: "See The Light." I believe it encapsulates the whole record, really. The 'stars in your eyes' beginning. The feeling that nothing will ever stop you. And the outro. I believe that is the most effective piece of music I have ever created.
ME: Are there any specific topics you gravitate towards when writing your songs?
Chris: Topics are apparent when you're writing a song. It's obvious. Once you have the song, it's easy to figure out what the song is going to be about. But on this album the songs share a similar theme. Growing up, mainly. I'd like to say it's a coming of age record. I've taken inspiration from the film Boyhood, which draws on similar themes.
ME: You've said that your debut record is a concept album that focuses on the various points of one's lifespan, ranging from birth to death. Can you elaborate more on this concept? What inspired this idea?
Chris: Firstly, birth to death isn't quite what I meant really. It might have been death in my mind-set in the time, and although I leave the ending ambiguous, I wouldn't like to say it was definitely death concretely. It definitely starts with birth though, that is certain. It takes you through birth to the end of being a teenager, and the hope and despair these years bring. It was inspired by my own experiences, but maybe more inspired by other peoples. I like seeing people's situations and putting them into song. If you yourself, the songwriter, identify with this situation that you've put into a song, you're on to a winner.
ME: How long have you been a musician?
Chris: Since I was twelve. My dad got me into Oasis and I bought an electric guitar. He bought me an electric which was right-handed, even though I'm right-handed. He managed to convince me to play in my unnatural way by saying Noel Gallagher (of Oasis) played in the same way. I have played right-handed ever since. I started guitar lessons at school but hated them. We had to learn "Happy Birthday" and songs from The Jungle Book. Not great inspiration when I was listening to Definitely Maybe and (What's the Story) Morning Glory at the time. So I quit. But I couldn't shake the feeling of playing guitar. So a year later I picked up my guitar again and starting learning myself. Learning Oasis and Beatles songs, learning more chords as I learnt more songs. It was around this time I started to write my own songs, inspired by Noel Gallagher and Lennon & McCartney.
I didn't start being a professional musician until I came to Manchester three years ago though. I started playing a gig nearly every night. I come from a little town in North Yorkshire, so there was no opportunity to play live there.  It was here that I started playing acoustic, and now switched to a full band.
ME: What artists inspired you to start making music?
Chris: The original push was from Oasis. Me and my brothers used to listen to them in my dad's van on the way to football practice. They wrote such good songs. It was through Oasis that I discovered probably my favourite band, The Beatles. I completely devoured their albums as a teenager and they have shaped my song writing massively. Bob Dylan is also a huge influence on my song writing, who I discovered when I was seventeen.
ME: What are your top three favorite records?
Chris: Highway 61 Revisited by Bob Dylan, Abbey Road by The Beatles, and Wish You Were Here by Pink Floyd. The first is a complete force of words and noise, the perfect synthesis of folk, rock, and poetry. The Abbey Road medley is probably my favourite part of any album. "Golden Slumbers" is one of the greatest songs I've ever heard. Wish You Were Here is heavenly. I used to listen to Dark Side of the Moon and The Wall more when I was growing up, but now I see Wish You Were Here as Pink Floyd's greatest achievement.
ME: Who are some of your favorite current artists?
Chris: I love The National, Kendrick Lamar, Tame Impala, and Whitney. I've seen Whitney a few times in Manchester and they're fantastic live. Their sound reminds me of Bob Dylan's Nashville Skyline album. They even do a cover of "Tonight I'll Be Staying Here with You" off that album!
ME: When you aren't making music, what else are you doing with your time? Do you have any hobbies?
Chris: I love going to gigs. The Manchester scene is so vibrant and active that it's a joy to go out and watch local bands play.
ME: Now that the album is out, what is next for you? Do you have any upcoming events?
Chris: We've got an album release show on Saturday 2nd September. It's a place called Aatma in Manchester and it's going to be brilliant. The songs sound fantastic in the practice sessions and I can't wait to unveil them to people. There's so much more energy in the live show, it's going to be great to finally play with a full band.
Chris Blackwood's debut album is out now and you can purchase it here. You can follow Chris Blackwood on Facebook and on his personal website.