Sabrina Carpenter has kicked off her second U.S. headlining tour "The De-Tour" featuring guests Alex Aiono and New Hope Club. Growing from small clubs on her "Evolution Tour" to the intimate theatres on this tour, Carpenter's stage set up alone has matched in growth. A giant screen displaying mini video clips, photo outtakes, and ambient artwork created a larger atmosphere in addition to the ever-changing lights. Fans of all ages filled the auditorium in preparation for the De-Tour.
Carpenter has found her home on stage, interacting with the crowd with confidence and ambition. The lights went low and the beginning of "Feels Like Loneliness" had the crowd in an excitement frenzy, followed by "Smoke and Fire" and "No Words." The 18-year-old then described the writing process with Nashville native Jimmy Robbins on the intimate ballad "Run and Hide," saying "what we made was something that was much more special to me." She grabbed her guitar and shook the entire venue with her begging plea "I want to be loved. And I don't want to run. I don't want to hide." The tension soon broke as the night continued with dance tracks "Mirage," "Space," and "Thumbs" that had Carpenter all across the stage. The crowd feeded off of Carpenter's passion, jumping up and down as well as twiddling their thumbs. "It's an odd request for those who don't know the song" she joked with the audience, but not a soul seemed to mind.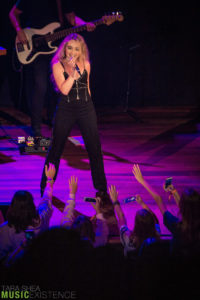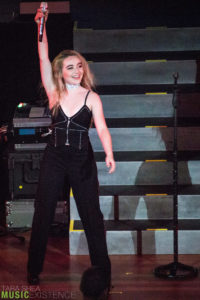 An interlude shot in the style of Sabrina Carpenter's Youtube covers showed a playful, bluesy Sabrina on piano and singing "What A Wonderful World." Carpenter's talents are undeniably raw. She emerged shortly after the film dressed in a new outfit; her white, flowing blouse almost making her look like a country run away bride. This section of the set continued upbeat tunes such as "All We Have Is Love" and a funky, drum filled Ariana Grande cover "Into You." Jet Jurgensmeyer, a costar in Adventures In Babysitting, joined Carpenter on stage for "Can't Blame A Girl For Trying." The adorable performance was a perfect choice for the venue; the duo's voices echoed as they sat at the top of the staircase, swaying from side to side. Flashlights illuminated the auditorium as a medley of "We'll Be The Stars" and "Eyes Wide Open" held the crowd on their feet and singing along.
Tears flowed for Carpenter's chilling performance of "Shadows," reassuring listeners to embrace your demons and insecurities. Her powerhouse vocals proved she poured her heart out; the performance was beyond moving. The theme of acceptance and self-love continued with her newly released single "Why" as she said, "Big differences and small differences, we all have them. And that's okay; We have to learn to love it." Pink and orange lights set a playful mood for her single "On Purpose." The crowd lost their marbles as confetti blasted from canons for the final chorus, signifying the last hurrah.
But we always know this isn't the end. The crowd goes wild chanting "Sabrina," and she asks for an entire crowd picture when she brings life back to the stage. The image was later posted on her Instagram. She showed her gratitude to be in such a historic venue. "I can't say how excited and honored to be on this stage…. the first song I learned was "Crazy" by Patsy Cline. So many of them [legends] have stepped on this stage and I couldn't be more grateful to be on this stage." The last song she performed was heartbreaking, as she explains "I would like to dedicate this song to a little girl I met a couple of days in Orlando named Natalie… She was going through a very rough time, and I just found out she just passed away. She was 8 years old and the most beautiful girl I've ever met." The audience was silent; I bet you would've heard a pin drop before Sabrina began playing alone on her keyboard. She finished off the night with the new song called "Alone Together," which was seemingly a sweet, daring lullaby, singing "I dare you to love me. The great and the ugly." It almost felt like a scene in a movie of her singing in her bedroom, slipping into a dream-like effect as the song grew. The full band joined in with a grand ending to this detour. The energy was immense as Carpenter and her band gave their last thanks before clearing the stage.
Sabrina Carpenter continues "The De-Tour" throughout the rest of the month across the U.S.
Tickets can be found here.
Stay connected with Sabrina Carpenter: Website | Facebook | Twitter | Instagram