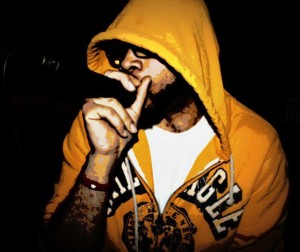 For most indie hip-hop artists looking to aspire in the industry, there is a fixation on aligning themselves with a product, a car, a line of high fashion gear, a popular alcoholic beverage to sip and even a type of lifestyle to solidify their identity to potential fans. S. Gold is a rare exception to the "get rich, or die trying" formula that many indie rap artist have gravitated to. There is an unspoken agenda to match the commonality of sounds and image among indie rap artists as a way to be noticed. One of the most distinctive qualities about Steven "S. Gold" Cameron is his normalcy in a genre that is often ill interpreted in media with over the top displays of power. Positioned in such a way, his normalcy translates into humility, and that humility displays like a chain on his chest, as a heart of gold. Pun intended. I recently reached out to S. Gold for the opportunity to interview him for the online magazine, MusicExistence.com. The always approachable, personable emcee obliged and we began right away.
ME: How does Steven Cameron translate into "S. Gold"? Where did that name come from?
S. Gold: When I was younger, my mother nicknamed me "Goldie". I had blonde hair. Its crazy because people would ask me if it was because of my complexion. *laughs and mimics the common question* "Oh, cause you 'light as gold'"? *laughs again* After a while, I dropped Goldie and began going by "GD" – folks thought it meant 'goddamn'. Because of this, I started calling myself S. Goldie but my mothers' then boyfriend, Dirty Redd, suggested I shorten my nickname to Steven Gold. The last change came in when someone heard one of my records and compared me to Jay-Z, Mr. Shawn Carter, and suggested I shorted my nickname to S. Gold. I've been using it ever since.
ME: S. Gold vs. Steven Cameron – how are the two alike? How do they differ?
S. Gold: Steven is silly and goofy. Steven loves to meet new people, he loves to relate to people. Its crazy…To this day… people think I am the coolest mfer ever…and I'm like 'why'.. I think I'm weird, goofy as hell….its so weird how people gravitate to you without you even trying. I'm just being me. But when I'm on stage, when S. Gold is on stage, nothing matters – just me and that story and I feel like a different person. S. Gold is in command. Much more serious than Steven. He's got a message and his only focus is making sure that message is clearly delivered because you will hear me. I have something to say. They are like night and day – two different personalities. The similarity is that we share the same body. I don't like one more than the other. I accept both sides.
ME: Its interesting that you say that because you are such an approachable artist. You know when to turn the switch on and off. I've heard nothing but positive things about your character and humility as a person and it brings so much attention to your music. Which in itself, would sell itself. But it's awesome that you never let the amount of talent you have get to your ego. With that being said, which is most important to you, character or talent? And how do you deal with artist that you meet that have terrible egos?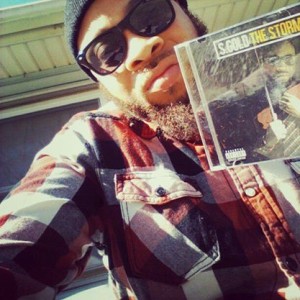 S. Gold: Well, right now, I am not that big or established that I have to be forced to work with an artist just because its popular  and they may or may not help my record. I'm a great reader of people. I prefer like minded artists if I have to work with them. I avoid people that are money hungry and especially dudes that need lots of women around them. Right now, I get to choose who I work with. That's one way I deal with them. But if I am in a position or if I'm ever put in a situation that I have to work with them, I make it a point to 'murder them on track'. Like I say to myself "this too shall humble you". It's all about the art and the culture. Like there are so many indie artists that I've got respect for because they are just real humble dudes. They never name drop or try to throw shade. Artists like King Mez and Drique London. No matter where he [King Mez ] is, he stays the same. And Drique is just good people, far from arrogant. Very approachable. As far as what's most important, humility or talent; you need both. They are both necessary. A lot of the time artists with egos are bruised people, but, I feel like this, the whole world isn't out to get you, give people a chance because you never know who you're meeting. There are some bandwagon people out there that will talk to you and show love because somebody else is doing it, but not everyone is like that. I just make it my point to be the same…just be myself.
ME: Nice. Gold, how long have you been writing and recording music?
S. Gold: Since I was 15. Pete, my uncle, was a part time DJ. On my 15th birthday we [family and friends] were over there messing with some of his equipment and free styling on some of the music he had, playing on his microphone, you know and eventually it just became something I fell in love with.
ME: It's crazy how it hits you when you least expect it, right?
S.Gold: Right…. And then when I met my uncle's friend Ezekiel … he was a Common style rapper…back packing before it was popular. I just got inspired by him. I would see him when I was there, hear him rhyme, I'd go home and write after those encounters I had with him cause I'd be so inspired. I'd come back to my Uncle's place, Ezekiel would show up, look over my work, spit some more stuff and I'd go back and write again. Ezekiel always encouraged me to practice. So I did.
ME: Nice, well your practicing has brought you far. Have you considered becoming a full time recording artist?
S. Gold: I know a few artists that are indie that have done so. Robert Davis aka "Rolls Royce Rizzy" & B. "Streets" Riley – I'm close with these two. They quit their jobs and went full throttle at their career. They moved to Japan and encouraged me to make that same sacrifice. They suggested doing what I had to do to get there, like selling what I had and moving in with family until I stacked up enough to survive. It's difficult. My family is struggling. Its not that it doesn't cross my mind, but, I don't want to burden anyone. I went through a stage of pride where I had next to nothing at one time and went hungry but refused to ask for help from family because they have other burdens. I do not want to be overly dependant on anyone, and I don't want to burden my family. Right now though, I am saving, planning to make a transition into my career. At one point, my business was not as lucrative. I didn't have a plan. One day though, I did take a leap of faith and began sending out info for an album listening party and started garnering support. Laz helped to organize that. King Mez collaborated with me and Laz. It was a good feeling knowing 'S.Gold' was on a track with two other great indie artists.
ME: Has your family always been supportive of your music?
S. Gold: Kind of. When I was younger, especially. But when you get older… you know "money talks" – they want to see it pay off. Your family never wants you to have to struggle like they did. They want you to have a career that pays. As I got older, they didn't understand why seeing people just listening and feeling my message was fulfilling enough to me. I want to do this full time. It'll just take some sacrifice. Naturally parents do not want to see you struggle.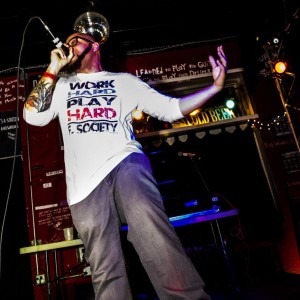 ME: What is the Indie Music market like in your area?
S.Gold: I'm in the Raleigh-Durham area. I say Raleigh-Durham, but I am predominately in Raleigh. I don't frequent Durham too much, no reason in particular for that though. I haven't made it out to the Charlotte market either to be able to speak on either of the two cities or what the market is like. I know the Raleigh market is too high school. Too many cliques. Too much separation. Everyone wants to be first. Its ridiculous. Everybody says the same thing about it but nothing changes you know? There are too many factions. I'd personally work with anyone that is open to working with me and trying to better themselves in music.
ME: Very understandable… speaking about bettering your artistry, what is the most intimate song you have ever written?
S.Gold: It was on the Forecast; a song entitled "Storm" – I was very uncomfortable opening up about things that happened to me. I had just gotten out of a relationship, I'd been reflecting at the time over some childhood pains; things like my parents not around. I told Laz about the conflict I was having opening up on record he said, "…share it what ever it may be." So I did. "Storm" had three different verses, one about my dad, my mother and my friends. I started writing a verse about my moms and just couldn't do it. She was around in my life more so than my father, so, I wasn't comfortable addressing anything about her on record. It wasn't disrespectful, but it would not have been dishonest either. There was a lot of things she'd done to me, but my grandparents stepped in and helped to raise me. I don't know what my mentality would have been like if they hadn't. Maybe not a healthy mentality. Adding to your question, the album "Journey" that I am working on with VSOP will be a national push though. I want to share everything. It is more versatile and its one of the hardest I have ever worked on. I appreciate working with VSOP because he's pushing me, makes me go back and rewrite songs. No one has ever told me to rewrite a song. I like that. So shoutout to VSOP for challenging me on this record.
ME: What is your fixation on weather all about? You have the Forecast, The Storm…What's it all about? Can you give us your discography?
S. Gold: … good question, um, I guess comparing my albums to where I am in life. "The Forecast" was predicting something bad was about to happen. I was predicting my trials. I felt it coming. I name my albums comparing weather to life. Like the storms of life so to speak… 'The Forecast' starts off calm and by the end is brewing. I released that one in 2010. "The Storm" that was released in 2012. The project started off very depressed, then became confident, even in the middle of "The Storm". Each track is a different piece of the puzzle. The next project is "Foresight" that one is a prediction of the future. Its much brighter than "The Forecast"
ME: I'm just glad you didn't decide to call it "Sunny Day" You might have gotten beat down from your crew for that one.
S. Gold: *laughing* Definitely. Cool points out the window. *laughing*. After "Foresight", I'll be releasing "Journey" that is the predictions manifesting itself, like "Foresight" is goal planning, and "Journey" is implementing those plans to action. Me making moves…VSOP is producing "Foresight" exclusively.
ME: I love your sense of direction and the themes are awesome. In one word, sum up your legacy in Hip Hop that you hope to leave behind.
S. Gold: Hmm, triumphant. That one word is: Triumphant.
ME: Care to elaborate?
S. Gold: Its speaking for itself.
ME: Indeed, It is … You touched on collaborations and producers. Have you ever been a part of a label? Are you being managed?
S. Gold: No. Never been a part of a label. The industry is rough. I want to be able to say what I have to say without being censored or forced to say something because money from a company is behind me. The industry makes people crazy. Major labels…man, It's a group of people with mad money telling you what to do and how to do it and don't give a damn about the culture. If I was part of a major label it would be on my own terms. And that's real. Its too cut throat for someone like me. And I don't want to be black balled for being a genuine dude. I rather make a few dollars independently than go through that. At this time, I am being managed by A. Robb of Eargasm Entertainment. Eargasm Entertainment used to host the event in Raleigh "Suckerfree Sunday" at what was once Shakedown Street before they closed down. She was a great manager. If it wasn't for her, I would never have made it to A3C (All 3 Coast). A. Robb is a great manager.
ME: Every artist, especially in Hip Hop, has an opinion of the current state of the art form. How do you feel about Hip Hop as it stands in 2014?
S. Gold: I don't mind that other rappers or artists, mainstream or indie sound different from me, but I want them to be themselves. Hip Hop now a days seems more like product marketing and less people marketing. You got songs out that just shout out names of brands all over the track and not talk to the people. There is still hope for Hip Hop. You got artists like Kendrick, Wale, Ab-Soul, I rock with Ab-Soul hard right now, and Eminem. 50 is still 50, but that's the best part, he's himself. I actually like Meek Mill too. I was shocked too. I listened to his album, he's pretty dope. Like I said, you know, I don't mind different forms of Hip-Hop – I just want them to be themselves. Trying to land an endorsement deal isn't music. Everybody is not gonna feel you. Its just the luck of the draw. People just want to relate to genuine people.
ME: Do you have any upcoming shows?
S.Gold: Yes. I have one coming up October 4, 2014 in Wilmington, NC. It's the SE360 Artist Music Festival.  They are projecting 200,000 fans in attendance.
ME: I love it! Big things are happening for you. Last question for the fans….Where can your new fans find your great music? Also, when those booking agents are ready to book your act, where can they contact you?
S. Gold: For my fans, my music is hosted on band camp.
The address is: SGold.bandcamp.com
Booking agents can contact my management at: EargasmEntertainmentLLC@gmail.com
My management website is: EargasmEntertainment.bandcamp.com
I'm available on Twitter.com. My Tweet Name is : @SdotGold
ME: Thank you for letting me interview you.
S. Gold: Oh its no problem, anytime thank you for interviewing me.
Watch Now! S.Gold "Timeless" Directed By B."Streets" Riley off #TheStorm Produced by The Colombians
---
Liked this interview for S.Gold? Are you an artist looking for Media Press | Interview | Tour/Show Review? 
Contact Danielle Blaiq via email with Indie artist Press information Blaiqinq@musicexistence.com
Tweet Danielle via twitter: @BlaiqAngel