American rock and rollers Dirty Honey aren't slowing down anytime soon. Accelerating through a high-speed year of shows in over 16 countries, including a highly lauded slot opening for Guns N' Roses, the California natives are in high gear and proving they're a well-oiled machine. Ahead of the release of their highly-anticipated sophomore album Can't Find the Brakes, out everywhere Friday, November 3rd, the group are steadily coasting on the road as they kick off their 39-date North American tour.
The trek— which introduces the band's new drummer, Jaydon Bean, to American audiences— follows Dirty Honey's first-ever headline tours across the UK and Europe, both of which sold out in their entireties and saw many venue upgrades due to high-demand. Music Existence spoke with the band's bassist Justin Smolian and newest member, drummer Jaydon Bean about the whirlwind year they've had on the road, the creation of their new album, and all the moments in between.
Music Existence: Jaydon, you've been friends with Justin and John and that's how you made your way into the band last January. An old video is currently circulating of you playing with them originally on 'Fire Away' together and jamming out, before the band was even called Dirty Honey. How far do your roots go back?
Jaydon Bean: Well I've known all these guys for 10+ years really. John and Justin I have known for 12 probably and Marc I met a few years after that. I lived with Justin and John, we've all played together in various situations being in LA. So we all go way back. When I was playing with them back when they were The Shags, we kind of demoed a few of the songs.
Justin Smolian: I actually found this great video of you, this cover gig in Santa Monica. Jaydon did a couple with us, and like a fight broke out at the bar while we were playing and on the video you can see Jaydon jump up and put his fist up, like ready to jump in. [Laughs]
JB: Some people are lovers or fighters. I am a lover and a fighter, clearly.
ME: I'm sure that brings a great dynamic to the band too. So, you guys go way back and I'm sure that makes it easy to fit right in and have that chemistry from the beginning. Now, you both grew up in musical families and began playing your instruments at very young ages. You've both also trained classically and in jazz, and worked as session musicians. How do these skills carry over into your work making straight up rock and roll with Dirty Honey?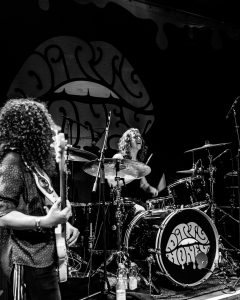 JB: Justin's got the classical background for sure and then I, myself and Justin, are both well versed in a jazz background. As well as John. You know, we're all actually pretty trained musicians and well versed in varieties of style, and you can hear that come across in the new record. Being in L.A., whether you're trying to be in a band or trying to be a session guy, you're playing in a lot of different musical situations if you're talented and skilled. That's always part of it.
JS: I think it came through in the songwriting a lot more on this record. We really wanted to showcase the breadth of our abilities. So that is why you hear a lot more variety. You hear a couple more ballads, you hear different tempos, different feels. We are really excited to showcase that and we are trying to do it even more live. We're trying to create little musical moments that show what we can do.
I think it's kind of like Zeppelin. Zeppelin would play all these different styles. They'd play reggae or they'd play a funk tune, but it would be rock if they're doing it. It's always Led Zeppelin. And I think that Dirty Honey is the same way, whatever we do it is going to be Dirty Honey and it's gonna rock. But it just doesn't have to be a straightforward rock song, we've already written that.
ME: Yes and it's funny you directly name check Led Zeppelin, because I made notes of that. Listening to the album, you definitely get the Led Zeppelin vibe on a few tracks, but not what you would expect, not a traditional Led Zeppelin hit. It's like the deep cuts, I could hear nuances in the background and intricacies in some of the songs that are definitely a change of style for you guys.
JB: Thanks! Yeah we can't really pinpoint which influences are gonna come through, but we've all got so many influences that something is gonna pop through a little bit.
ME: Absolutely! Now, Jaydon came on board in January 2023, almost a year ago. I know you've experienced what has been coined "baptism by fire," with joining and immediately jumping on the UK and European tours and then jet setting again to Australia to make the record. I read you've made your way across 16 countries?! How did you approach quickly learning the Dirty Honey catalogue in the midst of all the chaos? And finding your own unique place in the band while you're on this rollercoaster of a year?
JB: Yeah, well learning the songs was probably the easy part. Obviously these guys are my bros and I've been a fan of the band even when I wasn't playing in it, so I've listened to the music plenty. Playing it was just a matter of kind of learning how everything flows live, more-so than 'how does this song go.' It's more of 'what is the live ending for this' and 'how are you nuancing this phrase so that I can make sure I am playing what is comfortable for what they've been doing, while still bringing in my own elements. So in that sense it was pretty smooth sailing, honestly. The trial by fire thing is a cool phrase, but I would say it was more sitting in with my homies. Just kind of getting back into playing with guys I love playing with and love hanging with.
ME: Yes, that's great. And like you said, you have the normalcy of playing with your friends, but then on the other end of that spectrum, you are jet setting across the world and opening for Guns N' Roses and having crazy experiences like that! I know it's not Dirty Honey's first time touring with legacy acts, but to you Jaydon, I'm sure if felt new and daunting. What do you guys take from these opportunities?
JB: Gratefulness. Any time you're playing in front of big crowds, like for Guns N' Roses, the crowd is obviously going to be a huge Guns N' Roses fan and about 90% of them probably at least don't even know who Dirty Honey is. So there is some element of trying to win over some fans. The performance for that type of show is different than doing our headline tours. So there is a little bit of nervousness or you know, angst or something, to make sure that we try to perform at a level that impresses people to want to continue to check out the band.
JS: Yeah and you learn different things from different artists. We opened up for KISS and getting to see their stage production was something that we definitely want to aspire to. We've added lights to this tour and we obviously want to keep adding more and more. Opening for Guns N' Roses, they soundcheck for like two hours everyday and getting to see Slash playing guitar is really inspiring. I want to play my instrument that much when I'm his age.
ME: Wow, that must be unreal. Iconic bands, first of all, you must pinch yourself just being in their presence, but then getting to share the stage with them and introduce your music to brand new audiences, their fans, must be the biggest thrill.
JS: Yeah and it's really cool when you see them get into it too, for someone that's never seen us. We've got a new song "Don't Put Out The Fire," and by the time we hit the last chord, we did it opening up for Guns N' Roses, we could see people singing along and clapping along. That's really an amazing feeling to literally see new fans being born.
JB: Yeah, that is a real time reaction.
ME: That's amazing, and I'm sure makes everything worth it. Now on your travels, you ended up in Australia after some grueling tour dates, to make your sophomore album, Can't Find The Brakes. Just that title is indicative of the wild year you've had, and then some. What was the recording process like? You were in Australia working again with Nick DiDia in his studio there, which I'm sure provided a much different experience compared to your last album which was competed over Zoom.
JS: Yeah, it was definitely much more inspiring to be there. His studio is in this beautiful field with a beautiful view. Our Airbnb was like a block or two from the beach, so we'd all walk down to the ocean every morning and do a walk. It was much more inspiring than being on the corner of Sunset and La Brea and having homeless people talk to you while you're walking into the studio. But all that aside, the biggest factor was actually being in the room with Nick and having that connection. Doing the last record over Zoom, you only ever really talk to him when cutting the song, or talking about your parts. But being in the studio you go and have lunch together, or maybe you guys are talking about baseball or something, but having that connection somehow translates when you go back into the studio. The opinions people are bringing out of each other and the vibe. Creating the vibe is actually the most important part about making a record. That was probably the one thing, at least for me, that I thought was missing on the last record and this one we had it abundant. And we had a month to make it. We have never had that much time to make a record before. So that made a huge difference, having the time to listen back to songs and reflect and tweak them. Marc having more time to work on lyrics. It was a great experience.
ME: Were any of the songs already in formation when you brought them to the studio, or did you start from a fresh slate?
JS: Well we did about three weeks of pre-production at John's house in Van Nuys, it's a valley in California. So we had most of the songs at least at a demo point and then completed them when we were in Australia. Marc wrote most of his lyrics when we are over in Australia though.
JB: We had about 20 songs or so that are demoed out to be about 75% done. Lyrics and stuff like that, we had melodies and some ideas for lyrics. But he likes to finish those when he is in an inspiring place. Australia was worth the wait, I guess.
ME: I can see why! Because he wrote so many of the lyrics there, are there any particular tracks that made it to the final cut of the album that you listen to and think, oh this was definitely inspired by being steps away from the beach?
JS: Probably "Coming Home," the lyrics to that one. I know he wrote that one on the porch to the studio, overlooking the shire. I don't know about lyrically, but "Can't Find The Brakes" came together in Australia. John wasn't able to get on the flight going out to Australia, so we had a couple days here without him. And that song kind of came together when we were workshopping some ideas waiting for John to get there. So that one was kind of inspired by Australia, and it was finished in Australia. I guess that and "Get A Little High."
ME: "Coming Home (Ballad of the Shire)" you just released as your new single, and Justin, you contributed the music for this one.
JS: Yes, I wrote all the music for that actually on the bus while we were on the road with Wolfgang Van Halen a while ago. It had just been kind of floating around and I didn't even really demo it until we got home from that tour and then I went over to John's house and got him to play some slide on it. Then it kind of just sat around for a while. Basically, I went over to Marc's house like three days before we went over to Australia and we wrote all the melodies and stuff to that that day. That was actually kind of a last minute entry. But yeah, love that song.
ME: It's such a gorgeous song and something that is so new for Dirty Honey. It's actually one of the tracks that gave me that Led Zeppelin or even that raw Allman Brothers folk rock type feel to it. Was the inspiration behind this track from your extensive touring?
JB: Marc likes to explain it as kind of our lives of being on the road and how you want to feel when you're coming home and getting back to a place that is comfortable.
JS: Yeah, when I wrote the music it was right in the middle of that tour and we were co-headlining with Wolfgang. We had a hotel room and Marc had taken the key and I couldn't get in there and I was just kind of miserable stuck on the bus, and was like 'I miss my girl' and at this point it just kind of came out of me real fast. I even told Marc when he wrote the lyrics, like I want this to be about longing and being on the road too long and wanting to go home. So, that's what it ended up being about.
ME: Yes, you can absolutely feel that as a listener. And maybe even a sense of relief, as well. Marking even more of a shift to your sound, a lot of the album is more soulful or bluesy, like on "Don't Put Out The Fire" and "Roam." What inspired this new direction? Was it a conscious choice or more organic in the studio?
JB: I think probably there is a mixture of wanting to be able to express a broader emotional sense and also a broader ability of our writing capabilities. I think that we had a motto that started out as a joke then became serious later called "be open to infinity," which was really us just trying to make sure we were allowing ourselves the opportunity to experiment and be a little more vulnerable and kind of just let all of our influences come across. Everybody putting their two cents in and making it something that is a little more organic in the sense of showing what we're feeling. I think we came across pretty well, in that sense.
JS: Yeah I think there was the sense that we didn't want to make the same record that we'd already made, also. We definitely want to always be growing and expanding and trying new things. There was also some stuff that got left on the cutting room floor that was also way different and you know, maybe we'll explore those avenues on the next record.
ME: Now I'm curious! You've got to keep the anticipation. Making the album and having the freedom to do whatever you guys want to do, have you ever questioned your decision to remain an unsigned, independent band?
JS: We are grateful to have the independence and be able to do what we want, but sometimes, you know, you need a bunch of money to do something and you're like where are we going to find it? Obviously people on a label have that support system, and that's nice. That's the only time I ever question it, when we need money.
JB: It's hard to find a really good label deal, let's put it that way. You're really sacrificing something either way. Having control over your music and control of your entire camp and your art is maybe the sacrifice that we don't want to give up to just get some money.
JS: Unless it's a lot of money. [Laughs] No, but I think we're okay for now.
ME: Yes, you guys are killing it! And that is commendable too, because not everyone would stick to their guns and say what we're doing now is more important than anything else. So that's awesome. Lastly, you've just embarked on a 39 date US tour, just as the new record is arriving on the 3rd. Are there any new tracks that you're most excited to debut live on the tour?
JB: We're playing some of my favorite live ones already. "Don't Put Out The Fire" is probably one of my favorites off the album.
JS: Yeah, we've been playing "Coming Home" and playing "Won't Take Me Alive." We're kind of already playing all of our favorite tunes.
JB: There is one that I'd like to get live that we haven't tried yet, which is called "Rebel Son." We haven't played that one live yet, but that one would be cool to do.
JS: We rehearse pretty much every song on the record and are going to slowly trickle them into the set, and take some out, put other stuff in. You know, the songs take on a life of their own when you're playing them live, so we'll find out which ones end up being our favorite also. It can surprise you.
ME: Yes definitely, and I'm sure the audience reaction also plays a factor into the setlist as well, as the tour continues on.
JB: Yeah, that's kind of important!
What more can fans look forward to from Dirty Honey? Are there any surprises or things to look forward to at the live shows?
JB: We've got quite a bit more production for this tour. We added a light package and have a great lightning guy that travels with us. He adds a lot, and there's a whole new backdrop and drum riser and setup with our lip sign up there. The whole show is actually pretty advanced. There's some ballads in there, there's some acoustic stuff where we all come together and jam out. So there's definitely a lot of new elements for people. Especially, not just including me being new, that's a new element that probably surprises people.
Absolutely, well it sounds like you guys are leveling up in every way possible right now! Thank you guys so much for your time and good luck on the rest of your tour! I can't wait for the album to come out and for everyone to love it as much as we do here at Music Existence.
Can't Find The Brakes is out worldwide on Friday, November 3rd and can be pre-saved/pre-ordered here. Dirty Honey's tour dates can be found here.
Dirty Honey Online: Website | Instagram | Facebook | TikTok | Twitter (X) | Spotify | Apple Music