PHARMACOSE front-man, or rather everything man, WESLEY JONES, may seem to be just a talented musician, but he's a man with many broad and complicated interests, talents, and hard-fought skills. Initially launched to explore and address his experiences with mental illness, the enigmatic front-man tackled the art and process of making music from the ground up, gradually learning and mastering each step, from imagining to engineering, showcasing not only his own incredible talent and focus, but highlighting how music does not have to follow any rules in the post-pandemic, independent music world! Read on to learn more with Music Existence's exclusive interview, and check out the first installment of his new album, Ascension's Constraint Pt. 1, as well as the associated book!
Your unique blend of electronic and rock music has garnered some serious critical praise, and we're excited to get some insight into your creative process and new EP. Let's start at the beginning. How did PHARMACOSE come together and what's the story behind the name?
Pharmacose was started by Lu Rubino and me back in 2017. I was looking for someone to produce some songs for me. We had our first session in November of that year. We did some songs together over the course of a few months, and I released them under the name Digital Array. It was a decent effort, but I decided that I could do better. I took those songs down and we reworked them and wrote some new ones. All those songs became Presccription Fiction. I hate the word "rebrand," but that's what I did. The name Pharmacose is a portmanteau of "pharmacy" and "comatose." At the time my psych meds hadn't really been optimized, and I wasn't depressed, but I wasn't very happy either. I was just sort of numb, so that's where the name came from. I had some gigs lined up, and for a while we were a four piece, but all that was lined up just as Covid hit. Ever since then, Pharmacose has mostly been me. I still work with Lu some, but he's so busy that I decided I needed to learn to do this on my own.
As this is a focal point of your music, how has your mental health impacted your music and creative process? How do you think music can serve as a coping mechanism for mental health issues, both for musicians and listeners?
Pharmacose was created as a coping mechanism. I'd been writing songs for years and recording demos, but it wasn't until I had a mental health crisis in 2017 that I decided I needed to get someone to help me record them properly. Prescription Fiction is essentially a journey through my mental health over the period of a decade, since some of those songs had been written years ago. Some songs were written when I depressed, but then there are a few that I wrote when I got better. Even though it was a coping mechanism for me, I also wanted to get all this recorded with the hope that listeners would realize they aren't alone. It is possible to get better, even though it doesn't seem like that when you've bottomed out. Mental health is a huge problem in this country, and I hope more musicians are willing to have this sort of tell-all that Prescription Fiction became. Creative people seem to have a higher incidence of mental health issues, and I think any sort of art that is open and honest helps both the artist and the audience.
Do you think the music industry as a whole is becoming more open to addressing mental health issues, both for artists and behind the scenes?
I don't think so. This might be a horrible thing to say, but I doubt the record companies care that much. Everything is so commercialized and profit driven. There's nothing wrong with making money, but talking about mental health is too risky for them. You get a lot of love songs and party songs, and it's been that way forever. That's not meant to throw shade at the artists or listeners. People listen to what they want to listen, and that's the way it should be. That's also not to say that there are some songs that show real emotion also, but I don't think that's enough to tackle the mental health problem as a whole. What's really changed since we lost Chris Cornell and Chester Bennington? There's also still a lot of substance abuse. We just lost Steve Harwell yesterday to it yesterday. We still have a lot of work to do in my opinion.
You have the unique experience of being both a medical doctor and a musician, how has your medical training and background impacted your mental health journey and your musical direction?
This might not be the answer you expect, but the truth is I had to get better, or I couldn't practice medicine anymore. The state mandated that I enter a five-year monitoring program specifically for medical professionals in 2017. The program basically made sure I was going to my appointments and filling my prescriptions. Programs like this exist to protect the public. I had to get better, or my license would have been taken away. That might sound like a tough break, but I'm very grateful that motivation was there. I wouldn't say that my training specifically helped since I'm a pathologist. I also wouldn't say that my medical training has influenced my music a tremendous amount. I've used some medical vocabulary in the past as lyrics, but for the most part I try to keep them separate. That was a conscious decision I made a while ago. It's a way to protect my professional life. I don't want people somehow thinking I'm giving them medical advice or that I'm trying to communicate as a medical professional. I'm trying to communicate as a person.
Your music has a hypnotic quality to it; it's an entertaining repeat experience, but also deeply thought provoking. Could you tell us more about your musical influences, beyond the above, and how they've shaped your sound?
I love synths and I love rock music, so why not put them together? I'm not doing anything new. I'm just trying to make stuff I think sounds cool. I'm a guitarist. I love guitars. Guitars can get you where you need to go, but adding in synths just makes things so much more fun. It greatly expands your sonic palette. Like in my song "Could I Be Dreaming?" there's a sequenced synth bass line in the verse, and then it goes to a more traditional rock song with distorted guitars in the chorus. I could have just used a bass guitar in the verse, but that just didn't seem as fun. All that said, it probably makes a lot of sense when I'm a massive Nine Inch Nails fan. I grew up listening to Trent Reznor scream in my ear, I think Atticus Ross is a genius. Listening to them inspired me to try to go big and gnarly with synths. I don't think I got gnarly enough on Ascension's Constraint, Part I, but in part II I plan to. It's not just them though. I still listen to new wave. I like synthwave, too. All that just scratches the surface. Failure, Filter, Deftones, Radiohead, The Mars Volta, and Queens of the Stone Age are just a few more.
Your previous album, Prescription Fiction, was about your experiences with mental illness, while your new album appears to be more about social influences and the media, is Ascension's Constraint a bridge to a broader discussion about modern society, technology, and mental health, or does it stand alone as its own story?
I felt like I got a lot off my chest while writing Prescription Fiction, but it was more of a personal story. With Ascension's Constraint, I wanted to branch out some. I want to talk about mental health, but from a less subjective perspective. I don't think this country is emotionally healthy at all, and I think the media, corporations, and the wealthy exploit that. The media gets us to hate each other, the corporations manipulate us into buying stuff we don't need, and the wealthy reap the rewards. Corporations will do whatever they can not to pay their workers, and then they just make up a bunch of reasons why that is. I suppose that was why I started writing Ascension's Constraint. I wanted to try to make sense of it. I don't want to make it political, either. Politics I don't think is the answer. It's divisive, and if we want to improve things, we can't afford to be divided. Somehow during all this I started reading up on current theories of consciousness, and I was astonished. I've come to believe that one of the most important things we can do is try to understand it better. It's a big subject,but briefly, it turns out that consciousness may have quantum properties. The mere act of us observing particles in a quantum state causes them to collapse into a single particle. There's also evidence that consciousness is received by parts of our neurons called microtubules. I know it sounds crazy, but there is actual science to at least suggest this, I could go on and on, but I'll just say that if consciousness is received, then we may truly be connected on some sort of psychic level. That last part is just me spitballing, but it's not impossible, and in any event, I just want to get people interested in the subject.
You address issues of internet information, conspiracy theories, and shadowy cultural influences, how do you think these constantly evolving factors impact artists and their work within the online music industry world?
I love the X-files, so that's sort of where my love for conspiracies came from. I've always been interested in UFOs. The mothman is also something I've always thought was fun to read about. I also want to be clear that when I talk about this stuff, I feel the need to mention that I'm absolutely not some Qanon person. I just think we need to keep an open mind about what's really going on. Turns out we were right about UFOs, so that should tell you something. As for what this means to artists, I'm reminded of a quote from Bob Dylan: "The world don't need any more songs." When I first heard that I sort of felt insulted. What's wrong we me writing songs? Well, he went on to say "Unless someone's gonna come along with a pure heart and has something to say. That's a different story." That to me made a lot of sense. I know for artists like me who aren't established, it's almost become "publish or perish." You have to keep coming out with material, and so it's easy just to write a party song, but maybe that's not the way to cut through it all. So, I found a subject that might be meaningful and also will provide me with a lot to write about. One last thing, though. I'm not a big artist so I may be doing it wrong!
What can fans look forward to from Pharmacose in the near and far future?
I'm starting to work on part 2 of Ascension's Constraint. I'm writing a companion story to go with it. I'm not sure how long the story will be, but probably the size of a novella. I thought it would be a cool way to convey my thoughts. It's sort of an espionage thriller that's set in the US about a century or so from now. Most governments, including the US, dissolved due to the currency collapsing, and essentially corporations took over. The plan is to release a part of the story each month and pair it with a song that matches what's going on in that part of the book thematically. That was the plan with part 1 also, but I fell behind. I have a few parts out right now on Amazon Vella. Right now, I'm getting the book caught up. Hopefully that will be done soon. The plan after that is to start releasing songs and chapters for part 2 early next year. I'd like to put together another live act at some point also, but that wouldn't be until I get part 2 done. Please stay tuned.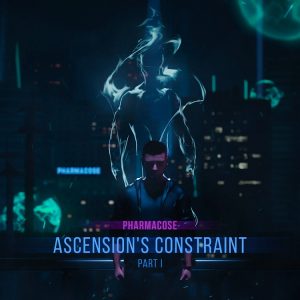 Cleanse You
If I Were Better
Beyond the Singularity
Could I Be Dreaming
Unworthy
Make 'Em Pay
Do Something
Duress
Obey
Purchase / Stream Ascension's Restraint Pt.1 Online HERE
Click to Purchase and Read Ascension's Constraint Part 1 & 2 Online HERE
Pharmacose is an alternative rock project hailing from Jacksonville, FL, that combines steadfast analog sounds with cutting edge flair. The project– a portmanteau of "pharmaceutical" and "comatose" –began as a collaborative effort between Jones and producer and bassist Lucio Rubino. They have previously released material under the name Digital Array.
Jones, a Memphis native, formed Pharmacose in 2017 with producer Lu Rubino shortly after moving to Jacksonville to pursue new career opportunities. Rubino, a veteran producer and bassist, has worked with Paramore, Storyside B, and The Showdown, among many others. Their creative process was chiefly inspired by Jones, a medical doctor, and his past struggles with mental illness.
Pharmacose began as a coping mechanism for Jones in the wake of an acute mental health episode, culminating in the release of Prescription Fiction, Part 1, in 2020. Prior to the COVID-19 pandemic, Jones and Rubino put together a live act by recruiting drummer Albert Cruz and lead guitarist Kevin Horne. The group was gearing up to play live shows in anticipation of the release of Part 2 of Prescription Fiction. With the subsequent lockdowns canceling those shows, and Cruz and Horne subsequently departing, Jones decided to begin working on new material and used the time to explore new sounds and assume a greater role in production. The result is several new songs, which ultimately completed Prescription Fiction as an entire album, rather than releasing Part 2 as a separate chapter.
In August 2023, Pharmacose released the first installment of their second album, Ascension's Restraint.
Connect with PHARMACOSE:
Official
Facebook | Twitter | Instagram