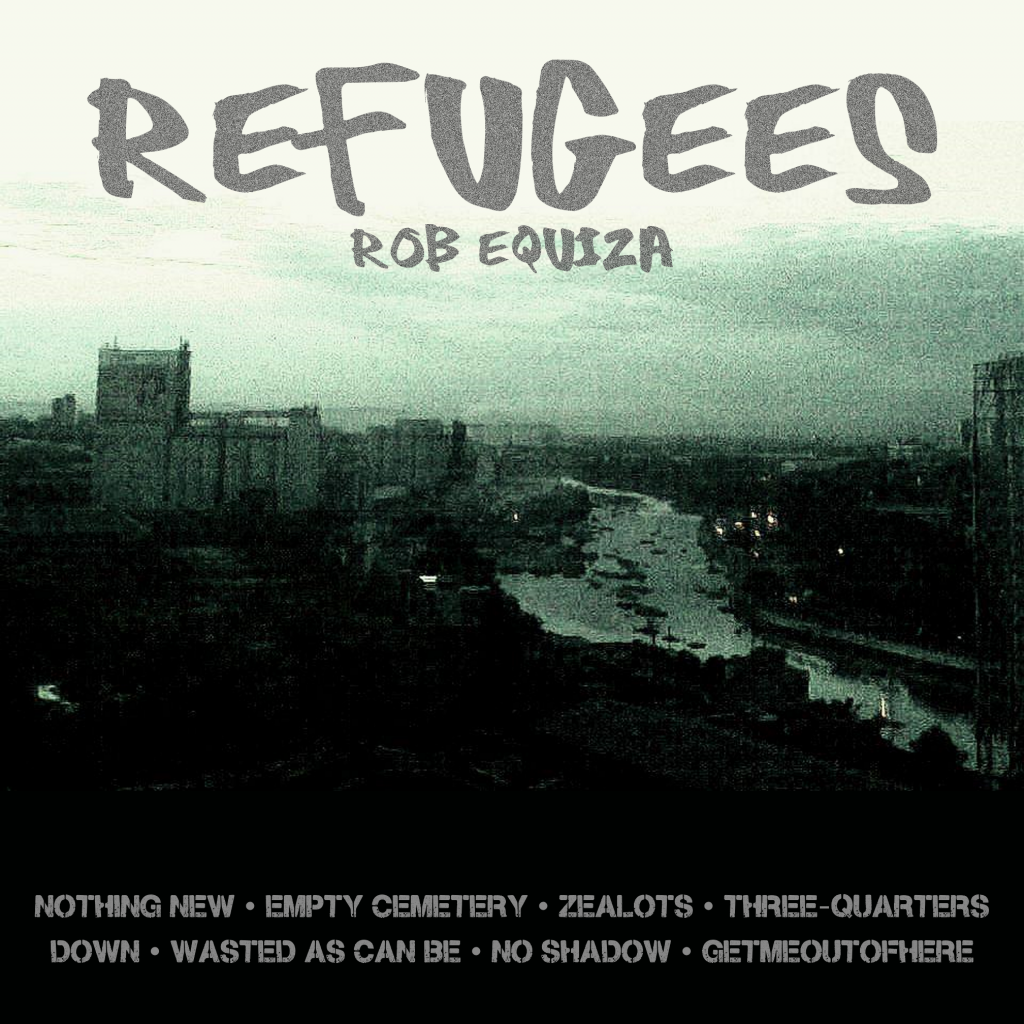 Rob Equiza is currently touring in support of his latest release, Refugees, having just now completed the second gig of a three-night stint in Calbayog City, Samar. Since debuting in 2006, Equiza's brand of rough-hewn, melodic indie rock, strewn across a wealth of band, solo, and collaborative efforts, has earned him consistent traction in the Filipino underground. Refugees, Equiza's first full-length album as a solo artist, fits right in alongside these efforts.
The album opens with "Nothing New", an up-tempo, crunchy rocker that sets the tone for the album's initial half. This time, Rob is joined by Jarell on bass and Spart on drums, both of whom do an exceptional job rounding out the arrangements throughout. From a thematic perspective, the song centers around the frustration of searching for deeper meaning in life, being fully convinced of making headway, only to end up in the same place each time. I appreciate how the bassline complements the verse riff harmonically, and how Rob's vocals complement the chord sequences, especially at the end of each chorus. "Empty Cemetery", the track to follow, expands on the aspect of internal conflict – a passionate, yearning spirit is held down by the structure and routine of reality, and one way or another, feels obligated to eke out an ordinary, unremarkable existence. It's one of three singles on the album, and rightfully so, both in its lyrical relatability, and that after a single listen, it was instantly stuck in my head. As the song nears its end, I like the interplay between the reverberated melodies behind the guitar solo, and how they add to Rob's inflection. The third track (and second of three singles), "Zealots" is easily one of my favorites, with a main riff that harkens back to indie rock of the early-to-mid 90s, and a percussion that exists in two forms – a flowing, tribal rhythm during the verses, and a bobbing, 'dukes up' punch that amplifies Rob's vocals during the chorus. Its theme centers around those who approach life with a naïve stubbornness until they recognize that they are being deceived by others, and, to an equal degree, are deceiving themselves. On the fourth track, "Three Quarters," a space is given for self-accountability, and the subsequent willingness to move forward despite past hardships. The instrumentation undergoes a refreshing change to something more bluesy and psychedelic, with its more overdriven moments feeling especially resonant.
By the latter point of the album, the third single, "Down," is indeed another highlight that punctuates it with another searing riff, and a solid midtempo drive to boot. An expansion on the period of self-reflection, it deals with internal pain that rears up in the process of healing, and how easy it can be to feel helpless while acknowledging someone else's contentment. Both the sixth and penultimate tracks –"Wasted As Can Be" and "No Shadow," respectively – further delve into clean-toned, melodic territory, and are a refreshing change of pace that defines this remainder of songs. In their own ways, they effectively encapsulate a nuanced period within a struggle that isn't complete rock bottom, but rather the feeling of bleakness, with one vignette representing wandering aimlessly, and the other of being trapped in soulless, perturbing confines. For the closing track, "getmeoutofhere", the approach turns acoustic, which emits an odd sort of comfort this time around. In some way, it no longer plays out as vocal frustration, but a kind of selflessness in ultimately realizing that other people in our lives, especially those close to us, are struggling just as we are.
Overall, Refugees is an exceptional look at the growth of one's character through multiple stylistic lenses – hard-hitting, tender, somber, meandering at times, but valid, nonetheless. In my listening to this album as a full product, I'm taken by pleasant surprise witnessing the growth of Equiza's music in the same way. I'm excited to hear how he expresses himself in future full-length albums that will not only expand from this direction but will be just as poignant and impactful.
Rob Equiza Socials:
Facebook|Bandcamp|YouTube|Spotify