Ottawa-based pop-punk band, Bearings, have returned with their exhilarating third LP, The Best Part About Being Human.  Released on August 18th via Pure Noise Records, and produced by Sam Guiana (Silverstein, Between You & Me,) this offering shamelessly serves the end-of-summer angst we didn't know we needed.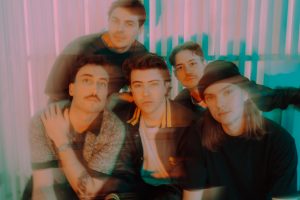 Comprised of vocalist Dougie Cousins, drummer Mike McKerracher, bassist Collin Hanes, and guitarists Ryan Fitz and Ryan Mulligan, the quintet followed up their sophomore album Hello, It's You with a desire to get back to their roots with a more minimalistic style. On the album's origins, the band said, "'The Best Part About Being Human' is being alive and the second best part is writing an upbeat and exciting record with your brothers in a small house in North Hollywood. This record was us figuring out what we really wanted to play live, what got us excited, and I think we found that." The result is 10 tracks of pure nostalgia and attention-grabbing pop-punk energy.
"Scenery" kicks off the album with one of those classic choruses you instantly cling to. Upbeat and lovely, Cousins details long drives, sunsets, and late-night walks to the beach. It easily provokes listeners to reminisce the simple sweetness of life and relationships— what's not to love? The second track, "Don't Wanna Forget About It" pulls you in immediately with fast-paced guitar and drums. Cousins' lyrics are relatable to say the least ("Cover up the pain with a glass of wine / lie and tell your friends that you're doing just fine,") and prove that a punk album can only go so long before the necessary angst appears.
"Gone So Gone" begins with a cool, laid back riff before the backbeat comes in and bursts into a vibrant wall of sound two bars later. "Go Long" provides a dynamic change of pace with a focus on McKerracher's pounding drums in the intro. By this point in the album, it is impossible not to nod your head along. The song is also guaranteed to pull at the heartstrings as Cousins proceeds to show off his utterly poetic lyrics, "I can feel it in the waves / That break on us and let us go /  Pulling at the waist, I make my way back to you / Alone inside the ocean blue, treading in place."
Standout track, "Ocean Dream" starts off softer and slower than its predecessors, but don't let that fool you. It surely leaves its mark on the pop-punk genre as a whole, surprising listeners with a super smooth saxophone solo by Saxl Rose, emerging out of nowhere and demanding our attention. The next track, "Howie, You're A Freak," is full of high-energy and hope, with an irresistibly catchy chorus.
"Slip" and "Live Forever Never Die" are two of four tracks initially released as singles, and have already become staples of Bearings' rousing and passionate catalogue. "I Want To Heal" is hard hitting while whirring guitars and muffled female vocals give it a visceral 90s feel.
The album concludes with the bittersweet track "Human," and after much curiosity, we finally understand the title of the album. Cousins opens with the line "The best part about being human is being alive / And the second best part is watching every single heart slowly disappear and die / And of course that's sarcasm". The tongue in cheek lyrics leave us with plenty to ponder over as we're rocking out to the exuberant guitar solo that follows.
The Best Part About Being Human is essential listening for everything from heartache to long drives along the coastline. From the vintage Hollywood aesthetic of the cover to all the blissful ocean references laced throughout the lyrics, this album is sure to leave you California dreaming. So roll down the windows and go for a drive as you vibe out to the most energetic and emotive songs of the summer.
The Best Part About Being Human is available everywhere now. Bearings will be hitting the road with Just Friends, Young Culture, and Youth Fountain on The Alive And Loud Tour. For more information and to purchase tickets see here.
Bearings Online: Website | Facebook | Instagram | Twitter | TikTok | Spotify | Apple Music